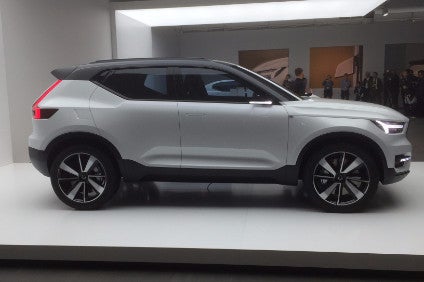 Peter Mertens, senior vice president, research and development, Volvo Car Group, describes the cooperative development of the new Compact Modular Architecture (CMA) with parent Geely as "good relations" though the start was a little rocky as culture and time zones took some adjusting to, on both sides.
"They're good engineers, it's a very fruitful cooperation," he told just-auto during a round table lunch here at Volvo HQ in Torslanda, Sweden.
Mertens was speaking ahead of the global unveiling of two new concept cars based on the CMA platform – 40.1 (XC) and 40.2 – and didn't want to give away all of his secrets at lunch "or you'll all go to sleep during the presentation this afternoon" but he provided a fascinating insight into what is going on at Volvo.
While Geely and Volvo will share the platform, most of the Volvo-specific work – for a car line that will first see light of day as an XC40 in 2017 – is being done in Sweden. "Nothing existed with the Volvo DNA so we had to do our own development work," said Mertens. This includes powertrains, safety (long a huge part of that aforementioned DNA), battery electric, plug-in hybrid and autonomous driving.
The aim: "A very competitive C segment compact car that will not only be competitive with Audis and BMWs but be a better car." No pressure then.
The modular architecture allows Volvo and Geely engineers to "plug and play", swapping components in and out to build cars suitable for respective target markets and segments. Volvos will have their own rear suspension, HVAC, safety equipment, electrical architecture and so on.
"We aim to be mass market and low cost but still beat our German competitors," said Mertens. There will be some carry-over technology from the Scalable Product Architecture (SPA) platform which already underpins the highly successful XC90 and the about-to-be-launched S90 and V90 (and anything else from 60 series up in the future).
All power- and drivetrain options will be available – petrol, starting with a new three cylinder, 1.5-litre engine, diesel, plug-in hybrid (petrol), battery electric, two-and four wheel drive. Volvo's 'T8' twin-engine PHEV is 4WD on the XC90 but it'll be a 2WD 'T5' on the 40s with the electric motor/starter/generator 'flanged' to the 2-4-6 clutch of the seven-speed dual clutch transmission and providing boost to the petrol motor or electric power only to the front wheels. Setting it up to be connected only in three of the ratios was tricky, Mertens said. This set-up, he said, "is very package- and cost-effective with extremely low CO2 emissions" thanks to low friction loss. Branding it T5 indicates it is not a performance package, as the T8 is in the XC90, but with emphasis on EV and low CO2, less about performance. It will also be "an affordable offer".
The 1.5-litre I3 will be produced in China "to help with cost and competitiveness" and may be offered to other OEMs in the future. Mertens said it can be tweaked to deliver up to 200hp and could go into the 60 series cars as well (and into the 90s as part of a hybrid powertrain). In Europe, the CMA platform cars will be built in the Volvo plant in Ghent, Belgium.
On autonomous driving, Mertens reckons technology will "trickle down" from the SPA cars and, by 2020, Volvo will have cars "fully autonomous in certain areas". He said the focus initially is on commuting because "city to city is likely to be less attractive". That year is also the one Volvo wants to achieve its goal of no one killed or seriously injured in its latest cars. The aim is to make autonomous systems as good as experienced drivers and, when the human driver needs to take over, it should warn him/her to do so without causing stress or panic.
As to how many models, Mertens is adamant, Volvo is "not going to follow the Germans into every niche" but hints that a saloon, estate, and XC SUV/crossover will be offered in every sector. He also promises tantalisingly: "We will go away from conventional thinking in sedans, hatchbacks, etc."
The new CMA-based 40s will give Volvo a true global small car sold worldwide for the first time. The current V40 is pretty much a European product and not sold in the US. Mertens sees no problem with making it 'premium' given recent experience with models further up the food chain such as the acclaimed XC90. He said Volvo has done its homework and it's about "design, materials, fit, finish, wood that looks and feels like wood, attention to details, PHEVs, connectivity and [the all-important] safety". Feedback on the SPA cars has been good and the next stage is "electrification, autonomous drive, technical leadership".
Mertens believes electrification will take off soon, probably by the end of the decade. He said the automaker had seen behavioural changes with PHEVs which took off originally in Holland thanks to plentiful government subsidies but now account for 20% of XC90 sales – "people do use chargers and the EV side as much as possible". Diesel engines? "They'll be around for a long time yet".
A pure EV SPA-based car launches in 2019 and Volvo is looking at a cumulative 1m EVs/PHEVs on the road by 2025. It's also expecting an amazing 500km (300 mile) range for SPA EVs and 350km (230 miles) for CMA models. Mertens said Volvo does its EV business cases without taking account of incentives as their future is unpredictable.
The company sees no need to make EVs stand-alone models, either. "They don't have to be ugly. PHEV or EV is a normal vehicle built in the same plants. There's no need to shout 'I'm different' – you just choose your powertrain."