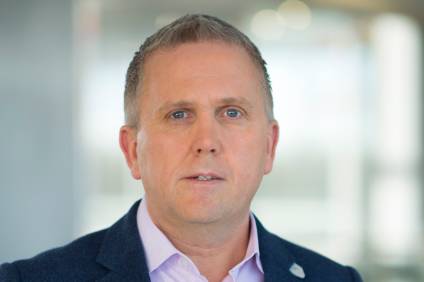 These are turbulent times for Ford. Earlier this month, investors took fright when the company announced a $1.7bn quarterly loss. But Ford Europe was a bright spot in the numbers, posting a small profit and a big improvement to trend. At the London launch for the electric Mustang Mach-E, Dave Leggett caught up with Ford of Europe chief Stuart Rowley.
j-a: What are the drivers of the improving financial position for Ford's European business?
SR: We put together a clear strategy in 2018 to re-set and re-design. We said we would re-set our performance in Europe to go from our 2018 loss to profit as quickly as possible over a 2019-2020 timeframe. We needed two things to achieve that: one, we had to drive up gross margin across our product categories. Across our product lines and business units we had to improve our margins, net pricing and address product costs.
In parallel with that we had to reduce our structural costs as a step-function. At the beginning of last year we announced that we would reduce our workforce by about 20% across Western Europe – 10,000 people. We would also restructure our business in Russia – that's another 2,500 people. So that programme is well under way. We spent the first six months of last year negotiating with our social partners; it's across the workforce, hourly employed, salaried employees, executives and across Germany, UK, Spain, France. It is very comprehensive and that programme is absolutely on track. We reached agreements around the middle of last year with our social partners on what we would do and we are very much in execution mode.
"There was a big improvement in the second, third and fourth quarters last year."
That is exactly what you can see in the development of our results last year. For the full-year we went from a loss of about $400m in 2018 to a loss of about $47m in 2019, so not yet profitable on a full-year basis – we still have a lot to do – but there was a big improvement in the second, third and fourth quarters last year. And in the fourth quarter we were about $212m improved, very significant and we delivered a small profit. Our objective is to make a 6% EBIT margin and we have a long way to go to get there. We have a $30bn revenue business here in Europe and we intend to get a return on our capital.
So it's a good start, but we have a lot of work to do and in terms of that re-set, we are absolutely where we expected to be and now we have to execute on what's been agreed. For example, our Bridgend engine plant will close in September of this year – and that's a major action that has to be completed and we are also still working extensively in Germany.
But this year we are very much pivoted as well on the re-design piece of this [strategy] which is very much about the future portfolio. We are going to invest and grow our commercial vehicle business where we are in a strong position – we have grown our share consistently over a number of years. We lead the market with fantastic products – Transit, Ranger, for example. And we are electrifying those products. The commercial vehicles business unit is now headed up by a general manager – Hans Schep – and headquartered in the UK at Dunton. We are organising every element of that business – it is about product, it's about service, it's about supporting our commercial vehicle customers.
It will also be supported by our alliance with Volkswagen where we will share platforms – either a Ford platform or a Volkswagen platform – on a number of our products. We already have a fantastic cost base through our joint venture (Ford Otosan) in Turkey and that business will get much stronger.
j-a: And on the passenger vehicle side?
SR: On the passenger vehicle side we have to think about the future of passenger vehicles. This year we have four all-new SUVs. Puma was launched late last year – a fantastic vehicle in exactly the right part of the market built at our Craiova plant in Romania. We're launching Kuga right now and of course there is the electric Mustang Mach-E and plug-in hybrid Explorer. We have a real tail-wind now of product.
j-a: Just thinking about the engineering underpinnings of the Mustang Mach-E; is that a unique electric platform? And where does MEB sharing with VW fit in?
SR: Yes, this is Ford's first global battery electric platform. The vehicle is built at Cuautitlan, Mexico. The engineering was led out of North America with Team Edison [a Ford team charged with producing Ford's first ground-up BEV], but the vehicle will be sold globally. There will be subsequent Ford vehicles off that Ford global platform.
We are also electrifying other Ford platforms. We have announced a full battery electric F-Series and we have also announced a battery electric Transit van.
"Although we will use the VW MEB platform, those vehicles will be built in a Ford plant with Ford engineering input and will absolutely be Fords."
What we announced as part of the Volkswagen alliance is that in Europe we will use the Volkswagen MEB platform for domestically produced battery electric passenger cars and the first of those we will introduce in 2023. Although we will use the VW MEB platform, those vehicles will be built in a Ford plant with Ford engineering input and will absolutely be Fords. They will look like a Ford, feel like a Ford and drive like a Ford.
j-a: How do you see the European car market in 2020?
SR: We're forecasting it will soften moderately. January was down but that was expected after a December in which a lot of cars were registered ahead of the European CO2 rules changeover for this year. There was a certain amount of pull-forward and payback. It was broadly in line with what we anticipated. We had a good January in terms of sales.
It will be interesting to see how the UK market develops. It was quite soft last year with all the uncertainty around. We've got more clarity, but not final clarity. We were quite happy with our performance in January in the UK. In commercial vehicles we are over 30% market share, so it's important to our business.
j-a: Is Brexit something that worries you?
SR: I think the General Election [in December of last year] cleared the fog a little bit. Obviously though, everything is not decided. We are very focused on executing our plan. I'm a firm believer in it's up to us to manage our destiny. That is our first priority.
In terms of Brexit the key for us is to maintain a zero tariff environment between the EU and the UK. We meet with both the EU Commission and the UK government and both parties are also clear that their objective is tariff-free trade. It is embodied in the political declaration [in the UK's EU withdrawal agreement]. We want to encourage that to happen. I am sure there will be a lot of noise between now and then, but that's what we want to happen. In terms of the import processes and ports, we have logistics people and we import parts from China, the US and all over the world every day. We need to be organised and ready, but I believe we can manage that side of things. Tariffs, though, would put a tax on consumers and that's not good for anyone.
j-a: As you say, Ford very much works on a global business basis with international supply-chains. Are you seeing – or do you foresee – any impact to European operations from coronavirus-related disruption to parts supply from China?
SR: We have a team monitoring this daily. Parts coming out of China not only come directly to us, but go to tier 2 and tier 3 suppliers. In the near-term we are good, but this is something to keep an eye on day-to-day, week-to-week to see where it is going. We know where parts shortages are and, of course, we get on to that and finding any alternative sources and you can manage your production flows and combinations, see what derivatives are impacted and so on.
Ford is at its best in these situations. I remember the 2011 earthquake in Japan. The Ford team just gears up.
j-a: Turning to the EU's CAFE CO2 targets for this year. How are you managing Ford's position to be compliant and avoid fines?
SR: We have known this is coming for some time and have been planning accordingly. We discontinued sale last year of the C-Max and the Ka+. We have dialled back on the Ford Edge in certain markets.
More importantly, we are introducing vehicles that are very favourable to our position in relation to those CO2 targets – for example the Ford Puma, where we have a mild hybrid version of our 1-litre, 3-cylinder petrol which is very efficient. We also have a plug-in 1-tonne Transit. We have a plug-in hybrid Explorer. We're launching the all-new Kuga with mild-hybrid, full-hybrid and plug-in hybrid variants. And then later this year we have the Mustang Mach-E.
So we have been aware of the new rules and planning for them, but it is certainly a big undertaking. It is our intention to meet our obligations.
j-a: No fines for Ford then?
SR: Absolutely not.
j-a: How important are commercial vehicles to Ford in Europe and what are the challenges to that business?
SR: I love our commercial vehicle business. Every Thursday and Friday I spend with the commercial vehicle team in Dunton. We are definitively organising around that business. It has been growing, we are market leader. We have fantastic products: Transit Courier, Connect, Custom, full-size Transit, Ranger – we have over 30% of the compact pickup market with Ranger and we are talking 50,000-60,000 vehicles a year. Fantastic vehicle and fantastic business.
It's a business to business market. We are separating the businesses – passenger vehicle business and the commercial vehicle business. How do we best organise to serve our commercial vehicle customers in small, medium and large businesses? So many of those vehicles are modified, so how do we organise and work with those modifiers to make more sense? How do we make these vehicles work? For small tradesman they are workplaces, offices, their mobility, their warehouse – how do we service all of that?
"It's really exciting work in Dunton to engineer the Transit van for the world."
It's really exciting work in Dunton to engineer the Transit van for the world. We sell it in Europe, Russia, North America (where it takes almost 50% of the light commercial vehicle van market) and China. That's all down to Dunton. We have a global product line manager for Transit who is based in Dunton, there's a commercial vehicles general manager and we have a fantastic team who can engineer the products and we have consolidated our Ford of Britain activity in there (we have 30% of the UK market).
In terms of my priorities it's number one – it's a growing business, a profitable business and we intend to take it much further.
j-a: And diesel is going to stay pretty predominant in commercial vehicles isn't it?
SR: Well, we'll see. Diesel I think is going to be very important. We are investing right now in Stage 7 [upcoming Euro 7 emissions standard] diesel technology to come in about the middle of the decade. We make a fantastic 2-litre diesel engine in Dagenham.
But it is an evolving situation. Over the last two years we have had a really interesting project that I was involved in – what I like to call the urban electric van. It was a 1-tonne plug-in hybrid Transit. So a series hybrid with a 1-litre gasoline engine in series with an electric motor and battery. The motor always drives the van and the engine powers the battery, like a range-extender. We ran a trial for well over a year. We put those 100 vehicles in fleets around London to understand how they would use them. These vehicles can go almost 50km on pure electric range, which extends to 500km with the range extender. We connected them up so we could track where they were, how they were being driven – engine on or off – and used. We could set them up with geo-fencing, so if they went past a school, say, the engine switches off. And they could optimise the mix for highway and urban running.
We learnt so much from that – and the fleet users learnt so much, too. Now we have launched that in full series production and there is great demand for that product. Demand is exceeding our supply. Next year, we will launch a 2-tonne full battery electric Transit. We have also put mild-hybrids on our 2-litre diesel Transits.
So there are different use cases and it's really about understanding how the technology couples with the customer use case. Our customers don't want to compromise. We need to get close to them and understand how we enhance their business with our product.
j-a: A cursory glance at your biog reveals that you have been around the Ford business globally, how are you enjoying being at the helm of Ford Europe?
SR: I love it. Opportunities like running Ford Europe don't come around often. It is a huge business and the automotive business is so exciting. It is a consumer business, but also highly technical and hugely competitive. That gets me up every day. And being back in Europe – I live between Germany and the UK – there's a great team and we have a great challenge to work on. We're taking a business that's been losing money and we are absolutely going to get it where it deserves to be. And we are doing that in a time of dramatic change for the whole industry. I love a challenge.
STUART ROWLEY
President, Ford of Europe
Stuart Rowley is vice president and president, Ford of Europe, effective April 1, 2019. In this role, Rowley is responsible for all operational leadership of the business unit, including acceleration of the European transformation strategy. He reports to Jim Farley, chief operating officer, Ford Motor Company.
Prior to his current position, Rowley was vice president and chief operating officer, Ford North America, since March 1, 2018. He was responsible for driving the redesign of the North American business to improve its overall fitness.
From 2016 to March 2018, Rowley was the vice president of Strategy, Ford Motor Company. In this position, he played a leading role in Ford's growth strategy by accelerating the development of new business models in both the company's core and emerging business opportunities. This included helping guide the company's investments in new products and technologies to support a focus on innovation.
Prior to that, Rowley served as vice president and Controller of Ford Motor Company from 2016 to April 1, 2012. He also served as chief financial officer, Ford of Europe, beginning in August 2010.
Rowley was chief financial officer and senior vice president of Volvo Car Corporation in Gothenburg, Sweden, a position he held since March 2005 after serving as the company's deputy CFO and operations controller.
Between 2000 and July 2004, Stuart Rowley was vice president, finance, Ford Australia.
Rowley joined Ford Motor Company in 1990 as financial analyst for Ford of Britain. He worked in several management positions in product development finance and manufacturing finance in Britain and the U.S. before being appointed finance director, Ford Motor Company Philippines, in January 1998, a position he held until moving to Ford Australia.
Born in 1967 in Derby, UK, Rowley is married and has two sons. He has a Bachelor's of Engineering (Hons) degree from the University of Leeds and an MBA from the Manchester Business School.