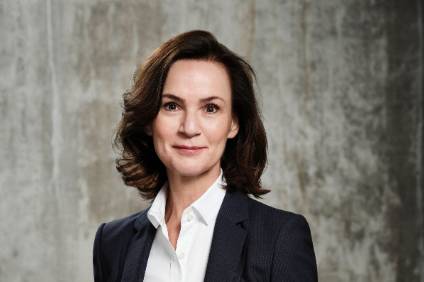 Audi AG's Member of the Board of Management for Sales and Marketing, Hildegard Wortmann, began her career in FMCG and fashion. In 1998 she joined BMW to re-launch the Mini as Head of Brand Communication. From 2016 she took over overall responsibility for the BMW brand, including BMW i. Later she was head of BMW sales for the Asia Pacific region. She moved to her present position at Audi on 1 July 2019. just-auto had an exclusive video call with her on the day of the launch of the Audi Q4 e-Tron and Q4 e-Tron Sportback.
j-a: Audi started with EVs relatively slowly, with the e-Tron SUV. Now you have the e-Tron GT sports saloon and the Q4 e-Tron models. What is your roadmap for electrification?
HW: We have accelerated tremendously the switch to electric vehicles. We have strengthened our budget at Audi to €15 billion to 2025, for BEV and PHEV.
That is a strong commitment. The future is electric.
By the end of 2025 we will have 20 BEVs plus more PHEVs. By then, BEVs and PHEVs will be one-third of our global sales.
[Shortly after we spoke, Audi unveiled the concept version of the A6 e-Tron, which will be built on the PPE platform shared with Porsche. Wortmann also mentions the SSP, a 'highly scalable' platform that will underpin a huge range of future Volkswagen Group cars.]
The premium market will move faster to electrification than the mass market. Sustainability is the new premium. Other things were more important in the past but we have to change the company and the brand towards sustainability. It is a priority for 73% of millennials. They expect a brand to have a stance. It's just 34% of baby boomers.
If you're not sustainable you're not going to be relevant any more. It's crystal clear. I see a huge chance for Audi to leapfrog the competition. It's a total impression of Audi as a company and a brand, fulfilling what the customers and the capital markets demand.
j-a: Audi builds the RSQ8, a 600 horsepower petrol SUV. Will green consumers buy an Audi if not all its products are green? Tesla for example makes only electric cars. How do you convince those consumers?
HW: Electrification is our strategy for the high performance segment. But you don't win just through products. You need to win through the company, and the whole value chain. Our production sites are becoming carbon-neutral. Brussels has been since 2018. Zwickau, which makes the Q4, is net carbon neutral.
We have had the slogan 'Vorsprung durch Technik' [progress through technology] for 50 years. What is progress now? Not just speed and horsepower. Covid emphasises new values. We must use technology and progress to contribute to society. So we are staying with that slogan.
j-a: How will you make a profit on all this?
HW: It's not far off. We have scale advantages with the MEB and PPE platforms. The MEB will have made 19 million cars by 2029. The cost of batteries is falling. In the group we will have six gigafactories.
The margin on a Q4 e-Tron is already close to that on an ICE Q5. Within two years our BEVs will be more profitable than ICE cars.
Remember, ICE cars still need huge investments to meet regulations. We will have to do ICE and electric. The consumer will decide how long we will sell ICEs.
j-a: There is less servicing requirement with BEVs versus ICEs. How can you maintain aftersales revenue?
HW: We can sell functions on demand (FoD) via the cars' software stack, in the aftermarket. And lifecycle updates. Those are a huge profit pool.
We will consistently exploit data as a business on the used car segments. We will do our homework, invest in loyalty, guarantees, service packages.
Total customer lifetime value shouldn't differ for an electric vehicle versus a combustion car.
Dealers need to be knowledgeable and passionate about the EV transformation.
j-a: Does this revenue include selling the customer the energy?
HW: No. But everyone – governments, OEMs, energy companies – must go into the infrastructure. It's not rising fast enough. We didn't want to go into this initially, but we had to. It's not our core business but it drives car sales.
j-a: As mobility as a service (MaaS) grows, and car sharing increases, will you inevitably sell fewer cars overall?
HW: We are not doing this for charity. There has to be financial viability. There is not much of that in MaaS. We need the right ideas at the right time and there is not yet a column in the business schedule. We have subscriptions and Audi on Demand [a short-term hire service], but they aren't big perspectives.
The big step will be autonomous driving. That allows a significant use case and viable scale for MaaS.
j-a: So when will you have robotaxis? All the OEMs' projections keep slipping back…
HW: It keeps changing every year. That shows how hard it is. The whole industry is the same. Our Artemis project is working hard on it; we can only accelerate the launch by developing things in a different way.
j-a: What about the next generation of some of Audi's most special cars. The R8? The TT?
HW: In the new industry you don't just have a car and then its successor. You have to go for new segments, and new customer lifetimes. That's why we have coupe-SUVs. It's not just about straightforward next-generation models.
The R8 is an icon of the brand like the TT, and like the Quattro was. But icons of the past aren't necessarily icons of the future. We are looking at a successor for the R8. But not just an R8 with a plug-and-play electric engine. It needs to be an R8 but different. The same holds true with the TT. Customers have changed, and the world has changed against roadsters.
Audi has always done emotional models. See our concept and vision cars. We have ideas. There's more to come. We have to have icons for the future.
j-a: A modern A2 could fit our time?
HW: The A2 was remarkable. The use of space and technology were ahead of its time. Stay tuned, I'd say.
j-a: Audi has had fuel-cell concepts before. How does that fit into your electrified future now?
HW: My view is that there is no use case for hydrogen in private cars. The infrastructure and too many other arguments are against it. Audi needs a technical focus, and that's battery vehicles.
Hildegard Wortmann
Hildegard Wortmann was born in Münster.
After graduating as a state-certified foreign language correspondent and studying business administration at the University of Münster, Hildegard Wortmann started her career at Unilever in 1990. She held various positions there including Product and Brand Manager and was later Marketing Director for Calvin Klein. During her work with the company she gained international experience, including London and New York. Alongside her professional career she completed an MBA in London.
In 1998 she moved to the BMW Group, where she led the relaunch of the MINI brand as Head of Brand Communication. Her other professional positions at BMW included marketing pre-development, innovation projects, product management and after-sales.
From 2010 to 2017 she was responsible for global product management for BMW. In addition, from 2016 she assumed the overall brand responsibility for the BMW brand.
With the development and launch of the electric brand BMW i, Hildegard Wortmann placed a decisive focus on e-mobility.
In January 2018 she moved to Singapore, where she was responsible for the Asia-Pacific sales region.
Hildegard Wortmann has been the Member of the Board of Management of AUDI AG for Sales and Marketing since July 1, 2019.