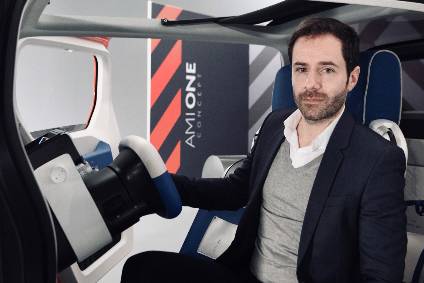 In today's car interior, space in front of the wheel remains a priority with the explosion of added content and features. In tomorrow's car, the space behind the wheel of the self-driving car will be transformed into a comfortably designed control and entertainment centre. To learn more, we talked with Jean-Arthur Madelaine Advenier, head of interior design for Citroen. Minimalistic, colourful interiors using organic materials and 3D printing to personalise and customise is the order of the day.
Could you give us your vision of what a Citroen autonomous car interior could look and feel like?
Autonomous cars will be truly designed from the inside out.
It should be minimalistic, comfortable, colourful with new activities for everyone. It should be something more than just a conventional cockpit without a steering wheel. New layouts for new activities should be explored and it will have an impact on the exterior silhouette. Autonomous cars will be truly designed from the inside out.
With more lightweight materials being used in design, does that create challenges/opportunities as a designer?
Opportunities definitely, lightweight materials are mostly used in structural elements. Weight is important for a designer, but size reduction is even more so. It can have a big impact on our design. For example, thinner seats due to thinner structure can bring a new aesthetic and, even more importantly, more legroom for the second row.
We understand that individualisation is a growth market that offers great potential for differentiation. How is Citroen responding to that?
One of our challenges as an "affordable" car company is to have as little diversity as possible in our production process – to reduce selling price – but at the same time, to offer as much diversity as possible to customers. Some building processes like 3D printing could bring this extra personalisation and customisation possible with functional accessories and décor parts.
The use of organic materials in car interiors has been talked about for some time. Is that something Citroen is exploring?
PSA always works towards being more sustainable, from the building process to materials used and recycling properties. We are looking towards "bio-sourced" materials (organic), some that have the same characteristics as the materials they replace, some bringing a unique aesthetic (colour and touch feeling).
Chinese tastes are increasingly influencing the design of cars driven not just in China, but around the world. How do you see that influencing interior design of cars?
Customers are looking for disruptive interiors and new technologies.
A few years ago, the Chinese market was very conservative, but these days very innovative cockpit layouts are coming from China. We see worldwide that customers are looking for disruptive interiors and new technologies. This is a great opportunity for us as designers: we can propose disruptive interior proposals to the Board.
How do you see electric vehicles influencing interior design?
Electrification is a great opportunity for new interior layout. The traditional engine compartment could become part of the interior with new functions. Flat floor is accessible bringing more space and freedom of movement. Structural elements like the HVAC box and beams can be designed and placed in a different way for more space.
How do you set about creating the right harmony in a car?
Harmony comes from choosing the right material for the right function. Shapes and materials should be always connected. If it looks soft from the shape it should feel soft, and if it looks sharp and precise it should feel the same. Colours should underline design features like details.
What does the trend for increased digital content mean for Citroen information displays?
The graphic design inside the displays is part of the interior harmony. We care a lot about it, it is not something standard, it fits to our design and materials in the interior.
Digital content will be more present but displays like we know will disappear. We want this digital content to be as intuitive as possible, thanks to our graphic design guidelines and also by choosing what is necessary and what is not.