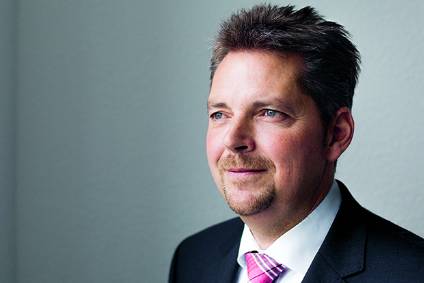 Continuing just-auto's series of interviews with tier one automotive component suppliers, we spoke to Carsten Roch, head of Hella's Driver Assistance Systems division about a novel radar sensor based on 77 GHz technology and interior lighting for the autonomous car.
Could you tell us about some of the technologies that Hella highlighted this year at the most recent CES and your main message?
At this year's CES Hella highlighted how various technologies and products can work together for automated driving. The new Hella CompactRadar formed the centrepiece of the presentation. This novel radar sensor based on 77 GHz technology was developed in close collaboration with NXP, which is the world's largest automotive semiconductor supplier, as well as InnoSenT, a leading provider of radar technology and in exclusive cooperation with Hella since 2016. The CompactRadar is the smallest radar sensor of the Hella product portfolio and will be hardly bigger than a matchbox. These low space requirements allow a more flexible placement of the sensors behind the bumper and will, therefore, accelerate the overall integration process of the sensor. Furthermore, are the small dimensions an enabler for new integration possibilities such as the side area of the vehicle? Following this, the sensors can be placed in the front, rear, and side area of the car and hence is suitable to provide a 360-degree field of view around the vehicle. This enhancement of the sensing area is particularly important to further improve parking functionalities and is a necessary step to fully automated parking.
In addition, Hella exhibited the independently developed HD84 headlamp module. This consists of 84 individually controllable LEDs per headlamp. The headlamps receive the necessary information for proper light distribution adjustment to traffic, weather and road conditions via a link to a front camera, usually installed behind the windshield. The software of Hella Aglaia Mobile Vision GmbH, also a Hella Group company, enables front camera activation also for functions such as lane keeping assistance or pedestrian and vehicle detection.
We often hear about manufacturers looking for novel ways in which to integrate sensors into vehicles, including opportunities to fuse different functions into a single unit. What does your CompactRadar sensor aim to achieve beyond standard ultrasonic sensors?
The associated new integration possibilities of the CompactRadar and its range and multi-target capabilities allow various applications beyond standard ultrasonic based functions. Aside from the classic safety oriented radar functionalities such as Blind Spot Detection and Cross Traffic Alert it is also possible, due to the sensing coverage at the side of the vehicle, to realise a Door Assist where the maximum door travel can be detected and controlled. This can ease the process of getting in and out a car in tight parking spaces and will increase the comfort experience for the driver.
Will your CompactRadar also enable the elimination of those visible car bumper sensors?
The appealing near-field capabilities of the CompactRadar enable radar-based parking functionalities comparable to available ultrasonic solutions. By combining this with the advantage of an invisible mounting behind the vehicle fascia, the CompactRadar opens up the possibility to eliminate the visible sensor holes caused by ultrasonic sensors.
But it is not the main intention to just improve the vehicle design. The multi-target capability, its general advantages concerning moving objects, and its enhanced range compared to ultrasonic sensors enable a generation of a detailed 360° environment model of the vehicle's surroundings. This model can be used as input for advanced features and will serve as a basis for further improvements of automated parking as we know it today.
Could you give us your vision of how lighting and electronic components can come together to support automated driving?
Lighting and electronic components act together in order to ensure safe and efficient driving conditions. Our vision is that the vehicle's environment is constantly being monitored by a combination of radar and vision-based driver assistance technologies, to ensure safe conditions for all road users. Without any intervention by the driver, the vehicle recognises traffic signs and traffic lights to then adapt its acceleration speed accordingly. Lighting systems have the ability to project warning messages onto the street or the car itself to inform other road users about possible hazardous situations that lay ahead. Lighting is now taking part as a safety function as well. It will be able to warn of the upcoming danger and assist in focusing the drivers' attention to where it is needed.
In what ways will the autonomous car change the interior/ambient lighting?
As drivers relinquish the control of the vehicle to a computer – the focus falls on the car interior to attend to the occupants emotional and comfort needs while continuing to provide the exciting driving experience.
The biggest trend of today, when it comes to interior lighting, is a personalisation of light. A lot of current eye-catching lighting features and designs are made possible by the introduction of LED technology. Hella has been installing LEDs in its interior illumination applications since 2001. With RGB LED and dynamic light technology lighting will be integrated to provide the occupants with a completely personalised environment. Scalable Interior Lighting Control Units will allow the personalisation of light to go beyond choosing the preferred colour and enable personalisation in an aspect of dynamics. Ambient lighting will be able to adapt to various parameters such as music, driving speed, temperature or ambient brightness.
One of the latest eye-catching features offered by Hella is, for example, the 'moving colour'. The light moves around the interior in various colours and colour mixtures. In the near future, a smartphone app will allow the end-user to predefine all the aspects of the interior illumination – a single colour scheme, a storybook or a dynamic light show.
It seems like almost everything is now connected to everything else including the cars. What is your vision of the connected car?
From Hella's perspective, connectivity is a prerequisite for autonomous driving. The connected car will be networking with the outside for increasing safety and comfort of the driver. In order to ensure this, the car needs e.g. precise data and information on traffic jams, construction zones and accident scenes which can be provided by cloud solutions. Hella already offers today products to support connectivity that can be fully customised by OEMS and is intensively working on solutions for integrating mobile devices into the car as well as on other smart wearable devices.
To what extent is the electrification of the vehicle driving more actuation as well as new sensor technologies?
On the one hand for fully electric vehicles, a ramp down of traditional powertrain actuators and sensors is expected. For example, turbocharger actuators and throttle bodies won't be necessary any longer.
On the other hand, there will be an increasing demand for new actuators and sensors such as Charge Plug Actuators and Motor Position Sensors. Hybrid Vehicles, which have a combined powertrain, will have both traditional and new actuators and sensors due to their combustion and electric engine.
We hear of a need for sensors with better accuracy and with smart features that able more precise and earlier signals. Is this where you are seeing a lot of development activity, i.e. 'smart/intelligent sensors'?
One development activity that we see is to enable driver assistance systems for the mass market and to make the technology also attractive for smaller vehicle segments.
Also, it is always the intention to further improve the sensors range and accuracy. But these improvements always need to balance regarding cost and performance and is, therefore, a limited approach. A more promising strategy is to adapt the measuring mode of the sensor to the individual driving situation. The CompactRadar, for example, does exactly this and offers with its two near- and mid-range measuring modes a smart solution to continuously provide the ideal data for the current application.
&