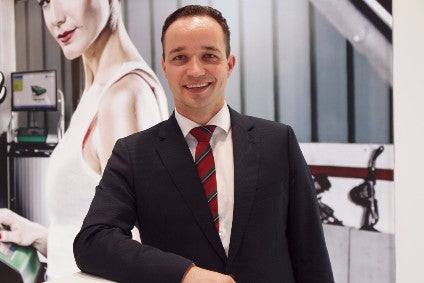 While self-driving cars are not yet available to the public, there are a number of models offering some form of advanced assistance to the driver. These include adaptive cruise control and forward collision warning systems that require a camera to be fitted, typically behind the windscreen. Upon replacing the windscreen, the camera typically needs to be recalibrated. To learn more, we spoke to Hella Gutmann Solutions GmbH's managing director Björn Rietschel about the company's camera calibration tool and the prospects for self-calibrating systems.
Could you tell us about your diagnostic technologies?
The traditional key competence of Hella Gutmann lies in multi-brand diagnostic tools. Our mega macs series includes mega macs 66, mega macs 56, mega macs 42SE, mega macs PC, as well as customised solutions.
Moreover, we have considerably expanded our product range of repair shop equipment over the past few years. It now also includes high-quality analogue and digital beam-setters in the SEG range, the HUSKY air conditioning service stations, the TPM-Tool for all work on tyre pressure monitoring systems (TPMS), the BPC-Tool for battery analysis, and the SLD tool for leak detection. It also includes the Camera Calibration (CSC) Tool.
What does the CSC Tool do?
The tool was launched in 2013. It has been designed to enable our mega macs models for the adjustment and calibration of cameras and radar sensors, since there is a growing demand. A large number of car shops and repair specialists in Europe are already working with a mega macs CSC Tool combination. It provides the necessary equipment for static und dynamic camera calibration of 17 automotive brands. Only recently, the tool was upgraded with the addition of two kits for the adjustment of radar systems which cover the three most common types.
When is front camera calibration required?
Front cameras need to be calibrated if the windshield or the cameras themselves have been replaced. Calibration is also required after a major damage repair on the vehicle body or after the leveling of front axle or rear axle has been modified.
Why does it matter when replacing a windscreen?
Like other sensors for ADAS [Advanced Driver Assistance Systems], video cameras collect information far ahead of the car. Those high tech sensors need to be accurately aligned parallel to the geometrical axis of the vehicle. If the windshield position differs just slightly after it was replaced, the viewing angle of the camera is likely to be incorrect. Since the camera clips cannot be adjusted, any deviation must be compensated by the ECU if the ADAS is to function correctly.
What are the unique features of the CSC?
The CSC Tool is a flexible, easy-to-use calibration tool which works together with our diagnostic tools of the mega macs series. Both, the mega macs and the CSC Tool are truly multi-brand. The camera calibration procedure covers about 90 percent of all common vehicle brands in Europe. Moreover, with the optional CSC radar kit, the mega macs CSC Tool combination makes it also possible to adjust and calibrate vehicle radar systems. This is service which is on growing demand in vehicle repair shops.
Can your CSC be used for vehicles of any car manufacturer?
It can be used on a variety of brands depending on the calibration strategy of the manufacturer and the system generation. Most of today's camera systems require a static calibration, which needs an absolute parallel alignment of the CSC tool plus a specific target, that has to be placed absolutely parallel to the car's rear axle. The number of vehicle brands covered by combining mega macs and CSC tool is growing rapidly. As we are speaking, our targets for camera calibration cover Audi, Mercedes, Seat, Skoda, Honda, Hyundai, Kia, Mazda, Nissan, Renault, Toyota/Lexus and Volkswagen. Other brands like BMW, Ford, Mitsubishi and Volvo require a dynamic calibration of cameras, which are supported as well – in terms of the initialisation and documentation.
Roughly-speaking. how much would a garage pay for the CSC?
The product is competitively priced and varies depending on its use for camera calibration or radar adjustment. Pricing is also subject to the number of car makers that need to be covered. If the garage already owns a mega macs, the additional CSC Tool should amortise quickly. Hella UK will be pleased to make an individual offer for specific needs.
How do you see the future of self-calibrating cameras?
The acceptance of ADAS has been growing rapidly over the past years and even small cars are equipped with numerous ADAS for more convenience and safety. In order to support repair shops and specialists in their demanding jobs presently and in the future, Hella Gutmann has designed the corresponding equipment. Those basic tools are flexible in use and easy to adapt for future needs. Fact is that the car manufacturers have been changing the ADAS technologies quickly and even within the period of a model. That's why a mechanic needs to be set for all kinds of calibration procedures. Even today's so-called self-calibrating systems don't actually calibrate themselves. They require dynamic calibration, which has to be initialised with a diagnostic tool like the mega macs. Moreover, the mechanic needs specific instructions such as driving the car in a certain manner with certified speed over a given period of time. Today, there are only a few car makers who use the dynamic calibration strategy.
Thus, we see a trend for systems that require both, static and dynamic calibration. At Hella Gutmann, our aim is to design and produce repair shop equipment that supports the automotive technician in all of these strategies and which is constantly adapted to our client's needs.