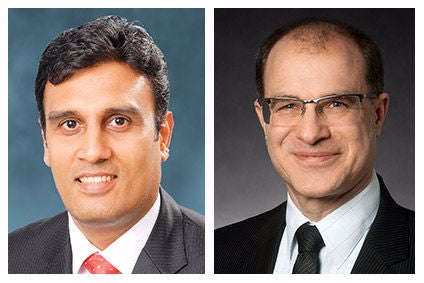 Automotive thermal management solutions provider HVCC changed its name to Hanon Systems last summer. Continuing just-auto's series of interviews with tier one suppliers, Matthew Beecham spoke to Subu Nagasubramony, Hanon Systems' HVAC (heating, ventilation and air conditioning) / powertrain cooling and systems product group lead and Bernd Kirmse, Hanon Systems' global marketing lead to find out what else has changed in the HVAC sector.
As we understand it, the trend in the auto air conditioning market is moving from manually-adjust air conditioning, through semi-automatic, to fully automatic adjustment to fully automatic dual zone (for front seat passengers) to four zone multi-zone control. Is that correct?
Subu Nagasubramony: For Europe, the trend you mention is already a reality in passenger cars. Automatic control is constantly growing in market share, and two or more zone systems are no longer limited to large models or luxury brands. The rate of adoption varies by region; but, the overall global trend is that the majority of new vehicles being sold will have automatic air conditioning. Occupant comfort and individualisation are clear consumer expectations and now manufacturers offer these features across the model range, where previously they were marketed only on the top end.
How is demand for multi-zoned air conditioning shaping up in Europe?
Subu Nagasubramony: Multi-zone is everything above a single temperature zone. Our expectation is that by end of the decade the European market share of single zones will shrink to 50 percent with the remainder taken up by dual and triple-zone systems and a small portion by quad-zone systems. There is a wide range of vehicles in the C- and B-segment that offer dual-zone automatic climate systems, which allow the driver and passenger to select their preferred temperature independently.
The larger the vehicle cabin size and/or the higher the luxury of a car is, the more zones are offered (often as an optional feature). For example, three-zones in a van or larger SUV allow rear passengers to set a different temperature from the occupants in the front left and right.
Hanon Systems' view is that consumers will become accustomed to multi-zone systems, similar to what happened when air conditioning had wider availability in Europe in the '90s. However dual-zone appears to be the best solution for most vehicle purchasers.
In what ways have the regulatory forces driven recent innovation from Hanon Systems?
Bernd Kirmse: Regulations drive vehicle energy efficiency and exhaust emissions reductions. For the air conditioning system, one regulatory item in Europe is refrigerant; currently, it is R134a and with its high global warming potential (GWP) of 1430, it is phasing-out. Beginning January 2017, newly registered vehicles are required to use an environmentally friendly refrigerant with a GWP below 150. The OEMs solution of choice is R1234yf, but there also is some activity with the natural refrigerant R744. For both alternative refrigerants, Hanon Systems has a long history and industry-recognized experience for system and component development. The first production vehicle with Hanon Systems supplied R1234yf components launched in the first half of 2013.
Other regulations to lower emissions and improve fuel economy are supported by our powertrain cooling, and thermal and emissions and other products. For example:
exhaust gas recirculation (EGR) cooling systems to lower NOx;
air- or water-cooled charge air cooler for high efficient, downsized and turbo or super charged engines; and
battery contact heat exchangers and chillers, electric compressors and heat pump systems for electric, hybrid and internal combustion engine vehicles where there is insufficient waste heat for cabin heating.
There also are indirect drives. For example, a zero emission vehicle like an electric car is quiet in operation. This drives a lot of focus on making the HVAC system, for example, much quieter by reducing blower and air rush noise.
These are just examples. At Hanon Systems, the majority of our new product development focuses on three market drivers – eco-friendly, efficient and comfort. This is a constant area of focus for us in our vision as a leading global thermal management solutions provider in the automotive space.
Not so long ago, air conditioning systems used to be noisy. How have you addressed this issue?
Subu Nagasubramony: All applications, especially the growing electric and hybrid vehicle segments, made it necessary to further improve Hanon Systems' already quiet HVACs.
We have a long history of scientific research in analysis of HVAC noise – generated and transmitted – to identify how they are created and what can be done to mitigate without impacting system efficiency while still providing compact packaging. Hanon Systems has a comprehensive design guide and toolkit that is applied to all new HVAC designs that allows us to quickly design new units in CAD, and instantly verify the airflow pattern that is the root cause of turbulence and noise. The transfer from CAD to CAE and Computational Fluid Dynamic (CFD) analysis is automatic, fast and highly accurate. Rapid prototyping to create hardware for testing and verification of the CAE results can be done quickly and efficiently. The objective is to prevent noise at the source, instead cancelling it, which can involve cost, performance or package deterioration and additional weight.
Optimisation starts at the air inlet, through the blower to the heat exchangers, the air distribution plenum and finally to the ducts. Hanon Systems is able to stay well below the OEMs challenging NVH [noise, vibration, harshness] targets.
How is Hanon Systems reducing HVAC related power consumption?
Bernd Kirmse: Reduction of HVAC-related power consumption goes hand-in-hand with noise reduction. With optimisation of airflow and lowering pressure drops, we can use less powerful blower motors where there is less resistance to overcome. With our partners, we also are developing more efficient electric blower motors. These – in combination with electronic speed control instead of a classic resistor, or the use of brushless motors with integrated electronic control – help to reduce power consumption.
Electric vehicles are challenging as the onboard energy should primarily be used for drive range. Here, the application of a refrigerant-based heat pump system can reduce power consumption by 50 percent compared to an electric heater at –10° C, which equates to an increased drive range of up to 30 percent.
With the increasing interest in electric and hybrid vehicles from the auto manufacturers what developments are taking place for HVAC systems in such vehicles and what is Hanon Systems doing in this area?
The remainder of this interview is available on just-auto's Global light vehicle HVAC market- forecasts to 2030
About Hanon Systems
Hanon Systems is a full-line supplier of automotive thermal management solutions. Its products include HVAC; compressors; powertrain cooling; fluid transport; and electric, hybrid and fuel cell vehicle thermal systems. With 40 manufacturing sites supported by four global technical centers in 19 countries, the company employs more than 15,500 manufacturing, engineering and administrative employees in Asia, the Americas and Europe.
Hahn & Co and Hankook Tire became the majority shareholder of Halla Visteon Climate Control (HVCC) after acquiring the business from Visteon Corporation in June 2015. The company subsequently changed its name from HVCC to Hanon Systems.