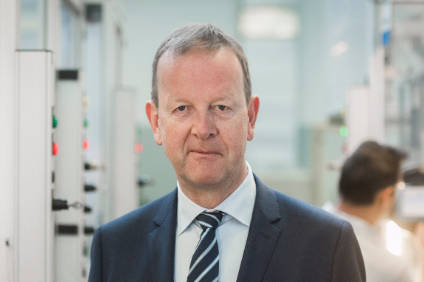 Peter Moelgg, Chief Executive of GKN Driveline's eDrive and AWD business, tells just-auto about the company's expanding business opportunity with a new electric drive system for compact plug-in hybrid vehicles.
GKN 's electric drive division is seeing a strong take-up in demand for its new products. A recent initiative is a complete electric driveline module that improves system efficiency and gives automakers more packaging and assembly options.
The new module integrates a water-cooled electric motor and inverter with a single speed eAxle reduction gearbox. The system generates a maximum 65kW of power and can deliver up to 2,000Nm of torque to the rear wheels.
Peter Moelgg says the growth of hybridisation in vehicle engineering strategies is adding complexity that GKN 's complete system addresses for the OEM. "These complex drivelines require the higher levels of system integration that GKN eAxle electric drive modules deliver," he says. "It's a complete unit, the motor, the inverter and the e-axle are all together. Automakers increasingly want the complete eDrive systems from suppliers, rather than sourcing the different elements from different companies." He says GKN 's system is the first all-in-one eDrive system to replace external wiring with a bus bar and to eliminate unnecessary mechanical interfaces. "The result is an eDrive system with higher power density that is simpler to install," Moelgg maintains.
The system starts production in 2019 on a global platform from a European vehicle manufacturer, but Moelgg says a number of OEMs are interested in GKN 's hybridisation solutions. "When you want to do something to meet CO2 targets, that's where GKN can come in. The implementation of an eAxle is a convenient path to the solution.
"The journey began with the Nissan Cube in the early 2000s and then the Fiat 500e for the Californian market. We have quite an industry track record in this area."
GKN has certainly put plenty of effort into its electrification drivetrain products in recent years. It launched the world's first two-speed eAxle in the plug-in hybrid BMW i8 and also supplies the eAxle on the Volvo XC90 T8 Twin Engine PHEV programme. The company was awarded Official Porsche Technology Partner status for its contribution to the plug-in hybrid Porsche 918 Spyder programme.
Moelgg maintains that the eAxle is key. "With the eAxle you can bring as much power to the vehicle as you want and it's a flexible approach, whether on the front application, rear application and it's the right way to go for a full electric vehicle and will also work well – at some point in the future – with a hydrogen fuel-cell vehicle. The eAxle concept will not change, in terms of the basics of the technology, whether it's for a plug-in hybrid or a battery electric vehicle or a future fuel-cell vehicle."
The eAxle can help to raise the electric power element in the hybrid mix, Moelgg maintains. "On mild-hybrid vehicles around 15-20% of the total energy used is coming from electric power. Our eAxle can raise the electrical contribution on such systems to 50%."
He also says a major advantage is that the technology is cost-effective in terms of package implementation. "It is the best technology to fit into current platforms. The engineering changes are small, because you are putting in an axle which is not directly connected to the engine or the gearbox. This is a big advantage in terms of system architecture. For example, with the Volvo XC90, our eAxle is in the same space as the rear-drive module on their 4WD model. So from their production scheduling viewpoint, it is easy for them to adjust production according to market demand."
GKN is positioning well for an industry technology area that is set for huge growth, Moelgg maintains. "There are forecasts that by 2025 as much as 40% of overall car production will entail hybridised systems."
And GKN is also targeting growth for its e-drive solutions in China. "The Chinese market is one of the most important ones and one of the most aggressive in terms of implementing electric drive into the industry. We have an excellent footprint there with our STS joint venture. That venture means we can leverage local presence and there are a number of important programmes coming up for us. As well as the local OEMs, the global players active in China are wanting to localise content as much as possible."
GKN is opening a new tech centre next year in Shanghai. "The engineers working there will be tasked to fulfil the requests we have for these programmes."
Moelgg points out the importance of technology integration in the GKN eAxle module and the need to have the capability to engineer all the elements. "A full system consists of the mechanical integration in the platform, the sideshafts, CVJ, the electric motors, inverters, the battery and also the software application. How do you control this? How do you bring this into operation from a safety point of view? There are interactions with the ABS breaking system, the ESP. There is torque vectoring if you have AWD. These are all software matters and intellectual property is needed to properly integrate such a product."
Moelgg acknowledges that it has been a challenge to master all the elements of the technology. "It has been a challenge for us, certainly, but this is a brand new technology and can be a huge differentiator in the market as OEMs increasingly are drawn to electrification options."