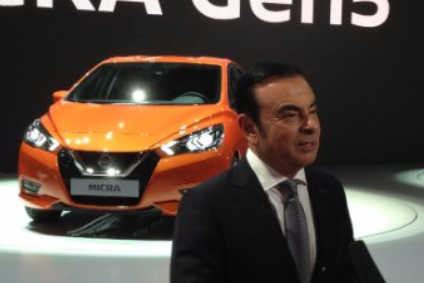 The manufacturing location for the next generation Nissan Qashqai is an investment decision that will largely be determined by the shape of Brexit and the progress of UK-EU negotiations for the UK's exit from the EU that will start in 2017. In Paris last week, we heard Renault-Nissan Alliance chief Carlos Ghosn set out his latest thoughts on Brexit and other issues.
Carlos Ghosn's comments on Brexit that made the headlines in the British media were not part of a prepared statement by the Renault-Nissan Alliance. The chairman and CEO of the Alliance (and the two individual companies) found a more subtle way of applying pressure to the British government.
Last Thursday, the first press day at the Paris Motor Show, Ghosn held an unscripted question-and-answer session for an invited audience from the international media. It was a bravura performance, quick-fire answers on a wide variety of subjects posed by delegates from all over the world: China, India, Brazil, Mexico, USA, and, of course, Europe.
Questions on how Britain's withdrawal from the European Union would affect the Nissan plant in Sunderland were inevitable.
It was the perfect opportunity to clarify his position: "Sunderland is a European plant in the UK. I don't know what 'leaving Europe' means and we need to know; we are business people and we judge on facts.
"At the moment, it is business as usual at Sunderland, and is likely to be so for two years. After that, if there is no tariff [the 10 per cent Common External Tariff applied to fully built-up cars coming into the EU] then nothing changes. But if there are to be tax barriers and other legislative restrictions we will not go ahead with future investment unless we have an undertaking of compensation from the UK government.
"We have already said to the UK government: if you want to know about our future investment, tell us the new conditions. We will not make our decisions in the dark. Sunderland is a great plant (the most productive in the Alliance), we have a long story with the UK, and many of Nissan's top executives are from the UK. We would like to stay, our instincts are to stay, but we cannot if the conditions are not right."
The unspoken subject of that investment is the next generation Qashqai, Nissan's most successful European model. The current car was launched in 2013 and the development of a new one is well underway. A decision on where to build it is likely to be made during the two years of Brexit negotiations.
Ghosn was asked if there was pressure from the French government (which holds a 19.7% stake in Renault) to transfer more production to France. The new Nissan Micra is being built at Renault's Flins factory in France and it would be relatively easy to make the Qashqai alongside its Renault equivalent, the Kadjar. In reply, he said there was no pressure and emphasised that Nissan, not the Alliance, had made the decision to produce the Micra in France:
"One of the agreements signed when we had this unfortunate business of voting rights was that the Renault board would never vote against the board of Nissan, so one company cannot influence the other."
The previous Micra was made in India, leading one questioner to wonder if Renault and Nissan can make money producing a B-segment car in Western Europe. As the pivotal decision-maker in both companies, Ghosn confirmed that they can – "otherwise we wouldn't do it" – but not the same amount of money as in lower-cost developing territories. "We (Nissan) are doing this because our existing facilities are full to capacity."
Emerging markets and CMF-A
Renault has had considerable success with a more recent car for India, the oddly-named Kwid, and Ghosn confirmed that it will launch this low-cost small hatchback in Brazil and other emerging markets as well as developing related products on the CMF-A Alliance platform for India.
The Alliance's further expansion in India will include collaboration with Mitsubishi, the troubled Japanese car business that already works with Nissan elsewhere and with which Nissan is currently negotiating a controlling interest.
Mitsubishi deal 'this year'
On the subject of Mitsubishi, Ghosn said: "We are going through due diligence with Mitsubishi. So far, so good. It is very likely that by the end of the year we will make a deal to take 34 per cent of Mitsubishi Motors and become its main shareholder.
"This is not just a financial deal, it is a massive opportunity. There are synergies between Nissan and Mitsubishi and Renault and Mitsubishi, lots of connections. Mitsubishi will become part of the family – it will join the Alliance.'
Electrification
Mitsubishi, like Nissan, was early in the market with electric cars but it has enjoyed more success with plug-in hybrids – an area where Renault and Nissan are not strong. Pure electrics (BEVs – Battery Electric Vehicles) were the main feature at the Paris Motor Show, seeming to vindicate Ghosn's big bet on EVs almost a decade ago. His reaction:
"In an industry full of surprises, this is a good surprise. Our competitors have now realised that you can't seriously compete in this industry without electric vehicles.
"And another surprise is that the biggest market for electric cars might be China. I thought it would be the United States. It's not. China is booming for electric cars. In fact, we are losing our lead in electrics there to local manufacturers and our challenge now is to make our EVs affordable in China.
"Welcome to competition: the electric car is great technology that is going to part of the future of our industry. They only question is how fast and how much. This depends on how strict emissions regulations are going to be and how far cities and other areas will go in requiring zero emissions."
Autonomous drive 'not for all markets'
Ghosn was equally positive about the other big issue of the moment: autonomous cars. "Everyone has a plan because the autonomous car appeals to customers. Our first piece of autonomous drive is offered in Japan on the new Nissan Serena van, which allows autonomous driving on the highway. Although it has a price premium, 70 per cent of the orders include this option. So consumers are responding positively; this is something they really like. You are going to see more of it."
But he warned his international audience that autonomous driving isn't for everyone or all markets. The basic requirements are for precise mapping, reliable signalisation, and respect for driving rules. In Brazilian cities, for example, drivers ignore red traffic lights at night. "The autonomous car will always stop. There would be a lot of accidents…"
There were no accidents along the way in Ghosn's Paris tour de force. Just a skilled politician at work, answering unseen questions with statements from his own agenda.