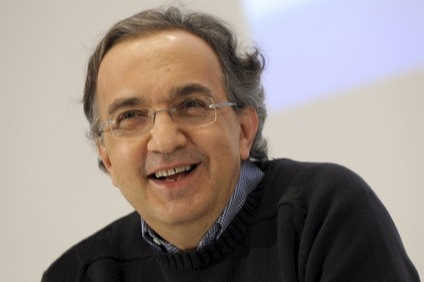 Fiat Chrysler chief Sergio Marchionne is never short of a few words for the press, in an hour long round table in Geneva he covered a multitude of bases from the performance of the brands, steel tariffs in the US, the Chinese, diesel engines, new technologies and even his own plans once he steps down from his role.
The first question was a vicious delivery about the future of Jeep in Europe. Marchionne has previously expressed his displeasure at the brand's performance but defended it well. "Jeep is up 40% this year so I'm happy."
He's also happy with the performance of the Fiat brand despite its reliance on the 500 and, to a lesser extent, on the Panda.
He said: "I am less enamoured by the performance of Tipo and while I think it is great vehicle it is in a very competitive sector of the market. We have been investing a lot in Jeep, Alfa and Maserati, brands in which we see a lot of potential. We need to be careful that we don't chase the mass market. We have plans but we will not be revealing them until 1 June."
That date cropped up a lot during the conference, it is when the next stage of FCA's strategy to 2022 will be revealed. Power trains are likely to form an important part of that strategy as the market turns against diesels. Expect increasing investment in alternative technologies, an area in which Marchionne admits FCA has been lagging behind.
He said: "In China, for example, we have made a number of mistakes in the past and underestimating new energy vehicles in the market has been one. We are looking at that."
How about rumours of investment in FCA by Chinese carmakers?
Marchionne replied: "The Chinese are interested in Europe, why wouldn't they be? It's only reasonable that people want to forge alliances to gain access to markets and we have seen a number of moves towards aggregation to reduce costs. I am not negative about Chinese investment, investors are always coming into the market. I have had meetings with Chinese companies but just because we have meetings does not mean we are about to cut a deal."
US president Trump has been in the news pushing the idea of introducing tariffs on steel.
Marchionne said: "A lot is being said and all of it very unhelpful. The Trump administration is trying to correct what it perceives as a number of injustices. The thing is a large number of steel production plants in the US are owned by European companies and we have to be careful to keep our cool and wait until the noise stops. The problem with the steel issue right now is that it prevents a resolution of the NAFTA discussions."
Marchionne gave no indication as to when he would step down as head of FCA but it will most likely be soon after that 1 June date.
Does he know who is successor will be?
"No."
When will we hear?
"About half an hour after they do," he joked.
What does Marchionne himself plan to do when he leaves FCA?
"I think I'd quite like to be a journalist."
No one was quite sure whether he was joking or not.