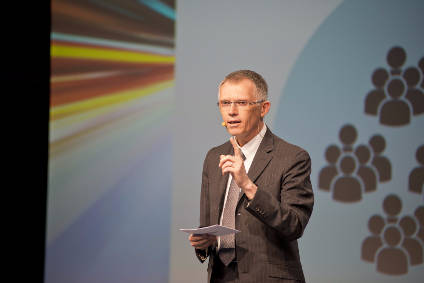 In an interview with just-auto at the Frankfurt Motor Show, PSA chief Carlos Tavares warns of productivity gaps across the Opel manufacturing network that will require work to bring plants into line with PSA efficiency levels. He also says the company is planning several post-Brexit scenarios in the absence of any guidance from the UK government and European Commission.
It's only been a few months since PSA clinched the deal to take Opel-Vauxhall off General Motors' hands but Carlos Tavares, boss of the French carmaker, has found gaps in productivity – big gaps.
He has only visited two Opel plants, in Zaragoza, Spain, and Russelsheim, Germany, but it has been enough to tell him that work needs to be done to bring efficiencies into line with PSA operations.
"The gaps are quite big," he said. "PSA plants are more productive and efficient but it is something we can work on, it's all about the processes. We are already talking about this and the reaction we are getting is that people are energised – after all we are not from another planet. If we work on the efficiencies, then we become more profitable and more sustainable."
One barrier to moving forward, however, is the uncertainty over the UK's exit from the EU. Tavares said: "As far as Brexit is concerned we are getting no guidance from the UK or the European Commission so we are working on a number of different scenarios because we just don't know how things will unfold. We don't know how customs issues may change, effects on currencies or how high or low local content will be required. All of these issues can change our business model.
"By Christmas we hope to have narrowed this down to two scenarios based on a soft or open Brexit and one on a hard market. I would prefer that we had more guidance from the UK and the Commission. We are in a business that works on three to five year lead times and we need to know what's happening.
"So far we have had no opportunity to discuss this with the Government or the EC and we would at least like the opportunity to share our thoughts with them."
In terms of Vauxhall, would PSA be seeking any commitments from the UK government post-Brexit? Tavares said: "What we expect from any government is that we are in a competitive environment with other companies – a level playing field."
Back to bringing the businesses together, he said there would be an acceleration in plans to build more Opel vehicles on PSA platforms and use the French carmaker's engines which he believes would make the business more profitable and lower CO2 emissions. However, he has no plans to stifle creativity and innovation among the individual brands. "One rule – make money," he added.
On the PSA side, electrification plans are also accelerating with 50% of the Peugeot, Citroen, DS ranges electrified by 2020 and 80% by 2023.
He added: "As for Opel, they will have their own numbers but we are moving into an environment which is instruction led rather than technology led. With governments all around the world telling us that The internal combustion engine will be dead by 2040, new technologies and scientific responsibilities are now in the hands of the governments. Electrification has to be profitable – if the technologies are too expensive we have to push up vehicle prices and if people then cannot afford to buy then we are not profitable and go into the red – what do you think happens next? The trouble when you instruct technology, you are killing innovation."
PSA, Tavares said, is continuing to grow into new markets and could make a decision on the US within three years. He added: "We already have a foothold in the US with our mobility services and we are already engineering our cars to be US compliant for the the next generation. So, we could push the button in three years if we want."
He admitted that PSA was still too reliant on Europe for profits, but it's brands are growing particularly in the Middle East and Africa with plants in Iran and Morocco. "We also have a new ventures in India and we are growing in Eurasia, Russia and Latin America."