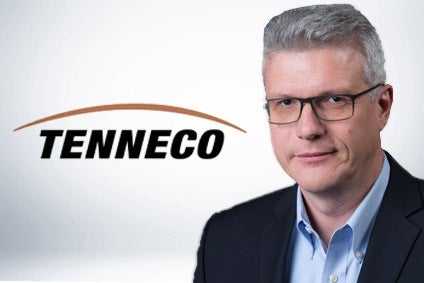 Tenneco is supplying thermal and acoustic management solutions in an exhaust system design for first-ever, mid-engine Chevrolet Corvette. To get a better understanding of the whys and wherefores, we spoke to Dmitri Konson, Vice President Global Engineering, Tenneco Clean Air.
How did the collaboration between Tenneco and GM arise?
Tenneco and General Motors, in fact one of our largest OEM clients, have a very long and strong relationship, spanning many years. Tenneco is supplying GM with Clean Air, Powertrain and Ride Performance technologies for passenger cars and light and medium-duty trucks, so we know how the company operates and have substantial experience of cooperating with GM´s engineers and supporting their development work. Our expertise of system integration at Tenneco Clean Air ensured we were able to develop a cold end exhaust that was appropriate for a car as legendary as the Corvette with its high-performance small block V8 LT2 engine.
Incidentally, it's not the first time that we have contributed to the sports car's drivetrain, either. We supplied key emission control technologies for the previous C7 generation, which was the first vehicle to utilise our electronic valve technology for differentiating acoustic performance. As another illustration of Tenneco's good relationship with General Motors, the Powertrain business group has recently helped GM with the production of ventilators in the battle against Covid-19. The wiring components required for the lifesaving equipment were sourced from one of Tenneco Powertrain's Lighting plants.
How did the project progress and what measurement and testing methods did the Tenneco team use?
The Corvette's emissions system was a global effort led by Tenneco Clean Air's Grass Lake, Michigan, US and Edenkoben, Germany, product engineering teams. Measurement and testing methods included a full suite of CAE simulations of acoustics, backpressure and durability coupled with objective measurements and subjective vehicle evaluations, coordinated with GM, to meet the Corvette's signature sound quality requirements. In view of the demands for short development and time-to-market periods during the introduction of new products and technologies, simulation techniques are used routinely at Tenneco for the feasibility studies, process simulation and production planning. Virtual simulation using FEM, CFD and other computer simulation tools are well correlated with laboratory results, allowing us reduce the amount of physical testing required to fully validate the product.
What challenges did the switch to mid-engine architecture create in the development of the exhaust system?
It's easy to see why a mid-engine layout is so attractive for a high-performance car, as compared to a front-engine layout, it offers a myriad of driving dynamics-related advantages. Placing the engine close to the centre of the car makes it easier to achieve optimum weight distribution between the front and rear wheels, creating more neutral handling and especially so under hard cornering on undulating roads. Of course, with such a layout, offering more engaging driver experience, there are inevitable trade-offs and challenges for the engineering team. The layout has a major impact on the available space, where the engine itself with everything that makes it run and breathe competes for available cubic inches with the exhaust system. Our Clean Air engineering team had to overcome challenges that included heat management and the use of shorter pipe lengths, the latter often making it harder to meet exhaust regulations and legislation. This presented a big enough challenge in itself, but the solutions also had to ensure optimum performance and efficiency, while delivering the signature engine sound that is so synonymous with the Corvette.
Were there any particular engineering challenges?
The heat tolerance of traditional active valves posed a significant hurdle. Used in high-performance exhaust systems, these valves work to vary the system back pressure, in order to create the perfect balance of performance, sound characteristics and regulatory compliance. Typically, such electronic valves cannot operate reliably above 750°C exhaust gas temperatures, which is fine in the vast majority of applications, but in the case of a mid-engine, high-performance configuration the temperature can peak significantly higher than this limit. Our solution was to develop a valve arrangement with the actuator decoupled from the valve body, operating through a link arm, to greatly reduce heat conduction to the valve electronics. The standard exhaust has two newly developed high-temperature valves with enhanced heat resistance that work with the vehicle´s Active Fuel Management system, supporting the engine's cylinder deactivation function for optimum efficiency and lower emissions. The optional performance exhaust uses two additional, conventional latest generation electronically controlled valves from our portfolio at the rear of the exhaust system, where temperatures are lower, to deliver acoustic differentiation for the several driving modes that can be selected by the driver.
Did the heat build-up affect other areas?
Creating a thermal barrier that prevents the unwanted transfer of high thermal energy from the exhaust to the vehicle's surrounding components and the cabin was a major consideration.
Creating a thermal barrier that prevents the unwanted transfer of high thermal energy from the exhaust to the vehicle's surrounding components and the cabin was a major consideration. Containing the heat is important to prevent failures of other systems and optimise comfort. To this end, our engineers developed special multi-layer heat shields, constructed from highly efficient insulation sandwiched between two thin stainless-steel layers. The use of the multi-layer shield technology minimises the weight and package size of the finished assembly, providing the minimum profile that not only meets engineering requirements, but also looks good when the engine lid is raised.
And what about the Corvette's iconic sound?
The Corvette's renowned for its V8 soundtrack and it's a huge part of its character, so it was essential that this was preserved. To meet this objective, our engineering teams came up with a brand-new approach to flow mixing between the left and right sections of the exhaust systems, achieving optimum acoustics across the entire rpm and load range. On a car as striking as the Corvette, we couldn't forget the aesthetics either. Consequently, the design of the exhaust features four tailpipe outlets, which contributes to the car's distinctive exhaust exit design and hints at its immense performance.
Has Covid-19 affected production of the standard and optional exhaust system?
The Corvette C8 was one of the most-eagerly awaited cars of this year and had only been in production a short while before the pandemic, so we naturally wanted to help GM meet customer demand. Plus, as an OE supplier to GM, our schedule is aligned to theirs, so as with all our worldwide production sites, we adapted our Clean Air manufacturing facility in Smithville, Tennessee so that our employees could safely continue producing the exhaust system. Measures we have implemented include restricting visitors, social distancing and reviewing the situation on a day-to-day basis and acting as appropriate.
Has the project been a highlight for Tenneco Clean Air?
It's very rewarding to be part of the Corvette story, especially in helping it evolve into its most powerful and long awaited chapter. Our global development team effort into the engineering of an exhaust system for such a high-performance, mid-engine vehicle is a powerful demonstration of our system integration capabilities and what we've developed is likely to have a very positive effect on other projects where packaging requirements and extremely high exhaust temperatures pose a number of challenges.