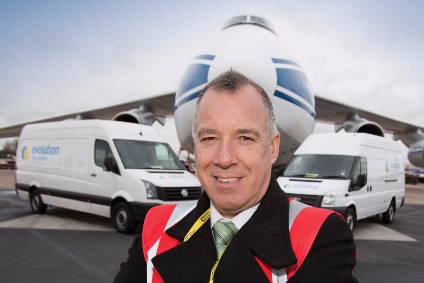 UK-based emergency logistics specialist, Evolution Time Critical (ETC ) was recently acquired by the Metro Supply Chain Group . To find how its business has shaped up since and how it views the implications for a hard ('clean') Brexit, we spoke to Brad Brennan, managing director of ETC.
We understand that Canada-based Metro Supply Chain Group recently acquired ETC. How has your business shaped up since then?
North American 3PL provider Metro Supply Chain Group identified automotive emergency logistics as a growth area that, with careful investment, could provide the opportunity to expand its current capability. Following a rigorous research and evaluation procedure, Evolution Time Critical topped its list of European targets and, as such, the aim has been to help us carry on doing more of what first made Evolution's business stand out.
Evolution Time Critical provides a bespoke and extremely personal, highly confidential service to our clients, and it has been vital to maintain this capability during a period of organic business growth. The infrastructure provided by Metro has enabled us to further strengthen the supply chain safety net offered by Evolution, developing innovative new solutions to time-sensitive problems facing the industry at a time of contracting production timescales, higher risk strategies and increasing logistics pressures.
We have also seized the opportunity to further expand our physical resources: the recruitment of a highly experienced general operations manager – a new role – provides us with further expertise and intensified focus; UK office regeneration has provided a modern, professional working environment for all Evolution Time Critical employees; an announcement regarding a new, international location is imminent and, finally, we are delighted to announce the launch of our dedicated Critical Projects service.
What do Critical Projects mean?
Critical Projects is a service that Evolution Time Critical is officially launching following the successful completion of a number of projects, and the industry's response to an emerging capability that provides solutions to a number of industry production trends. Complementing traditional emergency logistics focus, Critical Projects centres on the ability to move large-scale resources to sensitive deadlines – enabling the movement of live production, tooling shipments that avoid production delays, or combating production capacity issues, for example.
Our expertise has evolved as the number of projects completed increases and requirements alter, but industry interest peaked when we broke the news of a huge scale – 300-tonnes – air shipment of press tooling from China into the UK; a first of its size and complexity. This was completed for a vehicle manufacturer that required last minute specification changes, and the hugely complex operation enabled the optimisation of a new model production start time, where traditional freight methods for such large-scale projects would have failed to meet otherwise impossible launch schedule deadlines.
The dedicated service has been designed to provide robust solutions for vehicle manufacturers and their suppliers seeking to move heavy tooling and fragile or high-value cargo, or to enable higher risk supply chain balancing techniques, move live production or between contingency stock locations. The service has been carefully devised to provide relevant solutions to current industry concerns, enabling the supply chain to adapt to the turbulent environment inspired by a time-contracted industry seeking to streamline operations wherever possible. With Critical Projects, we are able to reduce the risk of supply chain failure by providing the safety net required for more assertive production strategies.
The demand for services such as these is really the greatest change we have seen. The realisation of the importance of supply chain continuity, and the benefits that can be brought by attempting to closely manage supply chain operations, has seen the adoption of higher risk strategies which, of course, has led to the need for ever more rigorous, innovative and complex contingency solutions. Critical Projects hands the power back to manufacturers and OEMs; providing the tools for proactive management and ambitious production strategies without jeopardising assembly deadlines.
And this has also led to premium freight becoming the norm for shipping higher-cost components, such as interior displays?
The adoption of higher unit-cost components, such as the now widespread use of high-resolution displays, has increased the level of peril associated with cargo. The fear – and cost – of damages has been heightened by the use of these potentially fragile components, which are susceptible to in-transit damage and therefore a higher production line failure rate. To counter this, we have worked with a number of vehicle manufacturers and suppliers to reduce the risk of damage during shipment by scheduling the use of premium freight at the initial planning stage.
Use of premium freight is more commonly associated with providing a contingency solution, but with enhanced assurances over physical handling and the ability to micromanage shipments at every stage, it provides a safer solution that mitigates the risk of failure. It also provides the ability to more accurately monitor the progress of shipments, ensuring that components not only arrive where and when expected, but with minimal chance of damage. With tighter inventories, reduced buffer stocks and contracted lead times, the margin for error has never been so small.
We are seeing fast growing vehicle production hubs in emerging countries. To what extent has this trend triggered new emergency logistics methods?
The emergence of production hubs, the willingness and ability of manufacturers and their suppliers to move between them is synonymous with the 2017 automotive industry. As such, emergency logistics techniques have evolved to support the fleet-footed industry, regardless of past, current or future locations. Of course, emerging locations often lack the developed infrastructure of established plants and the knowledge of regional practices takes time to build – as an emergency logistics specialist, Evolution Time Critical is able to provide the necessary insight to cover regional freight options, the variance of legislative requirements and is able to devise an optimised, robust solution that utilizes all available resources.
The added support of this agile new supply chain is one of the factors that led to the launch of our Critical Projects service – Evolution Time Critical is now not only capable of ensuring a resolute solution to potentially turbulent shipments, but can safeguard the movement of production without impacting productivity.
As the industry becomes bolder with its implementation of production strategies and networks become truly globalised in both established and developing locations, the role of emergency logistics experts is evolving. This expertise is often an enabler for new trends, such as the strategic production downtime that we have seen adopted recently by a number of major vehicle manufacturers.
How can Evolution Time Critical help to make strategic use of production downtime?
Planned production downtime, such as seasonal shutdown, has previously been seen as a potentially turbulent time for supply chain continuity – skeleton staff often operate and the path to successful issue resolution can be a convoluted one. However, with the support of emergency logistics expertise, planned downtime is now being used strategically.
As a response to fluctuating vehicle demand or transition to new models, we have seen major plants in Europe and the US introduce idling programmes that act as a method of controlling vehicle supply and optimising short-term costs. Typical of modern production strategies, this technique requires a high level of supply chain agility and the support of emergency logistics when it comes to ramping back up to full production.
Vehicle manufacturers are working closely with dedicated emergency logistics partners when adopting higher risk strategies; aware of the benefits brought by streamlined processes, but also of the pitfalls of not safeguarding activities proactively. In the case of strategic production idling, the supply chain and route visibility that Evolution Time Critical is able to provide can ensure a smooth resumption of production, even in the most testing of circumstances.
Depending on supplier size and alternative commitments, for example, production idling can have longer lasting ramifications: if a supplier operates with a narrow focus dealing with a low number of manufacturers, the idling of model production can represent a significant output reduction, resulting in inaccurate scheduling and workforce disruption. This can have a significant impact should a swift return to full production be required. In such instances, emergency logistics can enable a smooth transition from reduced to full production, through analysis of supply routes, existing and alternative sources – if required, supply can be bridged and manufacturers afforded a crucial time advantage.
What could a hard Brexit* mean for the UK automotive industry, specifically its transport and logistics sector?
From a physical logistics perspective, there should not be a huge impact on transport or freight routes – regulations are largely safety and compliance focused, which will not change. However, there is the potential for delays to vehicles coming in to and out of the EU caused by customs clearance required once the UK has left the EU, leading to the arch enemy of modern supply chain operations: reduced efficiency.
We have already spoken with major vehicle manufacturers who are considering how best to manage potential future customs requirements, and we must not forget the scale of the automotive logistics network in operation in the UK: several major vehicle manufacturers each operate over 100 trucks coming in to and out of the country every day and over 4 million trucks passed through Dover ports and the Eurotunnel last year.
Due to these figures and the potential introduction of stricter customs regulations, there is no doubt that substantial infrastructure investment is required to speed up traffic and paperwork processing. The alternative is a huge backlog of vehicles caused by customs delays, and a repeat of the tailbacks witnessed as a result of the protracted Calais issues last year. During this period Evolution Time Critical worked with numerous major vehicle manufacturers and suppliers to avoid production stoppages and bridge potential supply chain fractures, and this experience could be vital in overcoming potential future delays. Whatever the outcome of Brexit, the industry will adapt and the supply chain evolve.
*A hard (or 'clean') Brexit is for Britain to leave the European Union and the single market entirely followed by a relationship based on World Trade Organization rules, albeit initially.