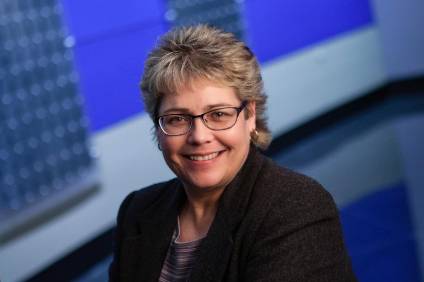 When Delphi split earlier this year, the greater part of its operations were renamed Aptiv. However, the powertrain tech division retained the Delphi name. Dave Leggett recently caught up with Delphi Technologies CTO Mary Gustanski at the company's new London headquarters.
The reshaping of the automotive supplier industry continues apace. Specialisation and business focus are what investors want to see, with lean and strategically driven components and system suppliers positioned to grab a slice of a global automotive value chain that could look very different in ten years' time. The former Delphi was a sprawling entity that came out of GM Automotive Components in the 1990s. The new Delphi Technologies is eyeing portfolio leadership in vehicle propulsion systems.
I'm sat with Delphi Technologies Chief Technology Officer (CTO) Mary Gustanski in a sun lit office at the company's new HQ situated on the edge of London's financial district.
DL: First things first, why did Delphi Technologies get to keep the 'Delphi' brand name?
MG: We had an independent study done to see if either company should keep the name and if someone should keep it, who should keep it. One of the reasons keeping the name leaned more towards us was the aftermarket business where the Delphi brand is very well known and customers had come to expect to see the brand name. It wasn't even about sales, it was about the consumer walking in and not seeing the Delphi brand on the North American shelves any more. So that would have created a hole and they felt that Delphi was little bit more synonymous with what I would call more traditional auto, but when you think about Aptiv, it's very advanced high-tech – and not traditional automotive, automated, connected, in the car, out of the car – that is coming and a new name works better for them.
DL: And how does the business split look in terms of pre-split activity and today's two new companies, roughly?
MG: We're about 25% in revenue terms. In terms of people, we have 20,000 employees. Pre-split Delphi had about 164,000 employees in total. So we're around 20,000 of the 164,000. That maybe looks a little odd, but a large part of the business that stayed with Aptiv was electrical architecture and that has a lot of plants and a lot of people [labour intensive]. The hourly employees doing the wiring stayed with Aptiv.
Of our 20,000 employees, some 5,000 are engineers. We are a very tech-focused company.
DL: Can you tell me about recent history and how you felt about the corporate split?
MG: I have been at the company 38 years working at it at whatever name it had at the time. Thirty-four of those 38 years I was in powertrain, but the last four were in 'corp.'; still engineering but demonstrating new technologies, what needs to be done for automated driving. When we decided to split up the company, it was an easy decision to say 'I'm in' for Delphi Technologies. This is the time for Delphi Technologies – not that automated and connected are not really interesting, but there are a lot of hurdles to overcome before you get to Level 4 and Level 5 and rollout. But today, we're getting quotes – and can't respond fast enough – for advanced propulsion and technologies for electrified vehicles.
"I can't believe how quickly electrified vehicles are ramping up. Every OEM is saying 'we are going all in and we want to do electrified vehicles; we are not redesigning the combustion engine anymore, we're done'. And I think they mean it."
I can't believe how quickly electrified vehicles are ramping up. Every OEM is saying 'we are going all in and we want to do electrified vehicles; we are not redesigning the combustion engine anymore, we're done'. And I think they mean it.
They're not fully electrified vehicles yet, but there are going to be a lot more electrified vehicles for sure. To me, that's very exciting. It's an exciting space of how you use that electrification.
DL: It's a pretty fragmented looking future though isn't it, in terms of the period out to 2030 and powertrain preferences globally?
MG: It could be about a 50-50 split, electrified versus non-electrified by 2030 [in a global light vehicle market approaching 120m by then]. The forecasters certainly agree that more electrification is coming, but there are differences in terms of rate of take-up and how full hybrids do versus 48V mild hybrids and then fully electric vehicles – still probably less than 10% by 2030. I think there's some upside to the full EV projections though; China, in particular, is really pushing New Energy Vehicles (NEVs).
The point is, there is a lot of opportunity ahead in electrified vehicles. That's all we're quoting right now – plug-ins and electric vehicles.
DL: What's the immediate strategy for the company and where is the growth coming by product segment?
MG: It very much starts with our product portfolio. In terms of the internal combustion engine, we'll do individual components right up to a complete turn-key engine management system. We'll supply gasoline or diesel, light duty or commercial vehicle. Certainly we continue in that business. We have powertrain components that augment engine control – exhaust sensors, ignition control, variable valve train cam phasing for air control. We have engine components that augment our engine management strategy.
On electrification we have all levels covered from 48V to full electric vehicle for power electronics. And then we do a lot of software and system integration.
In terms of the business and what is happening in different areas, where the growth is: commercial vehicles is very stable for us and we see 10% CAGR through 2020. It is diesel, primarily, although we are starting to talk more about some electrification and hybridisation – but it's mainly diesel.
"One of the things we have is that we were first to market with a 350 Bar solution which is kind of interesting because particulates are a big deal in Europe; this will reduce particulates by 70% over the traditional 200 Bar."
Gasoline direct injection (GDi) is growing rapidly. As light-duty diesel goes away – a lot of OEMs are saying, 'that's it we're done', especially under 2-litres – they are switching their line-ups even faster than expected and GDi is coming on board. One of the things we have is that we were first to market with a 350 Bar solution which is kind of interesting because particulates are a big deal in Europe; this will reduce particulates by 70% over the traditional 200 Bar. That means less after-treatment, so the cost is less with the 350 Bar GDi and customers love that. We see 30% CAGR growth in our GDi business through 2020.
And then power electronics. We have been waiting patiently for more OEMs to jump in and we're seeing that now. We are expecting 30% CAGR in this business through 2020 and we have USD4bn lifetime revenues booked on this business as at the end of 2017; USD2bn alone was booked in 2017 alone. We are seeing a lot of growth.
We are well positioned – for electrification and for combustion engines and systems that will be needed for hybrids.
DL: In terms of electrification, how do different elements in your business there stack up. How are things evolving?
MG: There are two main aspects to electrification. We have been in the business of making electronic control units for 35 years. This is what we base our ability to supply automotive grade electronics plus all the associated software on. This is foundational. What helps us to jump in to power electronics? This does; it is foundational experience. We do control units not only for diesel and gasoline, but I mention this because the future is a propulsion domain controller for the domain of the propulsion system.
As you get more complex and start doing hybrids, it becomes very difficult to communicate back and forth across the can fast enough and do the hybrid controls and optimise them. So you are really better off to put a propulsion domain controller in – some people refer to it as a 'supervisory'. In my opinion it does more than that and can become your way to connect to the cloud – so that down the road you can do intelligent driving and other things. So we'll supply a propulsion domain controller even in a full electric vehicle.
And then in power electronics, the inverter (converts DC to AC) is very, very important. You need an inverter to propel the vehicle and we have a differentiating technology. We have a power switch that allows us to 'dual-sided cooling' which means we can put more power in the unit – 25% higher power density – but package it 30-40% smaller and lighter than the competition. We have patented that. And because we can do that, it allows us to do things like 'combo units' – combo high-voltage units. For example, in the Volvo XC90 we put an inverter in with two DC/DC converters all in the same housing and packaged it in the tight space they gave us. We eliminated some of the orange wiring and connectors which saves on integration costs and makes a better design. We can do that because we can do the thermal management and still get the reliability out of the components – we're up to 135 degree C in a lot of these applications, plus there's the vibration. We use all those years of automotive grade electronics to be able to do power electronics. Inverters are a big deal for us and we'll package these any way the OEM wants.
When GM came to us for the gen 2 Volt, they said we need two inverters in the same box and we need it packaged in this tight space. We were 30-40% smaller than their gen 1 design (which was a competitor) and we put it right on top of the transmission with the coolant channels right in the housing – so no separate cooling lines. And they hung it directly over the motor, so there were no long cables and integration issues.
Those are the kinds of things we can do and typically we start work with customers five years before SOP.
DL: Are you making headway in China where NEVs are becoming an industry focus?
MG: Absolutely, we are working closely with Chinese OEMs. There is a lot of growth there. We have announced a groundbreaking for a power electronics manufacturing facility in China (DT has one very large power electronics facility at the moment, in Indiana) and we want to start producing for the Chinese market in 2019.
Raised standards in China also mean that we have to be there on GDi, too – we have a plant making GDi units in Shanghai.
DL: Are there legacy issues that present challenges to operations?
MG: We had a very successful spin-off. Because we were one company for so many years, we have technical service agreements that we have to split in areas like IT. Also, in the electronics business, we had one electronics group that shared manufacturing capacity. We look at it as an opportunity as well as a challenge. For example, we now get to right-size in IT for our company. It's almost greenfield, which means we can say 'well what's the right IT strategy for a company like ours?' which isn't a bad position to be in.
The important thing is that we feel really good about our portfolio and where we are positioned to meet market needs – whether it is in GDi or in electrification. One challenge is that we have a lot of growth coming at us in electrification and power electronics, so a big challenge is to make sure we have the right resources – especially software engineers – to meet these demands.
DL: What's your feeling on the compression ignition technology that Mazda has led? Could it be significant in the market?
MG: We have looked in to this with something very similar. When we looked at the percent fuel economy improvement versus the on-cost to the OEM, we find that that technology is about on a par with a turbo-diesel. Most OEMs are saying that is not enough, especially given that they are moving into electrification now. They're not going to switch to a new combustion strategy. It's out there, it's on the shelf, but I don't see it being all that significant even if the Mazdas of this world have it in part of their portfolios.