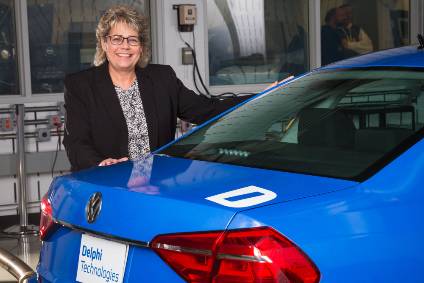 Since its spin-off from Delphi Automotive in 2017, Delphi Technologies has been pushing back the technical boundaries on a number of fronts. Last month, we learned that it has developed a 500+ bar GDi system that can reduce particulate emissions by up to 50 per cent compared to 350 bar system without expensive engine design modifications. Last January, the supplier revealed at CES its Intelligent Driving technology, which could put 'self-aware' cars on the road by 2022-23. To learn more about these and other innovations, we caught up with Mary Gustanski, Senior Vice President and Chief Technology Officer, Delphi Technologies.
Following the spin-off from Delphi Automotive, is Delphi Technologies now in a better position to react quicker to changes in the powertrain market place?
Since our spin-off in December 2017, we have created a solid foundation from which to drive future profitable growth. Delphi Technologies is a technology company focused on providing propulsion systems for today and tomorrow. We have solutions for internal combustion engines and the range of electrified options that yield maximum vehicle performance while solving emissions and fuel economy challenges for the world's leading automotive OEMs. Delphi Technologies also provides leading aftermarket service solutions for the replacement market, complementing our OEM propulsion offerings.
During our first year as a public company [2018], we delivered a year of record bookings – nearly $10 billion in new, gross lifetime business awards, focused in our growth areas of commercial vehicles, gasoline direct injection and power electronics. Overall, we are well positioned to profitably grow as the automotive industry transitions towards advanced gasoline systems and electrified powertrains. For many reasons this evolution is happening faster than anyone predicted a year ago, and over time this will benefit Delphi Technologies.
We understand that Delphi Technologies is working on 'smart propulsion solutions'. Could you explain a little what this means?
The megatrend we see is that powertrains will be shifting from reactive to predictive.
When evaluating the benefits of autonomous, connected vehicles, the emphasis is generally placed on safety and convenience. Consider all the sources of data on the vehicle today, which have been made possible by active safety and infotainment systems available – cameras, radar, lidar, navigation system all provide data on conditions around the vehicle and for the route ahead. With expanded connection to the Cloud, additional information is now available such as traffic, construction, weather, signal light patterns, and routes, just to name a few. And there is a lot more information and computing power in the Cloud than in the car. By utilising the data enabled by automated and connected vehicle technologies, again already in cars today, Delphi Technologies' intelligent driving can improve propulsion efficiency and the range of all vehicles. The megatrend we see is that powertrains will be shifting from reactive to predictive. As a result, vehicles will know in advance the best route to travel, for example for optimum operation of the hybrid engine to reduce fuel consumption and emissions.
At CES last January, we launched Blue Matter, a collection of Delphi Technologies' capabilities aimed at rethinking what's possible in propulsion. Our aim is to fashion intelligent and inspired innovations that transform what we drive, making cars and trucks cleaner, better and able to go further than ever imagined.
Cleaner. Consumers are demanding more sustainable transportation. We'll craft vehicle systems that maximise clean propulsion.
Better. Consumers are expecting connectivity and automation. We'll fashion systems designed to make propulsion predictive. Connect, control, communicate; On-board, off-board and in the cloud. Propulsion will be active and knowing.
Further. Consumers are open to new forms of vehicle power with a caveat – no compromises. We'll explore and exploit new roads in energy management and driving experiences.
We're seeing a proliferation of sensors around the car. To what extent has it been a challenge for your engineering teams to get the exact data required from these sensors in order to plan the car's journey, i.e. make it smart? And has that triggered more technology partnerships?
The challenge here is sorting through which data is relevant to improving propulsion efficiency and which data can be ignored. Sophisticated software and algorithms are used to help identify among the terabytes of data the key data bytes needed to propel the vehicle in the most efficient way. This is why collaboration with key partners is important.
Early January, we announced a collaboration with Tomtom on Intelligent Driving. Our two companies now collaborate on electronic and software applications designed to further optimise vehicle fuel efficiency and emissions through the use of real-time mapping data. Delphi Technologies' Intelligent Driving controls will use real-time mapping data to predict driving conditions, such as route infrastructure and topography, traffic congestion and weather, which will improve fuel efficiency and reduce CO2 emissions. We believe that smart propulsion solutions are the next logical step in transportation. Our collaboration with TomTom will help us to find new opportunities to integrate more information about a driver's route, in order to enhance our proprietary Intelligent Driving controls and allow vehicles to drive better, cleaner and further.
Could you also comment on the ways in which the trend for alternative fuelled vehicles is driving demand for and innovation in sensors?
In terms of alternative energy for propulsion, electrification is by far the biggest contributor. With electrification comes not just increased sensor requirements, but also increased demands for overall propulsion system control. As propulsion systems become electrified, several new technologies are added, along with additional electronic control units (ECUs). The overall management of the ECUs in the propulsion system is handled by a propulsion controller. In the not-to-distant future, this device will function as the single point of access for the propulsion system to communicate with the Cloud and open-up new possibilities for propulsion such as what we call Intelligent Driving. Even as vehicles move to full electric solutions, a propulsion controller will still be required to optimise propulsion. Delphi Technologies is in production with propulsion controllers today and we are developing our latest innovation with expanded capability to take advantage of connectivity in the future.
What megatrends in the automotive fuel injection system arena are you seeing at the moment and how could that shape the look and feel of tomorrow's powertrain?
The megatrends we see are increasingly strict global emission standards, with particular focus on CO2, transition towards advanced gasoline systems and electrified powertrains. Fuel injection system performance improvements will be delivered through higher injection pressures and improved injection spray performance, targeted at delivering reduced emissions while maintaining the power density and driving characteristics consumers have become accustomed to. Growth of the on demand/shared ownership model (fewer vehicles but higher duty cycles) will drive the need for Heavy Duty levels of durability in passenger vehicle applications).
In terms of market growth, what are your projections for GDI in Europe and North America over the next 5-10 years?
More than 80 per cent of light-duty vehicles sold in 2030 are expected to have an Internal Combustion Engine. Most of these internal combustion engines will be gasoline, and a growing number of these gasoline engines are GDi.
We expect the overall GDi market will grow by over 30 per cent in both US and EU over the next 5 – 10 years compared to 2018.
We expect the overall GDi market will grow by over 30 per cent in both US and EU over the next 5 – 10 years compared to 2018.
Gasoline direct injection (GDi) engines have certainly earned their rightful place on advancing propulsion roadmaps. The technologies behind these systems deliver a path to increased performance, improved fuel economy and reduced carbon dioxide (CO2) emissions through more precise, leaner and complete combustion. Most GDi systems on the market today operate at 200 bar or lower pressures.
With the introduction of our leading-edge 350 bar GDi system, Delphi Technologies was the first in the industry to push the pressures and solve the challenges. This system, already in production, delivers substantially reduced particulate emissions (70 per cent smaller particles than systems operating at 200 bar), allowing OEMs to hit Euro 6d and China 6 emissions standards with simpler after-treatment systems, advanced componentry built for speed and endurance, improved performance and lower fuel-pump noise thresholds.
And we are not stopping there, our 500 bar system is in development with samples in customers hands. The 500 bar reduces particulates by an additional 50 per cent over the 350 bar system.
Following the VW dieselgate scandal, the Diesel passenger car market looks set to decline. Yet how do you see the commercial vehicle diesel market evolving over the next 5-10 years?
Commercial vehicles statistics:
Global Commercial Vehicles market (above 6 tonnes on highway, above 3 litres off highway): All Commercial Vehicles Compound Annual Growth Rate 2018-2023: + 1.3 per cent [Source Delphi Technologies, October 2018]
Global Medium Duty + Heavy Duty On Highway Engine Production: Compound Annual Growth Rate 2018-2023: -0.7 per cent. China (-3.6 per cent) and NAFTA (-2.4 per cent) pulling global outlook down (from 3,8 M engines in 2018 to 3,6 M engines in 2023) [Source Delphi Technologies, October 2018]
Commercial Vehicles is a demanding sector where reliability and fuel economy are as important as low emissions and affordability. The trend we see for Commercial Vehicles is increasing powertrain diversity. Diesel is likely to remain the prime solution for Long Haul Trucks, electrification will likely preferentially grow in popularity for urban applications, and we expect to see increased usage of alternative fuels such as natural gas which will play an important part in the technology mix toward reducing fleet CO2. The dual fuel CNG-diesel injector jointly developed with WESTport recently went to production offering equivalent engine performance to Diesel fuel but with approximately 20 per cent reduced CO2. We also see growing demand for flexible, scalable technologies that allow powertrains to be optimised for their application.
Delphi Technologies' next-generation electrification and engine management systems for commercial vehicles are focusing on efficiency, light-weight and ease of integration. We offer commercial vehicle manufacturers the flexibility they need to cost-effectively meet the increasingly specialist requirements of a wide range of applications.
We now have an industry-leading portfolio of flexible technologies that help vehicle manufacturers offer each end-user sector the solution that is right for them, from conventional and hybrid powertrains to zero-emissions EVs. Growth in our order book suggests we have got it right.
What are your thoughts on how fast the hybrid and electric commercial vehicle market could grow in North America?
Diesel continues to be the fuel solution of choice for commercial vehicles, but much like passenger cars, we see commercial vehicle customers electrifying their offerings. The increased fuel efficiency of hybrid propulsion systems – especially in urban areas — and the lower energy cost of electricity compared to gasoline or diesel fuel offers a strong value proposition for electrifying CVs. We expect good initial penetration of electrification in the bus market, followed by strong growth in medium-duty and heavy-duty platforms operating in shorter-haul / urban environments. We also expect significant adoption of electrification in the light commercial vehicle market.
What will the next generation of FCEVs have?
We continue to view fuel cell vehicles as a longer-term solution. There are a number of challenges still to address, including infrastructure. Our electrification portfolio is fully compatible with FCEVs, so we look forward to the continued innovations in this technology.