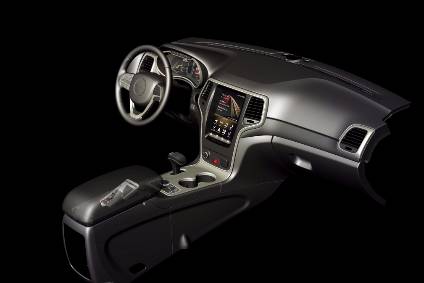 Continuing QUBE/just-auto's interviews with tier one component suppliers, we spoke to Martin Bornemann, Director Product Line and Business Development, Infotainment & Driver Interface, Delphi.
Could you tell us about some of the infotainment and driver interface technologies that Delphi highlighted at the most recent CES and your messages?
At CES 2017, we showed an improved multi-layer display to provide the flexibility to optimise a 3D viewing experience on both the centre information display and cluster. This is a process that is a combination of software, optical and imaging technologies. Screens are literally stacked, like a triple decker sandwich. The rear display is used as a light source. The front screens are translucent. The result is higher definition, better resolution, crisper text and graphics and a true 3D effect. For techies, 1440 pixels by 540 pixels on a 12-inch instrument cluster. Future generations of this technology will become even sharper with 1920 by 780 pixels.
"There is a new look in customisable car fashion this fall. Flat, boring, bland? Out. Multi-layers? In."
Delphi designers looked to the future and the past for inspiration. The 1957 Cadillac Seville captures a period when designers used physical layers in dashboards to create art. There was a national euphoria in post-war United States. The fuselage and fins of rockets and jets influenced car exteriors while the driver seats and dashboards resembled fighter cockpits. There is a new look in customisable car fashion this fall. Flat, boring, bland? Out. Multi-layers? In.
Delphi also debuted its scalable infotainment Integrated Cockpit Controller (ICC) family that spans the entry to high vehicle segments, and which we believe delivers best-in-class graphics and user experience. The system supports multiple interaction modes while integrating sensor inputs across both the infotainment and functional safety domains. ICC supports up to four high-definition displays providing a highly flexible and scalable solution. ICC also offers significant performance improvements in graphics (10x) and computational power (5x) when compared with systems on the market today. This integrated architecture also delivers estimated system cost savings of up to 12 percent while reducing mass by 33 percent.
This means that automakers who opt for the Delphi ICC will have the flexibility to combine multiple domains, such as infotainment, gesture control, clusters and other software features in an open architecture inside a single controller box. The ICC architecture provides domain isolation for another level of performance stability and functional safety certification.
How will the autonomous car change the look and feel of the cockpit?
"The disconnected cluster and infotainment display will be merged and seamlessly integrated into the dashboard."
In the future with the introduction of autonomous cars the location of the displays will no longer be limited to conventional spaces in the dashboard. The traditional disconnected cluster and infotainment display will be merged together to one wider display, seamlessly integrated into the dashboard. The form shapes of the display will influence the interior design. The display itself can be configured as a wider information display or as dedicated passenger display. A multi-modal control concept which combines voice, eye glance and gesture recognition technologies allows the driver to control the vehicle functions.
In some quarters of the auto industry, cars are almost seen as mobile app platforms much like a smartphone. What will this mean for how tomorrow's infotainment systems will be built?
Supporting Apps on tomorrow´s infotainment systems is becoming more and more important. Delphi recently demonstrated one of the first Android N platforms powering next-gen automotive infotainment systems, delivering popular Android apps into the vehicle. The platform itself supports typical automotive applications like car media, HVAC control, radio, etc. and the support of Apps for Android Auto. Furthermore, the next generation platform will also support Apple CarPlay and Android Auto.
Could you tell us a little more about Delphi's eye glance technology and the possibilities for its further development?
Delphi demonstrated the first eye glance technology during CES 2016, enabling a driver to interact with the centre console display simply by looking at it, for example, to control climate control or change radio stations without touching the system. Infrared cameras integrated into the cockpit track the driver's eye and head movements. This leads also to a way to monitor the driver attention called Driver State Sensor, which can initiate actions if a driver is distracted whether falling asleep or looking at a text on their cell phone. When determining the action, the system takes into account the driver's workload and the environment around them. An alert, such as vibrating the driver's seat or a combination of beeps, lights and gentle 'smartphone computer voices' can be used to redirect the driver's attention.
Presumably using eyes, voice and hand gestures, it is possible to eliminate buttons from an infotainment system. What is your vision of this touch-free user experience?
"… Delphi has made it possible to never touch a single infotainment control …"
Delphi introduced gesture control at CES 2015. In 2016, [we] demonstrated how using infrared cameras hidden behind the dash, eye movement can indicate what you are looking at and infer what action you want your infotainment system to carry out. When combined with improved gesture control and natural voice recognition, Delphi has made it possible to never touch a single infotainment control and still manage the system, simply by using your eyes, voice and hand gestures.