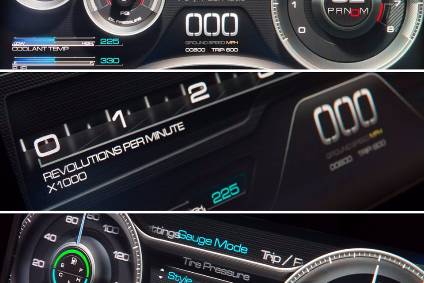 With automated driving and mobility on demand likely to be one of the fastest developing trends ever seen in the automotive industry, QUBE/just-auto spoke to Delphi's technical director automated driving, Serge Lambermont. As well as leading a team at the forefront of this new technology, Serge is closely involved in the Mobility on Demand project underway in Singapore.
Could you tell us about some of the automated driving technologies that Delphi highlighted at the most recent CES and the messages that Delphi is communicating around this topic?
The CES was significant for automated driving development because Delphi and Mobileye jointly conducted the most complex automated drive ever publicly demonstrated. The 6.3 mile (around 10 km) route covered urban and highway to demonstrate the two company's Centralised Sensing Localisation and Planning (CSLP) automated driving system, which will be ready for production in 2019. CSLP allowed the car to expertly tackle challenges such as highway merges, congested city streets with pedestrians and cyclists and a tunnel.
"Overall, it allows the car to behave more like a human in its driving behaviour."
This is possible because of a combination of class-leading functions. CLSP ensures the vehicle knows its location within 10 cm; even without GPS connectivity. With free space detection, it helps the vehicle navigate complex lane splits or areas lacking lane markings, which have traditionally been challenging for automated vehicles. It has 360-degree pedestrian sensing, 3D vehicle detection, can detect partial cars and even identifies wheel movement if a car is at a halt or parked; critical for urban situations with unusually angled intersections. Overall, it allows the car to behave more like a human in its driving behaviour.
We believe that Delphi is a world leader in automated driving software, sensors and systems integration, with a portfolio that includes automated driving software algorithms from our Ottomatika acquisition and Delphi's Multi-Domain Controller (MDC) with the full camera, radar and LiDAR suite complemented by our expertise in sensor fusion.
Could you tell us a little more about your plans for fleet testing a Level 4/5 autonomous car? Where do you plan to test and on what types of vehicles?
Early August last year, we announced that Delphi had been selected by Singapore Land Transport Authority for its Autonomous Vehicle Mobility-on-Demand Programme. Delphi will provide a fleet of fully autonomous vehicles and will develop a cloud-based mobility-on-demand software (AMoD) suite, opening up new potential autonomous markets for Delphi's customers.
"Eventually, we hope to move people anywhere they want to go, at any time."
Testing began in autumn 2016 and the Singapore LTA pilot programme will last for three years with plans to transition into an operational service by 2022. The current plan is to deliver six electric vehicles to Singapore. Initially, they will be used to move people – primarily the first mile, the last mile – with the longer term vision of opening-up a number of potential cloud-based services and the ability to move goods and people with driverless pods. Eventually, we hope to move people anywhere they want to go, at any time.
With more and more cars offering some form of connectivity, is there a question about who owns the data generated by such cars?
The Delphi Mobility Cloud provides a safe and secure connection from and to the vehicle. To build out our capability in this area, Delphi acquired ControlTec, for its deep automotive experience in cloud vehicle data management expertise, and Movimento for its Automotive Over The Air (OTA) programming knowledge.
The vehicle data (not any personal data from the users) ultimately belongs to the vehicle manufacturer. Control-Tec helps create value from the data by enabling our OE customers to harvest and manage complex vehicle information.
Given the pace of innovation – and the competition for expertise in software, user experience and app development – is it a challenge to attract and retain the right talent?
We have around 5,000 software engineers today and we plan to double this number by 2020. Recently, we had several job fairs on university campuses [with] long queues of students wanting to talk to us. Our leadership in the automated space has made Delphi an exciting place to work. That technology is red hot and students are excited about being a part of the technology revolution.
A while ago, IT in cars was seen as more of an enabler but nowadays it is viewed as a core element, linking the home and personal devices. What opportunities and challenges does this present Delphi?
Vehicles will become smart mobility devices; imagine a smartphone on wheels that is seamlessly connected into the 'smart city eco-system'. The smart city eco-system will deeply understand the city; from traffic patterns, bus and train schedules to events. Some smart city clouds even understand how many fresh eggs there are in your fridge. This information will connect the driver seamlessly into the city and the rest of his / her life; it could, for example, tell me to stop at the corner shop to buy some more eggs.
"The challenge is to extend a consumer's digital life into their car, safely and seamlessly."
The challenge is to extend a consumer's digital life into their car, safely and seamlessly. Through our active safety and infotainment technologies, we can help lessen distraction and the driver's workload so that they can focus their eyes and mind on the road.
Given the growth in connectivity, automakers are facing similar challenges to that faced by the consumer electronics industry over the past decade. Yet the auto industry does not have the flexibility of beta testing. What's your view on the how the software to enable connectivity will evolve?
There are several ways to look at this. First, Delphi's recent acquisition of ControlTech comes into play. ControlTech's software can test, validate and detect software issues before they occur in a production vehicle. Additionally, they can monitor and manage data in a secure cloud environment to alert OEMs and consumers to potential issues. This will first be rolled out by Ford. Second, Movimento's ability to send secure software over-the-air is critical in updating software in vehicles already on the road.
The other way to look at this is the increase in the computational power of the infotainment system itself. We are working with partners like Intel to integrate the fastest and most powerful microprocessors available. These chips will live within a Delphi multi-domain controller- think of it as a super computer for the car. There will be room for additional software loads in the future – making it 'future proof'. That means that the computer won't run out of space to accommodate future necessary upgrades.