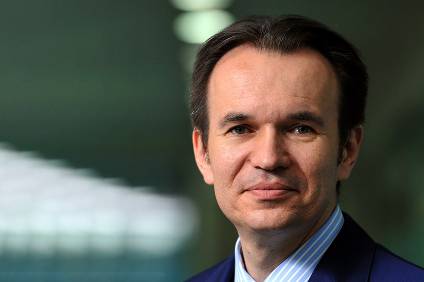 Volkswagen in China is reporting that sales have recovered sharply after the COVID-19 slump that hit the market hard in the first quarter. It now says there is a big shift towards online sales and reducing human contact in a digital sales process. Michael Mayer, head of sales and marketing for VW in China, provides an update.
When Michael Mayer steps outside his front door, the street market is not far away. Within a matter of minutes, he reaches the Sanyuanli fruit and vegetable market, located in the heart of Beijing. He has not taken his wallet with him for three years. "Across the entire market, people pay only by smartphone. That's still in its infancy in Europe – here it works across the board," says Mayer, Head of Sales and Marketing for the Volkswagen brand in China – the country where the corona pandemic first spread.
China is a country where digital solutions were already very much part of everyday life, even before the crisis, even when it comes to buying a car. "Chinese customers always have their smartphone at the ready. That's why online consultation was already well established and accepted before Covid-19," says Mayer. When people didn't go out the door in February, the trend accelerated.
Some 550 Volkswagen models were sold in March in a completely digital process. This is made possible, for example, by virtual showrooms that car buyers can visit from home without the risk of infection. In the digital showrooms, they can see the vehicles and inquire in real-time about prices and equipment. The number of visitors is high – the FAW-Volkswagen joint venture showroom on the Autohome platform alone has more than 2.5 million customer views. "We are also currently observing a growing interest in car ownership, because many people no longer want to be dependent on public transport," says Mayer.
An increasing number of the more than 2,000 Volkswagen dealerships are also presenting the current model line-up via live streams, some of which reach thousands of viewers. "On average, dealers present a new show every other day on platforms such as TikTok or Kuaishou," Mayer says. The competition is tough. "Those who want to be found must always offer something new."
"Car salespeople are becoming entertainers."
Car salespeople need new skills in this world. Good product knowledge remains the basis – but if you want to be successful, you have to appear in live streams like a new type of TV presenter. "Car salespeople are becoming entertainers," says Mayer. In February, Volkswagen trained more than 70,000 participants in a three-day online training course in the use of live broadcasts and the production of short videos: "After that, the lively experimentation with digital formats began, always to the benefit of the customer." For example, virtual test drives were offered in which the interested parties sit in their living room at home while the dealer streams from the car.
If you want to test a car in a real-life situation, you can book the test drive online and have the car delivered freshly disinfected to your front door. "Dealers naturally remain an important part of our service," says Mayer. Customers also have the car delivered to their home after purchase or use the same service to have it conveniently taken to and from the workshop. From mid-February to the end of March, SAIC Volkswagen carried out around 18,000 service procedures and deliveries, the company says.
There is currently still one major hurdle to overcome in the area of digital payments. The maximum limits of the usual online platforms are not designed for new car purchases. "In individual cases, however, we can already process payments digitally today, for example by online credit agreement," says Mayer.
In the meantime, the car market in China is recovering from the corona-induced slump – Volkswagen expects the situation to normalize by the summer. Mayer assumes that the digitalization of the business will also continue at a rapid pace. "However, this does not mean that we will make pure online sales the standard." He believes it is more important to intelligently digitalize further process steps – and thus to work in a more customer-friendly and cost-effective manner. Shortly before closing, many customers still wished for a personal meeting with their salesperson. Mayer: "They expect that they can negotiate the price. That works best on site. For this reason, we plan to have separate meeting corners in new car dealerships. Even if digital continues to spread, the human aspect must not be forgotten."
Digital events and virtual dealer conferences
During the corona crisis major digital events are also becoming more important. On April 25, FAW-Volkswagen presented the Tayron GTE, an SUV with hybrid drive, in a digital world premiere in a newly built live streaming studio. The four-hour broadcast from Changchun reached more than 11 million customer views, VW says.
SAIC-VW also organized a dealer conference for the first time in March using an App. The digital format enabled the number of participants to be increased to more than 10,000 viewers. At the same time, costs fell by some 80 percent, it is claimed. The online format was so successful that it will be retained in the future, VW says.
And that's a key point as the auto industry negotiates the 'new normal' or post-Covid world. How much of what's changed will be retained and how far will we go back to how things were? Changes that were on the way before the crisis may see some acceleration. VW's experience this year in China certainly points to some significant changes that will stay with us.