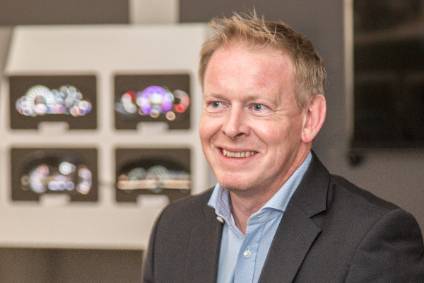 Visteon has transitioned from a multi-product, Ford spin-off to a focused electronics supplier with a diverse customer base. Since its divestment of non-core businesses and integration of Johnson Controls' electronics business, the supplier is now singularly focused on cockpit electronics. Its product portfolio includes audio, information displays, instrument clusters, cockpit domain controllers, head-up display, infotainment and telematics. Continuing just-auto/QUBE's series of interviews at CES this week, we caught up with Markus Schupfner, chief technology officer, Visteon to learn more about its cockpit technology showcase.
What is the headline message that you would like to put out here at the CES this year?
Visteon's theme for CES 2019 is "Digital. Electrified. Autonomous." – charting the evolution of the cockpit from the new electric/electronic architectures enabled by electric vehicles and ultimately autonomous driving when the cockpit will become a smart, learning, mobile assistant. We will focus on the how the interplay between cockpit and safety domain controllers are able to create a new user experience inside the digital cockpit and demonstrate an AI-enabled voice assistant, in-cabin sensing and new display solutions – 3D, curved and flexible – that combines to increase occupant confidence in the autonomous driving experience.
We will debut a first-of-its-kind digital cockpit solution for autonomous vehicles which will unveil the integration of the SmartCore™ cockpit domain controller and DriveCore™ safety domain, offering one integrated HMI experience. The cockpit represents the first cohesive, integrated digital cockpit using AI and machine learning to integrate domain controllers that run both cockpit displays and automated driving features. The interface represents the user experience of drivers and passengers as the vehicle seamlessly transitions from driver control through each level of autonomy, demonstrating how the vehicle takes control or gives it back. The featured autonomous capabilities include: highway pilot, traffic jam assist, self-parking and augmented reality.
Through the single driver interface, SmartCore™ independently operates multiple displays throughout the cockpit while the DriveCore™ platform delivers Level 3 and above autonomous driving capabilities by incorporating the hardware, middleware, and software toolchains required to implement machine learning algorithms. This enables reliable fusion of data from various cameras, LiDAR, radar, infrared and sensors both inside and outside the vehicle.
What does DriveCore offer that competing solutions can't?
Current systems for autonomous driving are based on distributed electronic control units (ECUs) – which have specifically defined functionality or closed, centralised systems which do not scale – and do not offer an open platform for collaborative automaker and partner development. This demand for open architectures in autonomous vehicle development is driven by the need for increased collaboration between multiple developers to meet automakers need to differentiate.
The DriveCore™ autonomous driving platform is the first open and scalable centralised computing approach featuring sensor fusion, object detection and tracking, situation analysis and trajectory planning enabled by AI. It is designed to enable automakers and partners to easily contribute content for fast development.
DriveCore's™ environmental perception model also incorporates advanced sensor fusion techniques for the highest level of accuracy and failsafe driving.
Centralised computing – using domain controllers – provides unprecedented flexibility, power and speed for handling the vast amount of sensors required for failsafe autonomous driving. Visteon´s DriveCoreTM Compute hardware offers maximum flexibility through its unique modular design that on the A-sample level consists of a baseboard and three types of daughter boards:
A computation carrier, which provides the computation power and can incorporate any SoC the automaker wants.
A safety carrier, which provides ASIL D compliance, if needed, and an Ethernet extension board that allows connection of a multitude of sensors to the ECU.
Up to eight daughter boards can be stacked on one baseboard through Visteon´s unique connector system. As a result, DriveCoreTM Compute is scalable to enable all levels of automation – ranging from driver assistance to fully autonomous driving – in a very efficient and cost-effective way. Designed as an autonomous end-to-end platform, DriveCore™ incorporates three components: DriveCore™ Studio; DriveCore™ Compute and DriveCore™ Runtime:
DriveCore™ Studio is a PC Tool to simulate the interfaces and environment for algorithm development. It contains a rich tool suite for sensor data record/playback, visualisation, configuration, fusion, testing, comparison, configuration, validation and versioning. Here, we offer and enable open collaboration third-party providers.
DriveCore™ Runtime is a middleware and real-time environment to sandbox algorithms. It contains open APIs for algorithm development and functional safety support up to ASIL D.
DriveCore™ Compute is a scalable, modular and failsafe hardware platform catering for Level 2+ up to Level 4 autonomous driving.
DriveCore™ is unique because of its modular approach that offers the flexibility needed to design made-to-measure solutions for all levels of automation with exactly the computation power requested by the automaker.
What stage is DriveCore at in terms of commercial readiness?
At the start of 2020, we will have a start of production ready system featuring Level 3 functionality with highway pilot and automated parking applications.
DriveCore™ development started in 2016, leveraging the expertise we had established in cockpit computing – though SmartCore™ – which we extended to a concept encompassing scalable and fail-safe technology. During the start of 2017, we entered into the first common customer development agreement with GAC, a leading Chinese automaker, to collaborate on their next electric vehicle platform. At the start of 2020, we will have a start of production (SOP) ready system featuring Level 3 functionality with highway pilot and automated parking applications. At the end of 2020, we are planning to launch this system into production. In parallel, we are progressing development towards a Level 4 autonomous driving solution and are extending the functionality step-by-step with permanent re-design of the computing boards to enable the latest high-end computing power and performance.
To what extent can we expect to see more curved, OLED and dual displays in car cockpits?
In addition to OLED, new cockpit designs require curved cover lenses and additional integration of sensors and functionality.
The on-going trend in automotive is to incorporate more and larger displays, which are shaped, curved and offer high contrast. The demand for OLED displays is growing and Visteon's new developments are successfully addressing this demand. In addition to OLED, new cockpit designs require curved cover lenses and additional integration of sensors and functionality, e.g. for driver monitoring and in-cabin sensing.
At CES 2019, Visteon will feature a range of new 3D and driver monitoring clusters as well as large, curved and flexible displays that will be the primary interface between humans and the vehicle in future digital cockpits. These include curved OLED displays providing rich, high contrast images on a par with mobile devices.
Fulfilling the growing market demand for OLED and curved displays, we will also demonstrate a new VX display platform – the Visteon eXperience – offering haptic feedback and proximity sensing; as well as smart displays featuring dimmable lenses and real 3D-displays.
Is it reasonable to assume that by 2030 mirrorless cars would be commonplace thanks to advances in the application of cameras as well as regulations?
In this time frame, it is a very realistic forecast. We can expect to see fewer cars travelling more miles. Some reports predict 95% of miles travelled will take place in autonomous electric vehicles by 2030.
The development of drones (consumer and military) is creating a technology infrastructure that is extremely attractive to our market.
The advances in cameras, camera image stabilisation, V2X and functional safety, are well underway to enable such applications. Also, the automotive market is increasingly "importing" technology from adjacent business. As an example, the development of drones (consumer and military) is creating a technology infrastructure that is extremely attractive to our market.
How will the autonomous car change the look and feel of the cockpit?
In the autonomous era, larger, smart displays with curved surfaces will sweep the cockpit area to create an immersive experience for all occupants.
In the autonomous era, the cockpit will become a smart, learning, mobile assistant and displays play a critical role in this evolution. Larger, smart displays with curved surfaces will sweep the cockpit area to create an immersive experience for all occupants.
Visteon's design and manufacturing capabilities are transforming the shape of vehicle displays with surfaces arching across the entire dashboard, incorporating photo-realistic colour rendering and contrast, freeform shapes, flowing curves and slim profiles.
The new generation of displays also offer a deeper, more engaging user experience with integrated features such as haptics, force sensing, proximity sensing and knob-over-glass. We want to create an intuitive information experience that understands intent by detecting ubiquitous interactions, and responds in a visceral way.
What does the trend for shared mobility mean for Visteon in terms of its products, technologies and manufacturing?
Shared mobility changes the car ownership business model, provides mobility as a service but only gets a true, valid operational mode when all vehicles are connected. It clearly impacts the way we are looking at the needs in automotive technology development. The main areas where we see impact are:
In-cabin sensing systems: The vehicle has to monitor the entire interior of the vehicle, check passengers and drivers awareness and situation – which even extend towards health monitoring. In addition, the interior space has to be checked for forgotten objects – and alert the former driver and passengers if objects are left in the vehicle. Also, monitoring children or animals in the cabin is one of the extended features.
Connectivity: Shared vehicles have to be connected and enabled to provide information about their position, status and possible defects to a centralised cloud service. By enabling permanent connectivity, this technology also has to be designed for safety and cybersecurity.
Standardisation: A shared vehicle has to be designed to offer standardised interfaces.
We understand that there are some promising opportunities opening up in the automotive industry from correlating data on cars, drivers and their environment. What is your perspective?
As we are moving along the path of semi- and fully autonomous driving, the connectivity of cars and data handling will significantly increase. Currently, one of the major discussion points is how vehicles can be permanently updated and monitored when we go beyond Level 2 autonomous driving.
The main, new data types are:
Environmental model upload: Autonomous vehicles are generating a digital model of their environment in real time, including dynamic objects (vehicles, pedestrians, bicycles, animals, etc.) and static objects (lanes, trees, buildings). This model is created by fusing sensor data – such as input from sensors, cameras, LiDAR and radar. The vehicle essentially acts as a sensor. This data is extremely interesting for further computation in the cloud to generate high definition maps (HD mapping) which are in turn downloaded to vehicles for more precise autonomous driving.
Initiated algorithm updates: Autonomous vehicle driving is as safe and secure as their algorithms are designed. Autonomous vehicles will need to update these algorithms permanently during their lifetime and enable permanent and continuous improvements.
Remote supervision: Shared mobility vehicles – in combination with autonomous driving at Level 4 – 5 will have the need for remote supervision. To enable this in a safe and secure way, full remote diagnostics and control have to be enabled through the vehicle's architecture and cloud infrastructure.
Is there anything else that you would like to add about Visteon's technologies or market position?
In addition to the development of DriveCore™ autonomous applications, Visteon is thinking beyond domain specific limitations and is working on a new vehicle EE architecture where redundant super-computing units – combined with the abstraction of applications for cockpit and autonomous driving – will enable a safe mobility experience of the future.