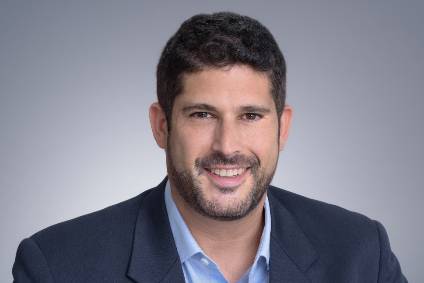 Connected, autonomous, shared and electric (CASE) mobility solutions need sensors. Lots of them. Continuing our series of interviews at CES this week, we spoke to Omer Keilaf, Co-Founder & CEO of Innoviz Technologies to learn more about its path using LiDAR and thoughts on how the autonomous driving market could evolve. Innoviz develops and manufactures solid-state LiDAR (which stands for Light Detection and Ranging) sensors and perception software that enable the mass-production of autonomous vehicles (AVs).
What is the headline message you are putting out here at the CES?
We're excited to demonstrate our automotive-grade solid-state LiDAR, InnovizOne, for the first time at CES 2020 and show the world this rugged, reliable, functionally safe, cost-effective, low-power, lightweight and high-performance sensor. As announced, InnovizOne will be seamlessly integrated into BMW's first autonomous vehicles (AVs) – BMW is the first OEM to select a solid-state LiDAR sensor for mass-production of its Level 3 to Level 5 AVs. CES attendees will be able to see the sensor's highly accurate point cloud with unmatched angular resolution at a high framerate.
In addition to InnovizOne, InnovizPro is ready for deployment in shuttles, robotaxis, drones, robotics, security, tracking, and other industrial applications. Representatives from our offices around the world will be at our booth to explain these demos, meet potential customers, and welcome industry enthusiasts.
In terms of production, what stage are you at?
InnovizPro was in 'beta' stage for 12+ months where we gathered technical feedback from customers in many market verticals. Recently, we implemented features based on their feedback to expand the sensor's capabilities. In December, we began the mass-production of InnovizPro.
InnovizOne samples have already been delivered to our lead customer and will be available in 2020 to others. Production of InnovizOne is on track for 2021.
Innoviz maintains a fabless approach to manufacturing, leveraging top-tier fabrication facilities for our core semiconductor components, and automotive-grade contract manufacturers for the whole system assembly.
We understand that you are shipping products to BMW. Who are your other customers?
Yes, we're very proud to be working closely with BMW to enable the perception of the automaker's first AV fleet, which is scheduled for production in 2021. Our customers include automotive OEMs (BMW) and leading tier-1 automotive suppliers including HARMAN, Magna International, HiRain Technologies and Aptiv. We are also engaged in other industries including shuttles, delivery robots, drones, smart cities, etc.
What are the challenges of LiDAR in its current form?
Traditional LiDAR sensors have several moving parts that are prone to mechanical failure and therefore not suitable for automotive-grade mass production.
Traditional LiDAR sensors have several moving parts that are prone to mechanical failure and therefore not suitable for automotive-grade mass production. Innoviz's proprietary solid-state design introduces a high-performance LiDAR without macro-motion, to achieve durability and longevity required for automotive use. This allows us to sell the sensor to OEMs.
We are hearing that while manufacturers remain excited about automated driving, the challenge will require more time and effort to fully realize. What's your view on the path towards automated driving?
The pursuit of autonomy by major automakers and mobility companies is completely changing how vehicles are designed, developed and tested – in most cases, before official regulation or industry standards exist. We are equally excited about the path to automated driving but also understand it takes years of testing, millions of driven kilometers, extensive collaboration with Tier 1s, exhaustive environmental testing, skilled manufacturing companies and the navigation of numerous regulatory hoops to achieve commercialization of automated driving technologies. Since development cycles usually span a few years, automated driving technologies need to be automotive-grade in the short term in order to make it into the next wave of production vehicles.
Rigorous testing is needed because lives are dependent on these measures and ensuring the safety of both the drivers and the surrounding environment is paramount. Automated cars cannot malfunction in high-speed driving, certainly not often or to catastrophic levels. Failures in these categories could result in serious financial outcomes such as vehicle recalls. It is safe to say that all of these examples have an alarming potential to set the automated vehicle industry back decades.
Our InnovizOne LiDAR sensor is specifically designed for automakers, robotaxis, and delivery companies that require an automotive-grade, mass-produced solution to achieve autonomy. To further meet the critical safety, quality and performance needs of the automotive industry, we have secured automotive-grade certifications ISO9001:2015 and IATF16949 for ourselves and our manufacturers and are about to secure key 'Functional Safety' ASIL D certification ISO26262 soon. We are also adhering to ASPICE capability levels in software development. These achievements substantially differentiate us from competing solutions on the market and indicate our "zero-failures" mindset regarding a safe path towards automated driving.
We hear that spinning LiDARs cost more than solid-state LiDARs. Could you give us an idea of how much your solid-state LiDAR units will cost (a range) in mass production and how costs could fall in the coming years? Also, what is the power consumption of your solutions?
The price of Innoviz's LiDAR offering is significantly lower than the tens of thousands of dollars quoted by competitors for their LiDAR units. The price of our LiDAR units is due to our high volume. As our production volume continues to increase, our prices will decrease as well.
By 2020, there will be more than 10,000 autonomous cars equipped with LiDAR sensors.
'Spinning' LiDARs contain many moving parts which increase the risk for wear and tear and mechanical breakdown – costly items to address given the delicacy of prototype units. Cars will need at least one LiDAR unit to provide ADAS capabilities and several LiDARs to provide fully autonomous capabilities. Automakers planning to mass-produce AVs will need LiDARs that cost hundreds, not tens of thousands, of dollars. By 2020, there will be more than 10,000 autonomous cars equipped with LiDAR sensors –– but that won't nearly be enough to satisfy the market. In order for more AVs to saturate the market, LiDAR sensors will need to be mass-produced.
Power consumption is critical for future AVs emissions, range and mileage. InnovizOne consumes between 15-23 watts, depending on its operating mode, which is about one-tenth of the average LiDAR on the market. The InnovizOne also features a one-of-a-kind, configurable power consumption mode that dynamically adjusts to the driving conditions, leading to the vehicle being able to save power and travel at longer distances when needed. The InnovizPro consumes a maximum of 38 watts and has a nominal measurement of 35 watts.
I guess developing LiDAR for autonomous vehicles is just the first step for Innoviz. What other sector opportunities for LiDAR technologies are you looking at?
We are heavily focused on the automotive (AV, robotaxis) market, with a mission to bring about the mass-production of AVs. However, our LiDAR is also a great fit for other applications — drone/UAV, robotics (warehouse, delivery), heavy machinery (agriculture, construction, mining), smart cities (connected infrastructure, smart intersections, security, monitoring, traffic management), mapping (HD Maps) and other industries.
What's next for Innoviz?
Innoviz Technologies is now one of the best-funded LiDAR solution providers in the world.
In June 2019, we closed our Series C funding round at $170M, which brought our total funding to $252M. Innoviz Technologies is now one of the best-funded LiDAR solution providers in the world. We plan to use these funds to: a. Ramp up production of our LiDAR units, b. Test and validate our products to ensure they continue to meet automotive grade production standards for integration into consumer vehicles, and c. Support customers as they integrate InnovizPro and InnovizOne into their platforms. Innoviz is in the evaluation stage with 100+ companies, including OEMs and new mobility providers (e.g. robotaxi, deliveries, other autonomous mobility startups). We're hard at work and see a bright future ahead for our products and AVs.