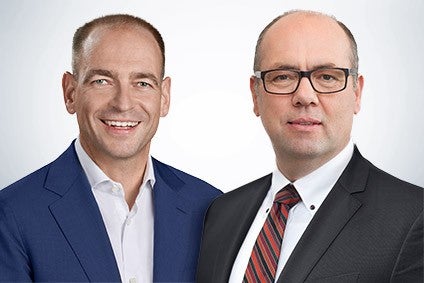 Continental is using this year's CES to demonstrate its solutions and key technologies for future cities around the theme "Mobility at your service. Freedom to Live." To learn more, we spoke to Ralph Lauxmann, Head of Systems & Technology, Chassis & Safety Division, Continental and Dr. Karsten Michels, Head of Systems & Technology, Interior Division, Continental.
Could you tell us about some of the technologies that Continental is showcasing at the CES and your main message?
Ralph Lauxmann: At CES 2019 we are showcasing many different technologies about automated and connected driving. Along with our this year's theme 'Mobility at your Service. Freedom to Live.' We have several highlights in place:
Intelligent Intersection: Live in Walnut Creek, California, the intelligent intersection, increases safety of intersections through sensor-based object detection, fusion, and broadcast, for real-time V2X safety applications. Dedicated Short-Range Communication links intersection infrastructure and vehicles to protect against collisions with vulnerable road users and other traffic participants. This technology is also enabling additional functions like traffic statistics and efficient traffic light actuation.
Cascaded Robot Delivery: Driverless vehicles like the CUbE are generally considered as a solution for urban "first and last mile" mobility. This type of vehicle, paired with delivery robots, will be a part of the seamless mobility value chain, extending beyond last mile people transportation to goods delivery.
Virtual Development of ADAS and AD Functions: Through the cooperation with the German based start-up company AAI, Continental boosts its approach for virtual development of its ADAS and AD functions. Virtual development is already an integral part in today's product development. For the development of AD ready functions, a more complex – even real-world – virtual development and test environment is needed. Using the realistic 3D simulation platform, engineers can execute endurance and scenario tests, with programmable traffic situations supported by AI-based traffic agents and adaptable environment conditions.
Hybrid V2X: Two Standards. One Solution. Continental's new hybrid V2X platform unlocks the full potential of vehicle connectivity and covers the global market needs while offering remarkable cost benefits. This solution has already won a first customer award and will not only enable high speed 5G connectivity but also make driving safer via V2X communication.
Smart Autonomous Door / Intelligent Door Stop System: CES 2019 Innovation Award honouree in the Vehicle Intelligence and Self-Driving Technology category: Anticipates access needs by opening/closing vehicle's doors safely and conveniently. Offers a first step towards full autonomy with our door stop function, activated upon obstacle detection during manual door opening by user.
Is it still reasonable to assume that by 2030 mirrorless cars would be commonplace thanks to advances in the application of cameras and regulations?
Ralph Lauxmann: A first step is done with the advances in regulation, like in Europe, for example, whereas in other countries there is still some way to go. As camera-monitor-systems, which replace the conventional mirrors, are able to further enhance road safety and can reduce accidents, we still see this as an important technology for passenger cars and trucks in the future. This system can, for example, support the right-turn assist which is now mandatory for trucks as it eliminates the blind spot and therefore reduces accidents.
What does the trend for shared mobility mean for Continental in terms of its products, technologies and manufacturing?
Ralph Lauxmann: In the short term, shared mobility enables us to transfer our know-how to new customers and new business models. For example, our Key as a Service solution, allows users of shared mobility services to manage the entire process of renting, accessing and starting a vehicle by just using their smartphone. We have just recently expanded our cooperation with AVIS to roll-out Key as a service for further 50,000 vehicles at AVIS rental stations in the US and Europe. Key as a service is also supporting new mobility solutions such as peer-to-peer car renting. With the company Turo we have found a partner, who offers its members to install our Key as a Service Solution into their vehicles and thus allow them to turn their vehicles into a digital mobility service.
One of our concepts for future shared mobility is our development platform CUbE (Continental Urban Mobility Experience). We see that future mobility will be a seamless mobility. People will drive automated in their Cruising Chauffeur to a city border where the vehicle – through the Valet Parking function – parks itself in a car park. The innercity last mile transportation will be done by driverless, fully electrified robo cabs, like the CubE.
Shared mobility means for Continental that innercity transportation is done by public owned transportation vehicles like, for example, robo taxis. People share these vehicles for their last mile transportation and when these vehicles are not used for people transportation they can also be used for goods/package transportation.
Continental is expanding its international network for artificial intelligence (AI) in Silicon Valley. In what ways has this given your business a competitive edge?
Ralph Lauxmann: Learning systems and artificial intelligence help people to perform complex tasks more safely and easily. These include automated and autonomous driving without accidents, more precise medical diagnoses and life-saving robots in disaster situations. This way, learning systems and artificial intelligence trigger and amplify a surge of innovation that is just beginning in business and society.
This is how we ensure competitiveness, prosperity and employment. Much research and development is still required to make learning systems and artificial intelligence sufficiently reliable and available for the benefit of people in everyday life. In doing so, it is important to us to create the conditions for a responsible handling of the resulting technologies and to generate confidence in their capabilities.
We understand that Continental is working with German Research Centre for Artificial Intelligence (DFKI) on future mobility. Could you tell us a little more about the projects you are working on?
Ralph Lauxmann: Cooperating with leading research institutions is of the utmost importance to us. It is an important building block that will enable us to measure up to the persistent demands calling on us to shape the mobility of the future and acquire qualified employees and executives for tomorrow.
This is why we are not only working with DFKI, but also with the AI departments of Oxford and Berkeley.
Presumably using eyes, voice and hand gestures, it is possible to eliminate buttons from an infotainment system. What is your vision of this touch-free user experience?
Karsten Michels: Drivers around the world are different and so are their preferences when it comes to interacting with their vehicles. Some drivers prefer to use speech, others touch screens or buttons. Considering this, our vision for the cockpit of the future is an empathic interior that not only takes the drivers preferences and the driving situation into account but is using artificial intelligence to offer the driver the most intuitive way of interaction. For example, in our digital companion solution, we use AI to learn drivers' preferences, such as choice of music or route settings. We also integrate digital assistants to enable a natural dialogue between driver and vehicle. For example, if the engine warning light is on, the driver could engage the digital companion in a dialogue to get more information and maybe directly schedule an appointment with the workshop.
To what extent can we expect to see more curved, OLED and dual displays in car cockpits?
Karsten Michels: We see a trend in the automotive industry towards pillar-to-pillar displays, allowing to flexibly manage information for drivers and passengers. While conventional screens are ideal for the flexible display of digital information, their shortcomings quickly become apparent when it comes to user-friendliness and design possibilities for vehicle manufacturers. To address this, curved displays or displays with a 3D touch-surface allow brand-specific individualisation as well as finger guidance that users can actually feel. With haptic feedback these displays even enable drivers to operate the display instinctively without having to take their eyes off the road. Another innovation we are working on is to make the A-Pillar transparent. By using displays on the A-Pillars and exterior as well as interior cameras, we can project an image of the exterior, which adapts to the head movement of the driver, to create a natural look and feel directly on the A-pillar. With this we minimise blind spots and make obstacles or pedestrians visible to driver.
Continental and Knorr-Bremse are co-developing a complete system for highly automated driving in commercial vehicles. What stage have you reached?
Karsten Michels: We have announced the partnership with Knorr-Bremse at the IAA Commercial Vehicles in September 2018 and we are currently working towards our first goal to demonstrate platooning to selected customers. Depending on the vehicle manufacturer, the partners regard a period of 3-4 years as being realistic before platooning convoys will be seen on selected roads in series operation.
We understand that Continental recently increased its investment to 18 per cent in DigiLens, the Silicon Valley-based holographic waveguide projection technology company. Why did Continental invest and how will it advance your HUD technologies?
Karsten Michels: With DigiLens' holographic waveguide technology, we are able to drastically reduce the size of windshield head-up displays while increasing the image-size. This allows us to realise augmented reality head-up displays.
We understand that for car manufacturers as well as their suppliers, individualisation is a growth market that offers great potential for differentiation. How is Continental responding to that?
Karsten Michels: With our solutions such as open computing platforms, curved or 3D displays or morphing controls, we supply vehicle manufacturers with all the ingredients needed to offer their customers maximum individualisation.