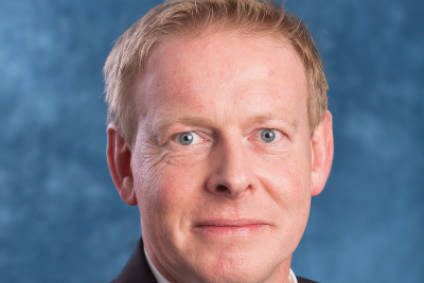 Continuing just-auto's series of interviews with global automotive component suppliers, we caught up with Visteon's chief technology officer, Markus Schupfner on the eve of the consumer electronics show (CES). He joined Visteon in April 2016 and is the executive tasked with executing the supplier's technology roadmap – evolving ADAS platforms to autonomous driving.
Could you tell us about some of the ADAS technologies that Visteon is highlighting at CES and your message?
This year, some of our artificial intelligence and advanced driver assistance systems (ADAS) experts will share early insights into Visteon's innovative autonomous vehicle programme that is in development.
In today's vehicles, the conventional architecture for ADAS functionality is distributed across multiple intelligent sensors and electronic control units in the car network. Based on Visteon's domain controller approach, our ADAS solution will merge these elements into one centralised, cyber secured unit, which reduces the costs of technology, and makes it more secure and ultimately more efficient.
Visteon's approach applies machine-learning technology to accurately detect and classify objects in a vehicle's path and plan vehicle movements, leading to fully trained driving control systems.
ADAS technology – taking existing features such as intelligent cruise control and new technology including automatic passing and emergency braking – forms the basis of our roadmap toward autonomous driving.
Could you give us an idea of the size of your team working on ADAS and autonomous driving efforts and the type of technologies under development currently?
We are investing in centralised ADAS computing technology which is based on our established SmartCore domain controller technology. Investment is done by building up the hardware; establishing a team of highly skilled experts; working on new technology using deep learning for object classification, perception and decision-making; applying centralised sensor fusion; and creating an open framework to integrate algorithmic development.
We are heading toward feature setups on Level 3 and 4, which also incorporate a system setup that is ASIL B and D (ISO 26262) compliant. We are also proactively engaging with university and consortium alliances with the main goal to bring the latest technology into the automotive market for autonomous driving.
A while ago, IT in cars was seen as more of an enabler but nowadays viewed as a core element, linking the home and personal devices. What opportunities and challenges does this present Visteon?
LTE is rapidly becoming the standard for wireless communications to vehicles, particularly in the US and Europe. The growth in automotive LTE is largely driven by connected services and features that can be offered through telematics and infotainment systems.
As a result, infotainment systems are fast becoming the digital core of the car and a stepping stone to a future of autonomous mobility. Breaking down the barriers between a vehicle's native apps and apps running on personal devices – be it smartphones or home devices – Visteon has developed a second-generation infotainment platform that complies with open standards such as W3C and GENIVI. This platform makes it easy for third-party developers to build applications using HTML5 along with rich JavaScript based application programming interfaces. This eliminates the need to rewrite applications when porting to other infotainment systems.
Also, Visteon, together with the automakers, can provide value-add services like over-the-air updates (both firmware and data-like map updates, etc.) to software-driven components in the car. Vehicular diagnostics and live trouble-shooting can direct the vehicle to a nearby service before component failure, to name just a few examples. The real long-term benefit, but also challenge, for all parties lies in the data generated from all the sensors in current and future automobiles; however, only if this data can be accessed in real-time. This data can then be used for an array of crowd-sourced applications.
Some of the challenges associated with the safety aspect of vehicle-to-vehicle and vehicle-to-infrastructure (V2X) which requires absolute interoperability between the communicating vehicles and this can only be achieved through standardization. Standardization also ensures the effectiveness of the V2X technology. Competing standards could split the target vehicles in to different categories – or segments – and thereby violate the interoperability principle. The recent release of the draft for the proposed V2V rulemaking by the US National Highway Traffic Safety Administration is a positive step in the right direction.
What is your vision for the autonomous car?
Visteon's autonomous driving approach targets the next generation of vehicle architecture: sensors connected over the Ethernet and central computing of those signals for autonomous applications.
We will feature a fail-safe centralised domain hardware based on the current SmartCore technology. A key differentiator of Visteon's autonomous driving vision is the application of artificial intelligence, or, more specifically, machine learning, for object detection and classification as well as other critical driving and monitoring functions that can benefit from a learning approach to improve their effectiveness compared with conventional vehicles. In addition, we will also be open for partner approaches; our architecture will be designed to be open for partners, having algorithmic developers in mind and enabling them to integrate algorithms and applications with the overall system setup. Our approach can be divided into three main components:
First, the need to generate fault-tolerant hardware in the system setup based on a centralised unit.
Second, Visteon will look to construct an open software architecture and framework that makes it possible for third parties – automakers and other software developers – to develop algorithms and applications for autonomous driving.
Third, artificial intelligence (AI). This is required for deep learning and to carry out object classification, object tracking and even decision making. AI is new to the auto industry, but essential to making more complex road-based decisions, such as how vehicles are moving and which direction the car should take.
Cybersecurity is a major concern these days. How is Visteon addressing that?
We are taking a state-of-the-art approach to safety and security in all our applications and have a specialised security team working on integrating cybersecurity into our architectures, such as secured boot inside systems.
For example, in our new infotainment system – Phoenix — we're building in cybersecurity from the ground up, which is different from the batch approach that is being applied to infotainment systems today. We believe this will give our system a level of cybersecurity that is unavailable to automakers today. Our architecture also includes secured sandboxing for handling HTML5 applications.
Markus Schupfner
Markus Schupfner leads Visteon's global advanced technology development, especially in the areas of ADAS, vehicle-to-vehicle and vehicle-to-infrastructure, and autonomous driving, as well as product management of all Visteon products. Schupfner joined Visteon on April 1, 2016, bringing more than 20 years of experience leading software development for global automotive suppliers, primarily serving high-end vehicle manufacturers. He is based in Karlsruhe, Germany.
Schupfner previously was with Elektrobit Automotive GmbH, an international supplier of embedded software solutions and services, where since 2014 he had been executive vice president of operations, after serving four years as vice president of Elektrobit infotainment solutions. As head of operations at Elektrobit Automotive – recently acquired by Continental AG – Schupfner led innovation, product and service developments for human-machine interaction, driver assistance, navigation, system integration, connected car and electronic control unit solutions. He achieved many successful product launches for high-end vehicle manufacturers and helped turn the company toward a lean development approach.
Before joining Elektrobit, Schupfner was vice president of navigation for the infotainment division of Harman International Industries, where he led product development and pre-development for high-end navigation. He previously held director-level roles during a 12-year career at Siemens VDO and Siemens, responsible for system architecture and technology development of high-end navigation systems for leading automakers.
Schupfner has obtained several patents for embedded navigation software. He has a degree in mathematics from the Technical University of Applied Sciences in Regensburg, Germany.
&