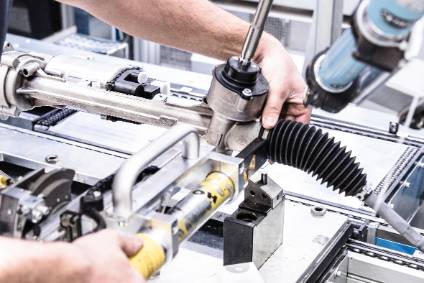 Robert Bosch Automotive Steering GmbH develops, produces, and sells steering technology for passenger cars and commercial vehicles. Continuing just-auto/QUBE's series of interviews with tier one component suppliers, we spoke to Jennifer Endres, Vice President Engineering System and Advance (AS/NE), Automotive Steering division, Robert Bosch GmbH about electric power steering, steer-by-wire and steering systems for Level 4/5 cars.
We are hearing a lot about the autonomous vehicle. In what ways will it impact the steering system?
For a Level 4/5 car, the interface between the passenger and steering system will be completely different. We already have haptic/ visual/ acoustic, and all these things will change. The steering of an autonomous vehicle depends a lot on the use case, i.e. whether it is used to carry people or goods. It also depends on the road conditions. All these use cases have to be taken into account and influence the software, hardware and mechanics of the steering system.
With so many unknowns, is it challenging to decide which technologies to further develop?
We check concerning the technology and knowledge we have also about the different systems. That means not only about steering, but braking and powertrain as we have everything in-house. This is a big advantage for our customers. Then we talk very early on to our customers to establish what they need. But at the same time, we also try to predict, because the market of today obviously does not yet know or have what we need in the future. It is, therefore, really necessary to check what opportunities we have to improve the customer's opportunities or the customer's usage for the future.
Steer-by-wire systems have been talked about for years. What's your view on its prospects?
Sooner or later all cars will be equipped with steer-by-wire. The big question is when?
Sooner or later all cars will be equipped with steer-by-wire. The big question is when? For highly automated driving (HAD), i.e. Level 4 or 5, steer-by-wire is a must, but even besides these HADs use cases the system, so steer-by-wire offers a lot of new opportunities. For packaging, flexibility, additional assistance features, and therefore there are also applications and use cases even before Level 4 and 5. We currently expect that SOP will be within the next few years.
In terms of additional steering assistance systems, do you think some of these innovations are always noticed by the motorist?
It very much depends on the driver. I think the motorist will certainly notice the improvements concerning safety and comfort. So if they recognise that they really can rely on the system and that more and more the system can be trusted to really take over for longer and longer periods and more and more traffic situations. For sure they will also recognise the human-machine interface, i.e. the voice recognition will be better and better. Haptics might change, so these things the motorist for sure will also notice.
In what ways has Bosch advanced EPS technologies recently?
We faced new requirements and have developed higher safety standards. So this is a trend we see. Also, scalable approaches for different levels of standards, and also that steering, braking and accelerating move closer together and that you have features where you can already realise within EPS safety, security, etc. Due to these new environmental sensors, cameras, LiDAR etc, we use software level interpretation and trajectory planning for the steering, e.g. for lane keeping.
I guess EPS systems are pushing hydraulic steering-assist systems off the road. How do you see the hydraulic steering sector evolving over the next few years?
Concerning passenger cars, the focus is completely on EPS. But concerning commercial vehicles, it all depends on the torque and mass or additional safety functions, independently if it's an electric or a hybrid electric vehicle, we still currently focus on electro-hydraulic steering.
If EPHS (Electrically Powered Hydraulic Steering) systems are a bridging technology, how long do you define that transition period? Is that still correct or how long do you define that transition period, if that's still valid?
For now, for commercial vehicles we still use the electro-hydraulic steering. Concerning when we will be able to just manage with EPS or whether the next technology will already be steer-by-wire, also for commercial vehicles where we then have the opportunity for several axles and so on, we have to see.
To what extent is Bosch benefiting from the conversion to EPS from hydraulic power steering (HPS) in China due to legislation governing fuel economy and exhaust emissions?
In China our Bosch EPS is very successful. China is aiming to be number 1 in the automotive industry. So to them, it's also important to utilize new technology. They also support this by regulations. You see also many new players in China. It's a very, very interesting and important market to us, today and in the future.
And competitive …
Absolutely. This is also the reason why we also develop and manufacture in the region for the region, to really be close to our customers and to know the market needs, because you can't do this from Europe.
What do you see specifically is going on with steering systems for full hybrid vehicles?
Actually the requirements to the steering system for full hybrid cars, in comparison to cars only with internal combustion engine are not that different, fortunately they are quite similar. There are driving situations or use cases where there are differences. For example, while driving completely electrically, like in full hybrids the noise/vibration requirements have an impact towards the steering as well. There are also some opportunities, especially when you put steering, braking and powertrain, so electric powertrain together so that you use synergies safety-wise but also comfort functions. These I would say are really opportunities for full hybrid vehicles.