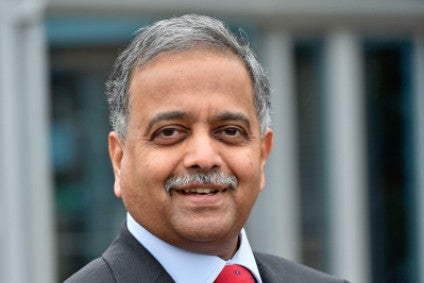 Continuing just-auto's series of interviews with tier one automotive component suppliers, Matthew Beecham spoke to Arun Srinivasan, head of Bosch's UK automotive division about advanced driver assistance systems (ADAS) and how the connected car will become the third living space – next to home and office.
Could you tell us about some of the ADAS technologies that Bosch highlighted at the recent Consumer Electronics Show (CES) and your message?
At CES 2016, we showcased a number of connected automotive technologies that will make driving safer and more convenient. These include Highway Pilot, which will allow for fully automated driving on the motorway from 2020 onwards. This increases safety and efficiency, and makes motorists' lives easier as well. When the highway pilot is on, the driver becomes a passenger – able to lean back and relax or attend to other things.
We also won a CES Innovation Award for our new haptic touchscreen, which is unique in that the keys displayed on its screen feel like actual buttons, so drivers can often operate applications in the infotainment system, such as navigation, without looking at the screen. This means they need to take their eyes off the road much less, which makes driving safer.
Another Bosch technology on show was fully automatic parking, which we plan to bring to market by 2018. The idea is for the driver to simply leave the car at the entrance to the parking lot or garage. At the driver's command the car then finds an available space and parks itself. When it's time to go, the car drives itself back to the drop-off point in the same way.
What is your vision of the connected car?
The connected car will become the third living space – next to home and office. And Bosch will make the car a part of the 'internet of things.' They will be able to see around corners, be aware of possible dangerous spots, traffic jams, construction sites, and accidents.
Connected cars will also be able to park themselves using automated valet parking, while driving controls will become even more intuitive with technology such as the haptic touchscreen and haptic accelerator pedal.
As we understand it, multi-function cameras are forming a core technology for advanced DAS. These cameras will be cheaper, more effective and easier to integrate than radar and infra-red systems. Is that correct?
Our stereo video camera is a single sensor solution that can inform the decisions of various driver assistance functions that would normally use multiple sensors, or a combination of radar, sensors and video sensor.
Bosch has already developed a stereo camera-based emergency braking system, which features for example in the Land Rover Discovery Sport. The system prevents accidents by activating the emergency braking system on the basis of data received from the camera.
To what extent are you seeing the proliferation of sensors around the car?
Sensors are a key part of any object in the world of 'internet of things', and so their use in connected cars is vital. Sensors are being used across multiple driver assistance and safety technologies around the car, and Bosch will continue to use them on future technologies like automated driving.
Bosch is the world's leading manufacturer of MEMS [Micro-Electro-Mechanical Systems] sensors; every day more than four million of these sensors leave the wafer fab in Reutlingen, Germany. Bosch expects particularly robust growth in this segment: Having manufactured 76 million units in 2015, production is expected to more than double to 173 million by 2019. Three out of four smartphones in the world use MEMS sensors from Bosch.
We developed the underlying semiconductor manufacturing process in-house and have been producing the sensors on an industrial scale for more than 20 years. Bosch holds more than 1,000 patents and patent applications relating to MEMS technology
As effective as cameras are, they have a few drawbacks such as limited range and performance due to rain, fog and varying light conditions. To what extent can sensor/data fusion help?
The remainder of this interview is available on just-auto's Automotive light-vehicle sensors – technology, trends and forecasts to 2030