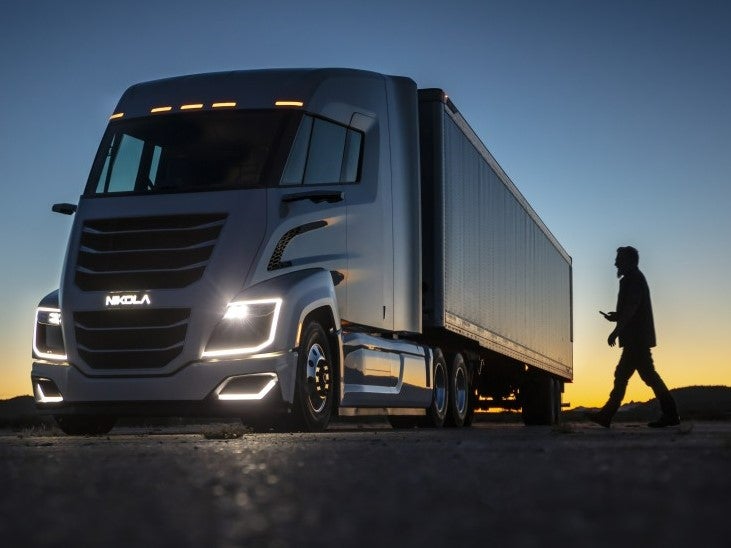 Hydrogen technology is sure to be a part of the path to low-carbon transportation, especially when it comes to electrifying heavy trucks.
Bosch is investing heavily in hydrogen technology. We spoke to Arun Srinivasan, Head of Mobility Solutions, Bosch UK, to hear more.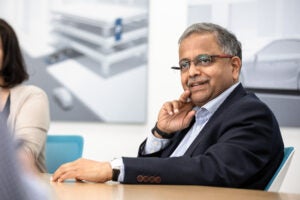 JUST AUTO: How important are fuel-cells for commercial vehicles and why are they so suitable for HGVs? What are the advantages?
AS: The hydrogen fuel-cell is an attractive technology for commercial vehicles for a couple of key reasons. Hydrogen-powered lorries have zero emissions at the tail pipe, but they're faster to refuel when compared to the time it would take to charge a battery-electric lorry and are able to offer a longer range. While hydrogen fuel-cells can be used on a broad range of commercial vehicles, they are particularly suitable for hub-to-hub transportation and for coaches. Both use cases would benefit from hydrogen refilling stations at the hubs. Heavy-duty long-haul trucks and off-road applications are particularly suited to use of hydrogen engines – another emerging technology. We're involved with more than 100 projects of the hydrogen engine so it's an exciting innovation.
Hydrogen can therefore play a vital role in reducing the carbon footprint of HGVs, and therefore supporting the UK government's transport decarbonisation plan. We believe that hydrogen fuel-cell trucks and light commercial vehicles have a bright future in logistics as an alternative solution to electric vehicles and we're making considerable investments in this area.
Can fuel-cells play a significant role in light vehicles and passenger cars?
Absolutely, they will be an important part of light commercial vehicles in the short-term future and passenger cars in the longer-term.
Bosch has just announced testing of hydrogen fuel-cells for vans, in partnership with ABT eLine. Vans are a popular method of transporting goods but the longer a journey is and the heavier the vehicle, the more a battery-based electric drive reaches its limits and the less economic and efficient a solution it becomes.
This is where a hydrogen fuel-cell can come into its own, as the fuel-cell enables long ranges and short refuelling times, which makes long journeys more economical. We have now equipped two vans with this technology and started test operations on the road.
In the long run, we could see more fuel-cells in SUVs and larger passenger cars. And there's also the hydrogen engine too.
Are there constraints – such as in fuelling infrastructure – to consider? How can the infrastructure constraints be addressed?
A hydrogen infrastructure needs to be established in order to capitalise on the potential of these hydrogen technologies. At present, there are constraints in the fuelling infrastructure. To accommodate wider use in the whole spectrum of vehicles, rather than use being mainly restricted to HGVs, there would need to be an improvement to the infrastructure in the UK to create a wide network of fuelling stations.
Encouragingly, last month (October 2022) UK trade body Hydrogen UK called for short-term subsidies for companies looking to purchase hydrogen-powered road transport and trains. They've also called for the number of hydrogen refuelling stations in the UK to reach 200 this decade.
Bosch is involved in developing infrastructure technology too. In partnership with Maximator Hydrogen, Bosch Rexroth will help set up 4,000 hydrogen filling stations worldwide by 2030.
How many fuel-cell systems is Bosch planning to supply in the future?
Between 2021 and 2024, Bosch is investing one billion euros (£877 million) in fuel-cell technology. Approximately 600 million euros (£527 million) will be spent on mobile fuel-cell applications and a further 400 million euros (£350 million) on stationary applications for the generation of electricity and heat. We already have 50 stationary fuel-cells up and running at Bosch plants in Germany.
We can't share our forecasts, but by 2035 the share of commercial vehicles weighing six metric tons or more that run on diesel – a share that's dominated the market up to now – will fall to less than half. By the end of this year, we'll have 500 trucks equipped with our hydrogen fuel-cell technology on the road and by 2025, the figure is expected to exceed 40,000.
The full Bosch portfolio for vehicles ranges from the complete fuel-cell module, the fuel-cell stack, core components such as the electric air compressor, plant components, and individual sensors.
How can hydrogen fuel-cells play a significant role in countering shortages or future tight markets for gas in Europe?
That's difficult to predict with much certainty. From a Bosch perspective, we intend to start production of stationary fuel-cells in 2024. Renewable energy supply can fluctuate so that's one area where solid-oxide fuel-cells can help to build a stable network or grid. And then we hope to have electrolysers in production from 2025, so the technology and the infrastructure are both on the way.
Arun Srinivasan
Arun Srinivasan was appointed as the Head of Bosch Mobility Solutions Division (BBM), in the UK as of 1st April 2015.
With over 35 years of experience at Bosch, Arun is involved in many different aspects of the Bosch Mobility business in the UK. His position covers two main areas of responsibilities: overseeing the Bosch Mobility Solutions UK business and global responsibility for Bosch's business with Jaguar Land Rover (JLR).
Arun began his career in 1980 in Bangalore, India at the Bosch subsidiary, MICO, as a Technical Graduate Trainee, and went on to hold several executive engineering roles in India, Germany and the UK.
Before taking over his current position, Arun was Senior Vice President, Sales & Application Diesel Systems, based in Stuttgart, Germany. Here he was responsible for global Sales & Application of all Diesel Systems products for some of Bosch's largest customers.
Arun is married and has two children, a son and a daughter. Cars are his passion, he enjoys sport and paints and sketches for relaxation.