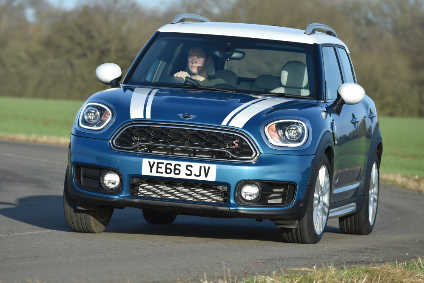 BMW's Peter Schwarzenbauer likes to joke that his business card "takes five minutes to read" and that his full title – member of the board of management of BMW AG Mini, Rolls-Royce, BMW Motorrad, customer engagement and digital business innovation, BMW group – encompasses "all the fun stuff". A very big buck stops here.
One large part of the job, under the digital business innovation hat, is visiting and assessing startups BMW, through its venture unit, might either invest in or take over completely. He's a tough nut to crack, though. "We looked at over 1,000 mobility start-ups in 2016, and invested in only 14."
Along with all the new stuff, Schwarzenbauer sees some things remaining much the same. Looking 10-15 years out, he "can't see the traditional businesess of making and selling cars going away". Autonomous cars, car sharing, yes, they'll become commonplace in cities but "in country areas, people will still need a car to be mobile".
Owning and usage is where big changes will take place. "BMW sees this as a big opportunity, especially in the premium sector." He noted that cars were once sold mostly for cash, then came time payment financing, and leasing. "The market exploded, especially for premium products. People could afford something much nicer on a monthly payment."
The move towards renting use of a car only when you need it almost has Schwarzenbauer salivating. "Mobility [sold] by the minute will offer a huge opportunity for premium brands. [Millions of] miles a driven a year by the private sector. He sees an eventual US$200bn revenue stream across the sector – "the current size of Toyota" as people take the opportunity to pretend, perhaps for an hour, they really can afford a loaded M3 or 7 Series.
"Selling miles, not cars, can be hugely profitable." He envisages a build-up to the "mobility ecosystem", perhaps a 100m customers, payment maybe EUR10 a month, a giant revenue stream.
"There are much more opportunities than challenges, especially for a company like BMW".
He noted 20% of BMW's car sharing service is now EV. Six million rented kilometres had been racked up to date with some people using the service "to test drive EVs." Berlin is Europe's biggest market for this so far.
He also noted the ParkMobile service now has around 16m customers who reckon the monthly fee is well worth the saving on fuel wasted driving around a city, trying to find a parking place. The service is available integrated into apps in the just launched, redesigned 5 Series line.
One area Schwarzenbauer sees as needing more work – customer communications. "Customers want seamless contact where it's by phone, tablet, laptop or dealer."
BMW is on it. The physical and virtual are coming together, BMW is "merging quite a bit" to the point many customers can configure a car on line and show up at the dealership, a salesman can call up the configuration, the customer does not "have to explain it all again".
"Customers want direct contact with the OEM, to talk to us, comment about products and services. More and more people are looking for direct contact," Schwarzenbauer asserted.
On specific products, Schwarzenbauer said the decision to reduce the Mini variant count "opposite to trends" was made to "better focus on five core models" and "change the brand around, make it look more adult. It was a teenager for many years". "So far this seems to work," he said, noting a 20% volume increase in the last seven years and that the brand value itself had increased "dramatically".
The Clubman was added a year or two back and the just launched, redesigned Countryman takes the brand into a higher segment, double the size of the Mini's earlier playground. It is a "huge opportunity to continue our growth strategy". The June arrival of a PHEV Countryman and a full battery electric Mini in 2019 means BMW is "quite well prepared with the brand to be successful in coming years".
Rolls-Royce, which Schwarzenbauer calls the "pinnacle of the auto industry", is "not about selling cars, we're selling art on four wheels". Last year's tally of north of 4,000 cars was up 6% year on year and the second best year in the brand's 113-year history. "We're starting to broaden the range to appeal to a younger audience with the 'black badge' models. This takes the brand "a little bit on the dark side of life".
We talked to Schwarzenbauer on the sidelines of BMW's annual accounts press conference, ahead of a rare media glimpse at its Munich skunkworks – officially the BMW Group Research and Innovation Centre (FIZ). Though originally built for 4,000 employees, it currently houses more than 26,000.
I was particularly intrigued at one digitalisation development that saves thousands of hours of prototype and seating buck build time.
Using virtual reality headsets, designers are able to show management completed prototype vehicles and interiors. Don't like the weather or scenery? A couple of mouse clicks later, you're in Mediterranean sunshine, the sea sparkling in the distance, instead of grey, early-spring Bavaria. Virtual autonomous driving is also possible, complete with a realistic crash if you get it wrong. No hands-on for the media, unfortunately. I doubt any employee in the room was over 30, they came from multiple European countries. And they call it 'work'.