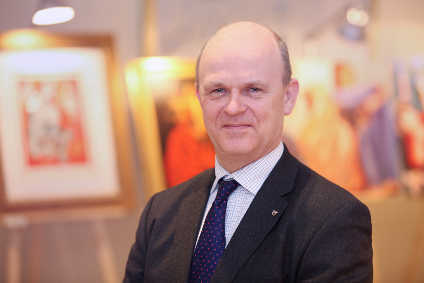 Russian giant, AvtoVAZ recently unveiled sales figures which appear to bear out the slightly more optimistic tone struck by the AEB after four years of unrelenting market falls. The country is undoubtedly beset by challenges almost unknown anywhere else as a combination of international economic sanctions and a reliance on commodities have a correlation on consumer behaviour, but a stabilising ruble and exchange rate may see business pick up. Simon Warburton caught up with the AvtoVAZ CEO at the recent St Petersburg International Economic Forum to take the temperature of any recovery.
AvtoVAZ is describing its recent sales performance as "robust," as its own data bears out figures from the Association of European Businesses (AEB) showing a modest recovery in the Russian vehicle sector.
The AEB released numbers recently showing April sales rose 6.9%, while the AvtoVAZ Lada brand saw sales increase 7% in April to 26,300, with the manufacturer's overall sales also rising.
"I think the trend is now robust," AvtoVAZ CEO, Nicolas Maure told just-auto on the sidelines of last week's St Petersburg International Economic Forum (SPIEF). "AvtoVAZ released its May sales and we are more than 10.5% increase year on year.
"The year is not done – we are five months [in] and I think we will stay on that kind of increase until the year end. Overall the market will be between +5% and +10%, which is good news for everybody, for carmakers and suppliers.
"There is a clear restart especially for automotive which comes up [from] one of the most depressed sectors. Now the thing is how to speed up the capacity especially with suppliers, so it may even be a kind of paradoxical situation where we have demand and we can't supply."
AvtoVAZ retains a high level of vertical integration, producing its own castings, stamping and plastic injections for example, but the CEO notes the Russian manufacturer is slowly introducing some Renault-Nissan Alliance production techniques, with a target to complete that process within three years.
"This means we still have some excess people and the plan is to create an industrial park in Togliatti [AvtoVAZ HQ] next to the park where we invite suppliers to come and also third party companies," added Maure. "Sperbank [for example] will start a call centre, they will take 1,000 people.
"We may have some excess white collars, but also blue collars and the challenge is how to transform blue collars into call centre employees, but I am quite confident we will. We don't have so [many] third party suppliers – maybe we do some outsourcing but it is not for the two years to come.
"It was the genesis of AvtoVAZ , it had to be vertically integrated because there was no supplier industry at the time."
The Russian government has been encouraging import substitution as a way to counter the effects of international economic sanctions, but also exports to take advantage of weak ruble for the past couple of years, although the currency has notably appreciated recently.
"When you look at the history of AvtoVAZ and Lada, the highest export volume was 350,000 cars during the 1980s," said Maure. "The drive was more to get hard currency [and] this led to a significant car fleet in some countries.
"For example, in Cuba they have more than 100,000 Lada cars and most of them are still running. [Now the] Lada 4×4 has huge potential, so this is what we are thinking for export strategy, to have a very strong portion based on the 4×4, which is going to be a worldwide niche product.
"For the rest of the line-up we are of course looking at the countries of the CIS. We have around 25% market share in Kazakhstan, more than 10% in Belarus and are also exporting significantly to Azerbaijan.
"The rest is mainly Middle East, Africa and Latin America. In the Middle East we made a pilot test in Lebanon that will be extended to Jordan. Speaking about Cuba, we will ship the first cars in July. We are already in Chile, Peru [and] Bolivia, but we think we can do much more."
The AvtoVAZ chief also noted the Russian government is looking to additional measures to ensure the fledging recovery recently witnessed in the domestic market can be maintained. The Kremlin has already piled in with a raft of measures aimed at reducing the car parc age, coupled with lower vehicle credit and rental rates programmes to increase demand.
The RBL50bn (US$883m) boost has taken a considerable time to percolate through the hitherto reluctance of Russian consumers to buy new vehicles however and now it appears Moscow is evaluating further steps to solidify any up-tick.
"Today there are two sets of measures that are very effective," added Maure. "The so-called fleet renewal – scrappage – this is close to 50% of our sales and the second is subsidising loans [for] three years – that is 20% of our sales.
"The government especially and the Ministry of Trade are looking at additional measures that should be decided in June, which will target specific segments of customers. One is aimed at promoting ownership of cars at people who do not have cars today and the second is cars for families.
"It is [also] to stimulate birth rates in Russia which is good because the country can do much more than 146m. There are also programmes for businesses such as farmers. We believe these programmes can be very effective – this will contribute to the growth of the market.
"We are in talk [s] with the Ministry [ies] of Labour, Economy, Industry Interior Affairs and Defence and the government is working on what they call in Russia, Automotive Strategy 2025. The idea is to have a better balance between short-term market support and long-term investment and innovation strategy."
Russia has used the continuing international economic sanctions to target domestic production and import substitution through its Decree 166 programme mandating a certain proportion of component production originated locally, with its successor still being pored over in Moscow Ministries.
Decree 166 is due to end during the middle of next year, with the Ministry of Economy working on a replacement, although details have not yet been finalised.
Russia uses a range of Decree mechanisms to stimulate markets, with automotive forming a key plank of the country's industrial strategy and as well as localised schemes such as 166, the country's Export Centre also uses the 905 initiative to increase the amount of support available to carmakers looking to take business overseas.
The Kremlin has enacted Decree 905 to encourage Russian manufacturers to search abroad for export opportunities, as the home market continues to present major sales challenges, with 16 automakers taking advantage of the US$345m available for export initiatives last year.
AvtoVAZ is confident it has turned the corner and a push to reduce fixed costs coupled with an export drive, leads it to believe it can break even in a relatively short time.
"We can generate profits with reasonable volumes," noted the AvtoVAZ chief. "What we have said in terms of operating profit, we will break even in 2018 – today all the indicators are confirming this. I am used to cycles – I started working in the automotive industry in 1987 and I [saw] cycles in 1993 and the shock in 2008.
"The difficulty is to be able to adjust quickly – Russia is a bit more amplified. The whole business would welcome the lifting of sanctions – for sure review of the sanctions would be extremely good. For example, we used to have a big volume in the Ukraine, today sales are very limited for obvious reasons; opening up Ukraine would be very interesting for us.
"Regarding oil and gas, it is linked to the ruble exchange rate so today the rate is favourable and imports less expensive but on the other hand exports are less competitive – we would see some interest in having a bit lower ruble for exports. There is a short term [goal] to improve the balance sheet of the company – Renault and Rostec have been very supportive. After a capital increase in the last year which generated RBL26bn, this is the first step of the recapitalisation process which will continue through the years to come."
Maure noted despite the alliance's undoubted expertise in the electric vehicle field, the sheer scale of climactic and geographical challenges inherent in Russia, made it difficult for the technology to flourish.
Hugely cold temperatures in Russia – it was 6C last week in St Petersburg with even a brief June snow shower – place enormous strain on batteries while the near 6,000 miles between Moscow and Vladivostok gives some idea of the vast distances of the largest country in the world.
"There could be interest [however] within cities," added the AvtoVAZ CEO. "Of course for buses is also very interesting. [Also] what we have been doing in AvtoVAZ is launching CNG cars starting with Vesta.
"Since the cost of fuel is around half of Western Europe, fuel efficiency is less; I would not say it is none, but less than Western Europe. Hybrids will come, but it is also linked to some decisions taken by cities such as St Petersburg or Moscow.
"Today, regarding emissions standards we are Euro V and we are Euro VI in probably 2021 or 2022. "