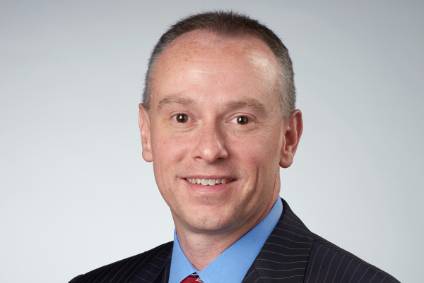 Automotive acoustics is not just about laying better quality carpets or inventing ways of applying foam. An acoustic system takes into account everything in the cabin, from the dashboard to package trays. US-Chinese joint venture supplier, Auria Solutions, is an expert in this area developing and producing a range of vehicle carpet and acoustic parts. Continuing just-auto/QUBE's series of interviews with component suppliers, we spoke to Brian Pour, President and CEO of Auria to learn more about this business and developments in the automotive acoustics arena.
Auria Solutions is a supplier of automotive acoustical, thermal, aerodynamic and fibre-based products. The company, with financial headquarters in Coleshill, UK and operational headquarters in Southfield, Michigan, US, Shanghai, China and Düsseldorf, Germany, operates 27 manufacturing and 11 technical facilities in 12 countries and employs 7,000 people worldwide.
In February 2019, the supplier opened the doors to its new Vráble, Slovakia manufacturing facility. This facility produces automotive flooring systems and fibre-based decorative trim components for JLR amongst other customers. As well as JLR, which now builds the Discovery locally, Slovakia is also home to Kia and PSA and Volkswagen group vehicle factories.
Auria recently broke ground on a new factory in Wuhan, China. Once complete, the 22,500 sqm plant will produce carpeting for Shanghai GM's Chevrolet and Buick models produced locally. In January 2019, Auria China took possession of the company's new regional headquarters in Shanghai.
Could you give us some background to Auria? Who are your customers?
Auria was created in September of 2017 when Shanghai Shenda acquired the fibre-based and acoustical part of IAC. Shanghai Shenda is an industrial company with a long history in textiles and other fibre-based products supplied across all industries, including automotive. The acquisition established Auria overnight as one of the top global suppliers of vehicle thermal and acoustical insulators, floor systems and fibre-based products, such as trunk and cargo management systems, decorative interior components and aerodynamic underbody panels.
We are hearing a lot about autonomous vehicles and electrified powertrains. I guess that implies developing novel ways to prevent those new noises and vibrations from entering the cabin. What's happening there?
The advent of autonomous vehicles brings with it many new challenges in the interior space. For ride-share vehicles, there will be a need for much more durable materials that can resist the wear and tear of more than 100 different passengers per day. Also, there is a greater need for antimicrobial surfaces to prevent the spread of germs from one passenger to the next. Likewise, surfaces that are easily cleanable will be a requirement for ride share fleets. All of this is leading to new, more durable materials that we are developing at Auria. One such floor product is called Armorlite™ – a product that will meet the durability requirements of ride sharing, while meeting the unique in-home styling features (i.e. hard wood, carbon fibre, diamond plating, etc.) seen in many fully autonomous vehicle concepts. With EV powertrains, there is no longer a combustion engine in place to mask many conventional undesirable noises, such as squeaks, rattles, buzzes and coolant fluids. EV manufacturers are very aware of the need to identify, isolate and attenuate these undesirable noises, which is one of Auria's core competencies requiring extensive testing and analysis of the complete vehicle in our acoustical testing facilities. In some cases, we can address undesirable noise at the component source. In other cases, we absorb or reflect noises at certain frequencies using a systems approach.
To what extent do electric vehicles require a different mix of materials and processes to make the dashboard quieter and lighter?
We are always on a mission to find lighter weight materials for both CI and EV applications, and in most cases the same materials are used for AV and CI applications. What is different is the process and the application of the material. It is first important to determine where the noise hot spots are and then determine the best application and material selection to absorb, or block a certain noise with an understanding of how each individual noise affects the total interior acoustics. Often times, most engine noise can be addressed at the firewall, but in some EV cases, we have to isolate an under-hood component, like the HVAC system and devise a special acoustical package just for that component. For example, A/C cooling fluids can be heard moving through the lines and into the instrument panel of EVs. This has been a major complaint of consumers because it is an unfamiliar noise that was once masked by the combustion engine.
A common vision of autonomous vehicles is a living room on wheels with swivelling front seats and a wooden floor. We understand that your Armorlite could help make this vision a reality. Is that correct?
Because of its durability and easy cleanability, Armorlite will first be introduced to the off-road aftermarket this year in the US, where there is a receptive market today. Additionally, Armorlite offers a unique styling and appearance that appeals to the living room on wheels designs we have seen from the various OEM concept cars. Armorlite does not use actual wood or carbon fibre. It is made of a unique base material with a patented top coat that is more durable than any other flooring system in the market place, by a factor of three. Armorlite will look convincingly like wood, carbon fibre, diamond plating or camouflage patterns initially, but the styling potential is limitless, including paver stones, fabrics and any other styling cues that will come from the home living room.
Can more be achieved with acoustic glazing to make cars quieter?
Yes. In the chassis, particularly where metal meets metal, glazing is a good solution. Even electronic active noise cancellation technology can make an impact, but it will have to be done in concert with a total acoustical tuning approach to the vehicle. This means our acoustical materials would work in concert with active noise cancellation for an optimal solution that eliminates all undesirable noises (i.e. wind, road and engine compartment), while enhancing the performance of the audio/stereo system and hands-free voice recognition and voice to text recogntion.
How do you achieve an insulation which is as precise as possible?
This is where Auria excels. Our test facilities in Celle, Germany, Plymouth Michigan, Old Fort, North Carolina and Shanghai China are equipped to analyse the complete vehicle on a rolls dynamometer using different road surfaces that exactly replicate roads from different regions of the world, including asphalt, pavement, gravel, cobblestone etc. This testing allows us to replicate actual driving experience in a specific vehicle and in the same way consumers experience them. Then we can apply our patented test equipment to create a visual representation of noise "hot spots" that appear in different shades of red. This represents the starting point for identifying and isolating the causes of noise and where they are passing through the vehicle into the interior. At that point, we apply our chemical and materials expertise to omit those noises from a complete systems approach.
The European Union is calling for more stringent limitations on the noise emissions of motor vehicles. What is the current and future potential of high-temperature insulation systems with regard to acoustic insulation?
This is often referred to as "drive-by noise", or the sound that pedestrians hear from tyre, engine and exhaust of vehicles passing by. Auria's Plymouth test facility features the largest hemi anechoic chamber in North America. It was designed for the purpose of measuring drive-by noise and working with OEM customers to identify the source, which in most cases comes from tyre treads. There are also acoustical products we have recently introduced, such as the non-woven wheel arch liners that absorb tyre and road noise, which makes the interiors much quieter, but also reduces the drive-by noise. These components feature both acoustical and thermal insulators. As this legislation comes on line in EU and NA, Auria has the test facilities in place to help OEMs meet the new requirements.
In addition to the acoustic insulation, thermal insulation plays a crucial role, for example with exhaust gas aftertreatment. To what extent do insulation systems support the reduction of harmful NOx emissions?
Auria products do not impact exhaust gas NOx emissions. Our thermal insulators are focused on under hood (hood liner) applications, floor pan and drive tunnel applications (on the interior) and wheel arch liners that are often located near the exhaust system. Our focus on thermal insulators is moving toward on-board EV powerpacks that require cooling in hot summer months and heating in extreme cold environments. We see this as a future product offering.