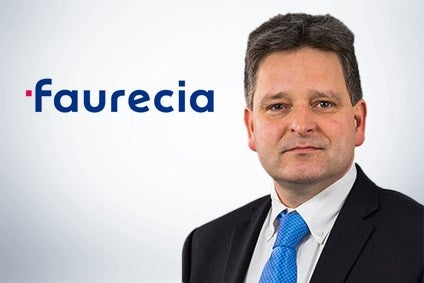 Designers are continually reinventing the interior to appeal to occupants of all shapes, sizes, ages and cultures. Not only is there challenges of defining seat comfort levels, but also cosmetic questions of colour, materials, durability and configuration. Tomorrow's vision of sustainable mobility and CASE introduce another set of considerations into the mix. To learn more, we sat down with Dirk Brassat, Vice President of R&D – Faurecia Seating North America.
Faurecia is a global manufacturer of automotive equipment. It develops, manufactures and markets original equipment through four main business groups: Faurecia Clarion Electronics; Faurecia Clean Mobility; Faurecia Interiors; and Faurecia Seating. The latter is responsible for the management and development of the complete seat unit business and all aspects of the design and production of seat, including metal frames, mechanisms, comfort and safety sub-modules, foams and covers.
Given the accent on tomorrow's car interior is becoming more about occupant comfort and health, how will that affect seat design?
For the past few years, we've been exploring how to monitor and detect driver stress and drowsiness by sensors integrated into seats. In the end, this will give consumers vehicles with the ability to monitor a driver's health and comfort on a whole new level, and react based on those conditions.
To what extent is Faurecia using 'green' (bio-based) materials in car seats?
We've been exploring new ways to eliminate scrap and waste in our manufacturing process, starting with the raw materials and evaluating the entire supply chain all the way through final assembly of our seats. This is an area where we see additive manufacturing having a significant impact as it allows us to manufacture parts with very little or no scrap.
Aside from green materials, we continue to see a great deal of work being focussed on different seat fabrics, creating more breathable or waterproof surfaces. In this respect, in what ways has Faurecia pushed back the technical boundaries?
One area in particular that we're exploring is in our seat trimming process by exploring alternatives to our traditional cut & sew approach. We are exploring the use of 3D knitting or other trimming technologies that can change our approach in the future to applying trim to a seat.
In terms of seat trends, what do you see happening with decorative surface materials?
Lighting accents are a potential future styling trend we've been exploring.
Lighting accents are a potential future styling trend we've been exploring. We're looking at integrating lighting accents into seats for additional design freedom for designers, especially lighting accents in areas of seats like seams or logos.
Visions of autonomous car interiors typically resemble a campfire seating configuration. Aside from flexible seating, what features do you see for a Level 5 car?
One area that's often overlooked when envisioning our lives with autonomous vehicles is motion sickness. One out of three people suffer from motion sickness, and they may not even know it yet because they are typically always driving so they're eyes are always on the road and they're not subjecting themselves to conditions that create motion sickness. Due to this, one area within autonomous mobility we've focused on is creating solutions to prevent motion sickness. This can range from simple products that encourage the right posture and body position to reduce the risk of motion sickness, while others focus on detecting motion sickness and providing remedies within the vehicle.
If tomorrow's mobility is about sharing cars, what does that mean for seats?
Adaptability. Seats need to accommodate a mom taking her kids to school in the morning and a contractor picking up building supplies in the afternoon. Shared vehicles will be used throughout the day, they'll no longer sit idle in a garage or parking lot for the majority of your day. We will need to consider seats that fold out of the way when they're not needed and can accommodate a large group when they are.
Individualization is a growth market that offers the potential for differentiation. How is Faurecia responding to that?
We're exploring a number of after-market products that can allow users the option of individualizing their seats, specifically to add features that didn't come on the vehicle or were not offered.
Is there a premium that OEMs will pay for weight reduction?
If the weight reduction is significant enough, yes. There is a greater emphasis on weight reduction from our European customers than in the US.