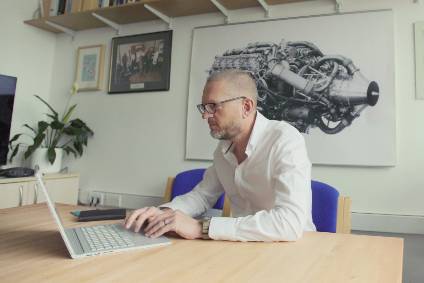 The UK Government and The University of Bath are making a GBP70m investment in new ways of teaching and collaborating to accelerate powertrain innovation. To learn more, we talked to Professor Chris Brace, academic director of the new institute.
Could you explain the background to the Institute for Advanced Automotive Propulsion Systems (IAAPS) and why the time is right for this new type of organisation?
It is often reported that our industry is changing faster now than at any time in the last 100 years, but with the excitement of so much new technology, the implications for engineering leadership can be overlooked. The rate of change means that timescales, budgets, physical resources and skills are all under intense pressure. We can't solve that with the old processes. IAAPS picks up on some of the trends in the ways that vehicle manufacturers and technology suppliers are beginning to work and provides dedicated resources and expertise focussed around proving and developing these new approaches.
While IAAPS will include some of the most advanced research facilities available, covering ICE, electrification and BEV technologies, it will also focus on the development and application of the faster, more efficient processes our industry needs to help it work more cleverly. Central themes will be helping companies of all sizes work more effectively together, developing better tools for collaboration and helping engineers developed skill sets that support these new ways of working.
What trends have you picked up and why is collaboration between companies so important?
The era of vertical integration is long past, so there is a vital need for an integrated approach to product development spanning a growing number of organisations. Vehicle manufacturers are relying more on their technology suppliers, especially for electrification (at least until the technology roadmap is more stable), but the Tier 1 suppliers can no longer afford the vast technical centres that they enjoyed a decade ago. Today, they are complementing their own research by collaborating with innovators, often investing in or establishing JVs with much smaller companies who give them access to a range of technology paths and the speed of development that is much easier to achieve with a young, entrepreneurial business. These synergistic relationships provide the innovators with the sector expertise of the established Tier 1s, particularly their understanding of how to cover the space between proven innovation and production, and their ability to manufacture in high volumes very efficiently. But their cultures can be very different and it's too easy for this and the embedded processes of big organisations to create friction and slow down programmes that are needed yesterday. IAAPS provides an environment where collaboration is encouraged and enabled, between companies of all sizes and with academics who bring a new range of expertise.
Can you provide an example of a global partner that helps facilitate this ambition?
One of the most innovative aspects of this strategy will be the way that it uses the digital infrastructure to enable global collaboration. We are pleased that AVL, one of the leading global test systems specialists, will make IAAPS the first location that draws together every element of its new virtual systems development toolset to create a single, integrated environment. A UK innovator's electric drive unit, for example, could be running in a test cell at IAAPS, integrating with an internal combustion engine model hosted by a first tier supplier in Germany, driving a virtual vehicle hosted by a manufacturer on another continent.
The relationship with AVL allows us to try new ideas, discover how they work, explore the value they bring to researchers and development engineers, and ensure that a wide range of companies can experience and influence these new tools. We are going to keep pushing the boundaries to ensure that IAAPS will offer the most advanced digital collaboration techniques available anywhere.
From your viewpoint at the very early stages of technology readiness, do you believe there is a way to make gasoline and diesel engines clean enough to justify further investment?
Independent figures suggest that twenty years from now, half of all new cars (worldwide) will still have an internal combustion engine. That makes it imperative that we do find ways of making them even cleaner, and to achieve this without compromising cost or durability.
It is vital that we introduce new skills quickly and evolve new, more efficient processes for R&D.
One of the big challenges for engineering leadership is finding the resources to achieve this. Engineering budgets have already had to expand from petrol and diesel to also cover 48V hybrids, high voltage hybrids, plug-ins, full EV and, for some manufacturers, fuel cell vehicles too. Now we are seeing that it isn't a simple transition from ICE to electric via hybrids, but an increasingly complex parallel development process that could last three decades or more. That makes it even more vital that we introduce new skills more quickly and evolve new, more efficient processes for research and development.
Downsizing still offers opportunities and we are seeing wider adoption of more efficient combustion strategies such as partial Miller Cycle.
Electrification is introducing a fascinating new range of technology paths towards more efficient ICE, for example through exhaust energy recovery and electric pressure charging that provides additional air control without the complexity of active valves. Downsizing still offers opportunities and we are seeing wider adoption of more efficient combustion strategies such as partial Miller Cycle.
Remember that electrification doesn't have to be high voltage: 48 V systems offer some significant and timely opportunities for a step change in efficiency through high levels of integration at the powertrain architecture stage. We will see a new generation of highly integrated powertrain system in which the synergies are exploited more rigorously, which will require a top-down approach and the breaking down of silos between ICE and electrification. These will be technically elegant designs in which complexity is replaced by joined-up thinking that also manages cost.
We are therefore ensuring that alongside our EV laboratories, we have the ability to develop ICE and hybrids too. Two 4WD and one 2WD powertrain cells, for example, will provide full hybrid test capability with up to 750 kW of battery emulation at 1,200 V and an ability to replicate highly dynamic operating conditions for traction control calibration.
What expertise will the University bring and why are non-engineering skills important to powertrain development?
Expertise will be drawn from the university's team of more than 40 academics who are active in relevant areas of research, alongside collaborations with vehicle manufacturers, Tier 1 technology suppliers and specialist innovation businesses. As an institute of the University, IAAPS cuts across traditional research boundaries, allowing Engineering, Mathematics, Chemistry, Psychology and other relevant disciplines to work together to find the best solutions, from the application of novel low carbon fuels, to how driver behaviour can be harnessed to optimise fuel economy and reduce emissions.
Take psychology as an example. Emissions and EV range are impacted by the complete powertrain system. Until we have full autonomy, that system includes the driver. Meeting the emissions targets will require much tighter integration of all aspects of the system with greater support for decision making. We also need a much greater understanding of how to make BEVs appeal to buyers, both economically and emotionally. One of our strengths at The University of Bath is that we take a top-down approach to each objective and have access to a wide range of specialists who can bring value in new ways.
What are 'T-Shaped' engineering skills and why do you believe they are now vital to vehicle development?
Here in the UK (and in many other countries), we are educating world-class engineers with deep knowledge in mechanical, electrical, electronics, software and other disciplines, but too few with the breadth of understanding needed to work in teams developing complex, highly integrated systems.
Electric and electrified drive systems require a complex integration of power electronics, software control and high-speed machines. To ensure all the synergies are fully exploited, engineers in each discipline must have at least a headline understanding of adjacent disciplines, as well as the soft skills required for successful collaboration. That's what we mean by T-Shaped skills. Educating engineers in this pattern will be one of the central functions of IAAPS which, for those wishing to take their studies further, will also include a new Centre for Doctoral Training.
Finally, would you tell us a little about the financial justification for IAAPS and the reason for the UK government's support?
We (the University of Bath) are investing GBP30m and the UK Government's Research England is investing GBP29m with the balance provided by the West of England Local Enterprise Partnership. When combined with the expertise of more than 40 Bath academics and the specialist support of our partners, that will make IAAPS one of the top three independent centres of its type worldwide.
An economic impact assessment was conducted by independent specialists Warwick Economics, the Department of Economics at Warwick University. They predicted that we will stimulate GBP67m in additional R&D investment within five years of opening, driving an additional turnover of GBP800m within the UK automotive sector and GBP221m in additional Gross Value Added for the UK economy. That should translate into 1,900 new jobs across the country, of which 590 will be here in the South West of England. There will also be 300 new apprenticeships created over the first five years, alongside new Master's and PhD courses to help solve a growing shortage of skills across traditional and new specialisations.
Stepping aside from the numbers, IAAPS is not just about solving the technical challenges. We are also about making businesses stronger; supporting business incubation, accelerating the growth of smaller innovation firms, providing affordable access to skills and resources, facilitating collaboration and much more. It's a fresh approach at a time when that's exactly what our industry needs.