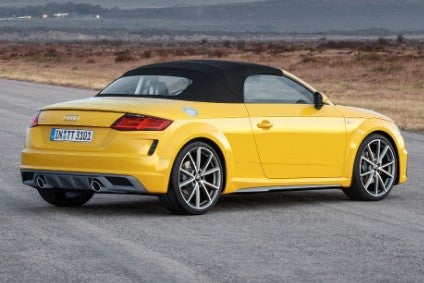 The just-updated TT has perhaps three more years of production remaining. Audi is already hinting though that the model's future is in question. Might this Golf-sized hatchback and roadster disappear in 2022 or could it instead go electric for the fourth generation?
How to update an icon?
These things are personal so while I may believe that Audi has yet to improve upon the original TT liftback from 1998, others may prefer the second generation (2006-2014). Or the latest one? This has been around for slightly more than four years. A facelift was shown to the media in July last year but it's still being released in some countries, and equivalent styling changes for the TTS and TT RS were only announced at the Geneva show a few weeks ago. Those two aren't yet in showrooms.
Looking back to over twenty years ago, some insist that the final decade of the previous century was a classic time for design at the Volkswagen Group. The New Beetle and its novel blue and white VW badges, the first Golf-based Octavia and SEAT Leon, the TT, the mark IV Golf and the B5 Passat stand out – exteriors and interiors. A bit like where every Range Rover is now, on the outside at least: RR, RRS, Evoque 1 five-door, Evoque 2 and Velar. In certain colours and with the right wheels, each of those five could be displayed in an art gallery.
Land Rover has been clever enough to see that change for the sake of it is a backwards step. Instead, only improvements should be allowed for facelifts (RR and RRS) or replacements (Evoque). And Volkswagen? That the Mark VII Golf is selling so well even in its final year shouldn't be a surprise: it just looks right. Shots of near-production examples of the Mark VIII have been all over the internet for months and since the overall appearance shows yet another evolution, the company appears to be on a roll.
Mark Three TT – the best yet
As with the morphing of the New Beetle into the Beetle eight years ago, the second generation TT had more headroom, was faster and handled better. Did its looks improve upon the first one? Not so sure. Sales wise it did well though. Then four years ago, TT Mark III arrived and suddenly, there was a car with strong looks and first rate powertrains as well as other pluses. Having restored my faith, Audi then gave it a facelift which made the appearance even better. Short overhangs, low height, big wheels, refreshingly retro colours, a return to a less-is-more interior – these are all good points.
Fewer than 15,000 sold in 2018
There were some great years for the TT but 2018 wasn't one of the better ones when looking at sales. It isn't just this car though, as BMW and Mercedes and a few other makes which compete in what is roughly the same grouping also saw falling demand. In the case of the Audi, worldwide deliveries failed to break the 15,000 cars barrier last year. That's a combined number for roadster and hatchback. What is the company to do?
Soak up sales after rivals leave the segment?
Perhaps seeking to lift worldwide deliveries is the wrong approach. If the segment is in a long, slow decline then Audi may be wise to be patient and see what happens over the remaining years of the current TT's life cycle. As has happened in the US where many are or have exited the Compact, Midsize and Large sedans segments, those brands and models which remain can find their sales rising or at the very least not declining too badly. Neither Honda nor Toyota is making much noise about the slide of the Camry, Accord, Civic and Corolla. And why would they be when Ford and GM have handed them an opportunity by eliminating the Cruze, Focus, Fusion, Taurus and other cars?
If Audi sticks it out and keeps on tweaking the TT, while at the same time making plans for a new generation model in 2022, then it could well be onto a winning strategy. The current car might even remain a money spinner even at 15,000 units a year worldwide given that the platform and powertrains are shared with other big-volume models. And, no TT is inexpensive. The as-tested 45 TFSI roadster I drove recently is listed at GBP39,155 before options.
Who needs 250PS?
The 45 is meant to signify the power of the engine, or rather where it fits into the range of available outputs. It's a perplexing and illogical system but in this case, those two numbers refer to a turbocharged 1,984cc engine which produces 180kW (245PS) and 370Nm (273lb-ft). Drive goes to both axles via a seven-speed 'S tronic' dual clutch transmission.
The idea behind the move to the double digits is that when electrified Audis become more prevalent, buyers will be able to compare their power to that of diesel, gas or petrol-powered alternatives. That's the intention anyway. Audi of America has refused to use the numerical suffixes but theses badges persist in most other countries, so perhaps we will all get used to them. The e-tron has been launched in 55 form, and a cheaper variant with a motor which produces less power is promised for later this year: 35? 45? 50? Audi isn't saying just yet.
Is this a supercar?
Do people think of the TT as a supercar? They don't but perhaps they should, especially if Audi chooses the electric option for the fourth generation model. Even though the as-tested example tips the scales at an official 1,455kg and with just 245PS propelling it, still it shoots to 62mph in 5.5 seconds, while top speed is limited to 155mph. The updated TT RS will be faster still and that car – hatchback or convertible – is a genuine supercar.
Due possibly to the fabric roof and low seating position, this is also one of those cars which feels even faster than its official figures. I cannot remember any TT being as entertaining as this one either. Corners become something to seek out and what a joy to feel so close to the road when most of us are usually driving hatchbacks, crossovers or SUVs. Roof down, there is almost zero buffeting and it's also possible to be comfortable on a motorway with the windows lowered too, should you wish. Yes, even when the spring isn't quite here yet, as sunny as the weather has been in southern England.
The best looking vents in the business?
On the inside, the TT is beautifully detailed. The turbine-look air vents' centres contain buttons for various functions – there are five of these – and on the as-tested version, there were controls for heated seats and jets of hot air for the neck. A pity then that there is no heating for what is an optional Audi Sport steering wheel on this GBP47,000 car. Quite a steep option too, at GBP795.
A sample of other extras includes GBP575 worth of special paint, GBP450 for a pop-up wind deflector, GBP495 for that 'Head-level heating', GBP160 for High-beam Assist (bonus points to Audi for not making that standard such is my personal dislike of these dangerous systems which can blind other drivers). Something else which you don't get as standard is a picture of the TT's rear when reversing, which is a bit shocking in any car that costs as much as this one. It's easy enough to turn your head with the roof down and there are beeps too of course.
No touchscreen, no problem
Something unusual and in fact a great thing, is the lack of a dashboard touchscreen. Instead, there is a rotary controller between the seats for multiple functions which appear ahead of the driver. SatNav? There also. It's a bit strange to see Apple CarPlay's virtual buttons immediately ahead of you but soon that's normal and after a couple of days I wasn't missing a touchsceen at all. Not having a protruding screen in the middle of the dashboard or in this case, having the sun reflecting off, is a bonus.
To EV or not to EV – that is the question
We don't yet know one way or the other what Audi is going to do with this model. If it does shift onto MEB and become an electric-only car then that could well be a great thing given how low the centre of gravity would be. Would there be room for a battery pack of the size needed to give it a large enough range? I don't see why not.
The question really is whether Audi will take a leap of faith and agree with its parent's belief that charging an EV will be a quick task by the early years of the next decade. For now, the best idea is to make the most of what may end up being the final TT to be available with a petrol engine. Me, I like some EVs very much, and I like petrol- and diesel-fueled cars too as well as PHEVs and certain vehicles which have range-extending back-up engines. It doesn't have to be one or the other.
Summary
That the latest TT has the performance of Ferraris from not too many years ago and superb handling into the bargain, plus average fuel consumption of 35mpg and a CO2 average of 164g/km shows that there is still a very strong case to be made for the internal combustion engine in certain cars. This is absolutely one of them.