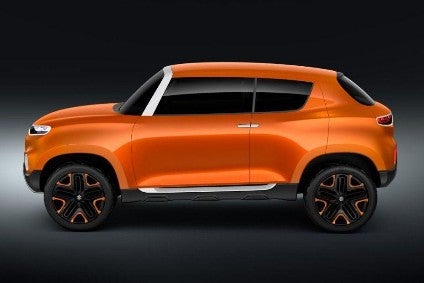 In October, Maruti Suzuki's share of the Indian market dipped below fifty per cent. In no other market of this size, let alone one of around five million vehicle sales per annum, does a single brand dominate. As India's economy expands and its new vehicle market inevitably overtakes Japan to become the world's third largest, will Suzuki Motor have the right models to stay firmly in first place?
Six years ago this month, American Suzuki filed for chapter 11 bankruptcy in California, at the same time, announcing its intention to cease selling cars and light trucks in the US market. The company then got itself entangled in a cross-shareholding mess with Volkswagen AG which was eventually settled in arbitration. The Japanese company had strongly objected to VAG insinuating that Suzuki was a part of the Volkswagen Group empire, something which chairman Osamu Suzuki took strong exception to.
The last of three major setbacks happened earlier this year, as SMC (Suzuki Motor Corporation) took the decision to withdraw from China. The company simply could not see how its brand could become as profitable as it needed to be. As the market began to move rapidly towards New Energy Vehicles, SMC had almost none to offer potential customers. The trend towards PHEVs, hybrids and EVs had been watched for some years yet HQ in Japan kept putting off the necessary spending on such powertrains until the moment arrived when it had to decide if it could do so and eventually see a return. The company saw that its brand image couldn't be lifted to command the pricing premiums of others even in the medium term. With sales of current models at low levels, Suzuki made the inevitable decision: withdraw from the market and pour more resources into those countries where it already made much money.
Against that background, SMC is placing much faith in its ability to ride any future major setbacks in Japan, India and a handful of other countries in Asia where it remains a force to be reckoned with. One of the firm's biggest challenges for the 2020s will be justifying the vast sums it has to spend on new technology for the sophisticated Japanese market while also trying to keep its domination of India intact via Maruti Suzuki (SMC is the majority shareholder of this JV).
To a certain extent, Suzuki doesn't have too much to worry about at home, as the segment in which it is strongest, Kei vehicles, shows few signs of being under attack. The Japanese still love their mini-vehicles and even though such models are becoming ever more sophisticated, SMC deserves its reputation for delivering just the right amount of new features but no more.
In some ways, Suzuki in Japan is like Dacia in Europe and as that brand's success demonstrates, there millions of people who want an ultra-reliable but no-frills car rather than one bursting with features they will never use. That is also much of how Maruti Suzuki came to dominate India. Retaining customers who grew up with cheap Maruti models as their incomes rise won't be easy, yet as Volkswagen has proved in Germany and elsewhere, it can be done.
Osamu Suzuki told us back in July that he wants to see the Suzuki brand remaining not only India's number one but also controlling 50 per cent of the market even in 2030, via 10,000 dealerships, up from today's 2,700. On current predictions, that should mean more than tripling volume from 1.64m in the most recent fiscal year to five million sales per annum. The company, in partnership with Maruti Suzuki, is already making plans to boost local production to that level.
What about electric vehicles? Suzuki-san wants 1.5 million of that total to be electric, even though, as of now, Maruti sells exactly zero EVs. The first battery-electric model, due for market release in 2020, is being co-developed with Toyota.
EVs
In November last year, TMC and SMC told the media in a statement that they had "concluded a memorandum of understanding on moving forward in considering a cooperative structure for introducing electric vehicles (EVs) in the Indian market in around 2020".
The vague announcement was no doubt in response to pressure from federal and relevant state governments which wish to see Maruti Suzuki become more enthusiastic about the potential for electric vehicles. It's worth remembering that Maruti and Suzuki have invested much in the production of around 15 models, each of which is powered by either petrol, diesel, petrol-CNG or diesel-electric (hybrid). Switching to battery cars is going to take a long time.
India has very little in the way of charging infrastructure and the costs of the cars will likely be high so it is easy to see why Toyota and Suzuki appear to be less than highly enthusiastic about committing the necessary money. Outside Delhi and its deadly air, there is little evidence that EVs – which will not be nearly as cheap as the least expensive of today's Maruti models – will be sought after by buyers.
Maruti Suzuki will likely launch a B segment EV in 2020 but production numbers will probably be small, at least at first. The car is likely to have its public premiere at the next New Delhi auto expo, which is due to take place in February 2020. Legislation will probably be passed to eventually outlaw fossil fuel-powered vehicles from India's largest cities and Suzuki sees this, although it might be further away than some say: 2040 rather than 2030.
Kei segment
SMC's annual sales volume in Japan is on course for close to 800,000 four-wheelers this year, putting it again in third place not too far behind Honda but of course way less than the Toyota brand. Tiny cars are Suzuki's speciality at home, and none is more successful than the Spacia. There is also a Spacia Custom variant which has modified styling. Each was new exactly one year ago. Both are powered by a 660cc engine, as is the norm in Japan's Kei segment.
As was the case with the previous models, mid-life refreshes might not happen. Instead, the vehicles should have a lifecycle of just under five years. The platform is called Heartect, which is highly flexible and is steadily becoming the basis for the majority of Suzuki's models worldwide.
Heartect debuted with the latest generation of another Kei model, the sixth generation WagonR. This big selling Kei car series went on sale in Japan during February 2017. Whereas all previous models had been badged as the Wagon R, the latest one is known as the WagonR. As well as the basic variants, there is also a sports WagonR Stingray which has unique stying, as well as mild hybrid derivatives. The latter use stored electricity to power the vehicle from rest.
There should be a facelift in 2020 and a seventh generation model in 2022.
The fantastically name Hustler will soon be five years old yet is still popular in famously faddish Japan. The Kei-class crossover went on sale in January 2014 powered by a 658cc three-cylinder engine. Both 38kW and turbocharged 47kW versions are available, each with a standard CVT and the option of front- or all-wheel drive. The replacement is due next year.
The Alto is now in its eighth generation. The current version of this tiny five-door hatchback was announced by Suzuki in December 2014. It went on sale immediately in Japan. The Alto Works, a sports variant, was revealed at October 2015's Tokyo motor show. The ninth generation model is expected in 2020 and will switch to the Heartect platform.
Next in the order of sales success so far in 2018 comes the Jimny, which is mainly a Kei model in Japan. As there is also a non-Kei, the wide-body Jimny Sierra, these two are grouped below in the SUVs section.
The Every Wagon is one other Kei model. This micro-MPV went on sale in Japan in March 2015. There should be a facelift next year, another in 2021 and a replacement in 2023 or 2024.
A segment
As the WagonR is a Kei model in Japan but an A segment model in other countries, this means the Celerio is Suzuki's main small car worldwide. The little five-door hatchback had its world premiere at February 2014's Delhi motor show. Developed in Japan but mainly manufactured in Thailand and India, it was the replacement for the Alto/A-Star in certain markets.
Suzuki Thailand gave the Celerio its regional debut at March 2014's Bangkok motor show. The car entered production at Suzuki's Rayong plant two months later, and this is also the source of cars for Europe. Production in Pakistan commenced in April 2017. There, the car is sold as the Suzuki Cultus.
A facelifted Celerio went on sale first in the Indian market during October 2017. Two months later, Maruti added the CelerioX, a slightly modified crossover variant. No more external changes are expected. A new generation model is scheduled to arrive in 2020 and this will use the more modern Heartect platform.
A rival for the Renault Kwid small car is said to be another vehicle which Maruti has in the pipeline in this size class. It should be released in India during 2019 or 2020. The Future-S concept was a preview of such a model, a prototype having been a world debut at the New Delhi auto expo in February this year.
B segment
The Baleno is one of two main B segment five-door hatchbacks. It is sold mainly in India, sales commencing during October 2015. Exports to Europe commenced in February 2016, followed a month later by shipments to Japan. There will be a facelift in 2019 – likely premiering at the Geneva motor show – and then a replacement in 2021.
The Swift, new in early 2017 and now in its seventh generation, uses the platform that was introduced by the Baleno. So too does the Dzire, which is the sedan version sold mainly in the Indian market.
Unlike the previous Swift, the latest model is not built in Hungary: cars for the European region are manufactured at Sagara in Japan. Sales for EU and EFTA markets commenced in June 2017. Maruti Suzuki's Swift took some time to reach the Indian market. It was not revealed to the public until the New Delhi auto expo in February 2018. The Thai-built Swift was announced at the same time.
In a major change, Indian build of the latest Swift takes place in Gujarat. Suzuki's first production line in the state hit its annual capacity of 150,000 cars units during India's 2017-2018 fiscal year. It is being lifted to 250,000upa and should be at this limit by the end of fiscal 2018-19. In addition, a second line of the same capacity is being installed and should be in place also by April 2019. A third line is planned but no date for its installation has been stated publicly. In April 2018, SMC told the media that it had begun exports of the Swift from Hansalpur to South Africa.
The Swift Sport premiered at the Frankfurt IAA in September 2017. The car went on sale in Japan from later that month but did not reach European markets until March 2018. Weight is 80kg less than the previous Swift Sport (now 970kg), torque is up by 70Nm to 230Nm and power from the turbocharged 1.4-litre engine is 103kW. This is the same power output as in the S-Cross and Vitara, but the 230Nm torque figure is 10Nm higher.
Facelifts for the Swift and Dzire are due in 2020, with the replacements then expected three years later.
C segment
Many think of Suzuki as a small vehicle specialist brand, forgetting that it has had a consistent presence in the C or Compact cars segment too. For the last four years, the brand's main model in this class has been the 4.5m long Ciaz, also known as the Alivio. The car has the same platform as that which underpins the S-Cross/SX4 S-Cross.
Maruti Suzuki launched the Ciaz SHVS in September 2015. This so-called Smart Hybrid is a diesel-electric mild hybrid. It replaced the Ciaz diesel.
A facelifted Alivio premiered at the Chengdu motor show in August 2017. Maruti Suzuki updated its Ciaz accordingly but this did not happen until August this year.
There will be another C segment model and it should be released during the second half of 2019. SMC and TMC announced an agreement in March which would see the two companies collaborating in the Indian market. Specifically, Suzuki will supply the Baleno and Vitara Brezza to Toyota, while TMC will build a Corolla-based car for Suzuki. Further details are yet to be announced. As Maruti's Ciaz is a sedan, it would sense for the car supplied by Toyota Kirloskar (TMC's local JV) to be a five-door hatchback. The Liana name might return.
MPVs
In Japan, the Solio is Suzuki's best selling non-Kei model. It is on course for 2018 sales of around 50,000 units. The latest model plus the Solio Bandit derivative have been in production for just over three years.
These 3.7m long MPVs are powered in standard form by a 1.2-litre K12C Dual Jet petrol engine. This produces 90hp and 118Nm of torque, mated to a CVT. There is also a Mild Hybrid, which consists of an Integrated Starter Generator, a lithium-ion battery, a stop-start system and brake-energy recuperation.
The Solio Hybrid was revealed in prototype form at October 2015's Tokyo motor show. It went on sale in Japan in December 2016. Expect replacements for the entire Solio series in either late 2019 or during the first quarter of 2020.
The Omni is another tiny MPV, the Y88 series model now built solely by Maruti. This rear-wheel drive 800 cc micro passenger-van, long discontinued in its native Japan (where it first went on sale in 1979) continues to be made in relatively large numbers in India. The replacement model, which is said to be coming in 2019, is codenamed Y9T.
YJC is the code for a model which appears to have run into launch delays. A stretched WagonR, it will be mainly sold in the Indian market and come with seating for up to seven. The market release is said to be set for 2019.
SMC's Indonesian subsidiary PT. Suzuki Indomobil Motor revealed the latest generation of the Ertiga, a seven-seater MPV, at the Jakarta motor show in April. There will also soon be production in India, the market release there by Maruti Suzuki due to take place in two days' time (21 November). Maruti will offer the model with the choice of Suzuki's K15 petrol engine or the DDiS 200 diesel.
The Ertiga should be facelifted in three years' time and then replaced in 2024.
SUVs & crossovers
The Ignis is a 3,700mm long crossover which is larger than the Jimny but smaller than the Vitara Brezza. It had its world premiere in prototype form at October 2015's Tokyo motor show and so is due for a facelift within the next few months.
Japan was the car's first market, production at the Sagara plant commencing in January 2016, and sales the following month. Both front- and four-wheel drive variants are sold in Japan, with the standard engine being a 1.2-litre Dualjet. This engine also has what Suzuki calls SHVS (Smart Hybrid Vehicle by Suzuki). This is a mild hybrid system in which an electric motor supplements the engine during acceleration.
Maruti Suzuki added Ignis production from the fourth quarter of 2016. Suzuki Europe began selling the Ignis from January 2017 and the car also went on sale in the Indian market during the same month. The model should stay in production until 2021, at which point a successor model which will use an updated Heartect platform, will be released in Japan.
A new generation Jimny was announced in July. Production in Japan had just commenced at that point. One month later, Suzuki announced at the Jakarta motor show that it would be assembling this model in Indonesia for that market and export.
Whereas the previous vehicle had been manufactured at the Iwata plant, the new Jimny is built in Japan at the Kosai factory. Next year, it should also be assembled at one of Maruti Suzuki's factories. It is not confirmed that it will also replace the long-lived Gypsy in the Indian market but this is expected.
The construction of this 3.5m long 4×4 remains body-on-frame. Drive to the rear axle is supplemented by a four-wheel drive system which includes a low range transfer gear. As well as the solid rear axle, there are drum rear brakes and recirculating ball steering.
The narrow-body Kei class model for Japan is powered by a 660cc (R06A) three-cylinder turbo petrol engine, with a 1,462cc four-cylinder engine (K15B) reserved for the Jimny Sierra (Jimny in export markets). Both engines are offered with the option of five-speed manual and four-speed automatic transmissions.
As with the prior model, the latest vehicle will have a long production lift. The first facelift may be as far off as 2023 or 2024, the second one in 2027 and a fifth generation Jimny to follow that in the late 2020s or even into the early 2030s.
The XBEE (Cross Bee) is a tiny crossover which is closely related to the Hustler (see the Kei vehicles section). Sold mainly in Japan, it became available there in December 2017, powered by a mild hybrid 1.0-litre turbocharged engine. This was two months after the XBEE concept premiered at the Tokyo motor show. There should be a facelift in the second quarter of 2020 and a replacement in 2022. An update of the existing model's platform, which is Heartect, will be used.
In the size class above the Ignis, Jimny and XBEE is the 3,995mm long Vitara Brezza. This was the first model fully developed by Maruti Suzuki, rather than adapted by the division from a design developed by SMC. As such it was also the first Suzuki vehicle project led by an Indian chief engineer. This small SUV was revealed at the Delhi auto expo in February 2016. It is manufactured by Maruti Suzuki with production having commenced in March 2016.
While India has the sub-4m Brezza which allows the model to slip beneath a tax threshold, other countries have the 4,175mm long Vitara in the B-SUV category, although in Japan, the name is Escudo. The current model, which uses the platform from the S-Cross, had its public premiere at the Paris motor show in October 2014. Build for European countries takes place in Hungary.
Until the brand began to be would down, much had been hoped for China's production model, the Weitela. A product of the Changan Suzuki JV, its debut took place at September 2015's Chengdu motor show and build commenced a few weeks later. Suzuki announced the sale of its half of the JV to its partner in September.
A facelifted Vitara went on sale worldwide in September 2018. Amongst the mechanical changes, the 1.6-litre engine was dropped in European countries with the revised line-up consisting of 1.0- and 1.4-litre BoosterJet units. There is no diesel option. Suzuki should launch the next generation model in 2022.
Recent reports for many other manufacturers' future models are grouped in the OEM product strategy summaries section of just-auto.com.
Future product program intelligence
More detail on the past, current and forthcoming models can be found in PLDB, the future vehicles database which is part of QUBE. That includes additional Suzuki models not listed in this report, plus more information such as model codes, even more comprehensive notes on each vehicle's life cycle and where it is manufactured.
The next manufacturer to be featured in the future models reports series will be Mazda.