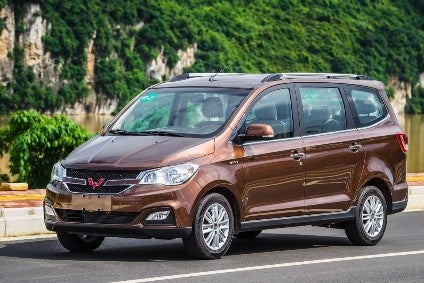 Baojun was first, now Wuling is the second General Motors brand to have its current and future passenger vehicles looked at as part of a new series of articles. Both makes are part of SGMW, and while GM is not the majority owner, it holds a large stake.
Registrations for August are not yet available but in July, Wuling plummeted to 24th place, managing – only just – to stay ahead of MG. What can GM and SAIC do to reinvigorate interest in this division which not too long ago was the brand that made China's best selling vehicle?
The sales data for July reveal how serious things have become for SAIC GM Wuling (SGMW). According to CAAM, deliveries in the Chinese passenger vehicle market numbered 18,928 vehicles. That number is for one model series, the various other Wuling models being classified as light commercials. The Sunshine, Sunshine long-wheelbase, Zhengcheng, Rhongguang, Rhongguang LWB and Rhongguang S are all LCVs even though they are often sold as passenger vehicles.
Hongguang deliveries, Wuling's number one model series, were down by 45 per cent in July, dropping to 13th place from seventh in the previous month. The best month this year was January, when 55,138 were registered. It has been a steady fall since then.
As with the Ford F-Series in the US, the Hongguang model name needs clarification. SGMW sells not just one but a couple of models called Hongguang: the S and the S1.
As sales of SUVs and crossovers went into a steeper decline during July compared to the 0.5 per cent dip in June, so many analysts began to wonder if this is becoming a general decline. For the answer to that, we will have to see how things progress over the coming months.
SGMW is hedging its bets with the Wuling brand, maintaining an emphasis on small vans and passenger vans, but also dipping a toe in the water with a rumoured electric city car for China and an SUV for Indonesia.
MPVs/minivans
The GM SAIC Wuling joint venture revealed the Hongguang (or Hong Guang), a tall & narrow small business minivan at the Beijing motor show in April 2010. It was launched in China in September 2010. Three years later, the seven-seat Hong Guang S was added.
A renamed and rebodied model, the Hong Guang S1, premiered at November 2015's Guangzhou motor show. This model will likely be replaced in 2020.
Van-based MPVs
The Sunshine was for a long time the best selling vehicle in China but SGMW has let the model become too old. Trends have also seen the vast demand for this small van shift at first towards SUVs and now, increasingly towards sedans, hatchbacks and wagons. 
Whilst technically classed as delivery vans in China, the Sunshine and its extended wheelbase derivative can be ordered with up to eight seats and so serve the needs of families and small businesses perfectly. The most recent facelift was in July 2015. A replacement model should appear in 2019.
The Rongguang (also known as the Wuling Glory and in certain markets outside China, the Chevrolet Move) is a restyled, long wheelbase derivative of the Sunshine. There is also a Rongguang S derivative. There will probably be a facelift in 2019 and a replacement in 2022 or 2023.
Another, larger minivan is the Zhengcheng ('Journey'). At 5,090mm long and 1,780mm wide, this is Wuling's largest model. The standard engine is a 1.5-litre four-cylinder, with an optional 1.8. There are both seven- and nine-seat versions. Expect a facelift later in 2018, a second update in 2022 and a replacement in 2025.
SUVs
Next year should see a 4,655mm long SUV added to the brand's range in some countries. This is known due to a rebadged Baojun 530 having been a world debut at the Jakarta motor show in August. The vehicle displayed there was called the Wuling SUV.
As well as selling the Baojun 530 in the Indonesian market with Wuling badges, SAIC is expected to base its first locally built MG for the Indian market on the Baojun 530. SAIC officially took over General Motors' former plant in Halol in September 2017 and is revamping the factory ahead of starting production in 2019. The Chinese firm is yet to say what models it will make at Halol.
Indonesia
SGMW sees much potential in the Indonesian market, which is one of only a few countries outside China where the Wuling brand is successful. The joint venture opened its Cikarang plant in West Java during July 2017, the factory having an initial annual capacity of 120,000 vehicles. The first model, called Confero S, is a minivan/MPV adapted from the Hongguang. The Cortez, another MPV, was the second model for the Indonesian factory. Initially, all build was for the local market but vehicles will be exported to other regional right-hand drive markets, SGMW says.
Electric city cars
Nothing is set in concrete just yet but reports out of China indicate that SGMW will push Wuling into so-called New Energy Vehicles (NEV) so as to comply with laws coming into effect from 2019. As there would be potentially prohibitive cost issues with adding a plug-in hybrid powertrain to any of the brand's low-cost MPVs, the answer appears to lie elsewhere.
A small EV, closely related to the Baojun E100, will likely be added to the Wuling range within the next few months. Once the newer E200 is established, SGMW may add a Wuling variant of that car during 2019.
According to General Motors, GM China holds 44.0 percent of the 16 year old SAIC-GM-Wuling joint venture. The controlling shareholder is SAIC, which has a 50.1 per cent stake, with Guangxi Automobile Group holding the remaining 5.9 per cent. SGMW, which is based in Liuzhou, manufactures Wuling mini-trucks and minivans as well as Baojun passenger vehicles. SGMW delivered 2,048,028 vehicles to buyers in China in 2017, setting a new record.
Recent reports for many other manufacturers' future models are grouped in the OEM product strategy summaries section of just-auto.com.
Future product program intelligence
More detail on the past, current and forthcoming models for General Motors brands can be found in PLDB, the future vehicles database which is part of QUBE.