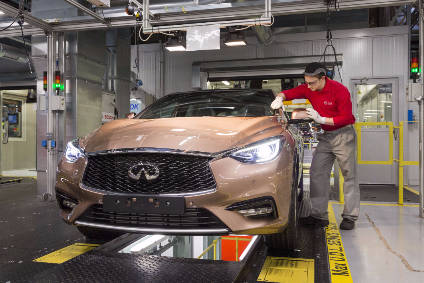 Can the Mercedes-based Q30 finally establish the premium brand of the Renault-Nissan alliance?
When Toyota's Lexus and Nissan's Infiniti were launched at the 1989 Detroit Auto Show, a seasoned American journalist whispered to me, "Nissan probably has the better car but the Toyota is the one that will sell".
He was right. Lexus became the best-selling premium car brand in America and Infiniti lagged behind. Nissan changed its strategy, the models that Infiniti offered and its management, but its premium brand remained an also-ran.
Two decades after the Lexus LS400 and Infiniti Q45 shocked Mercedes and BMW with their quality, engineering, and 40% lower prices, the Germans re-established their lead in the US premium sector. But Lexus came back to number 2, selling 344,600 cars in 2015, while Infiniti was pleased to have reached 131,000, its best result since 2005 but behind all other premium contenders except Lincoln.
The US remains the main market for both Lexus and Infiniti. Efforts to establish these separate premium brands in their country of origin have been half-hearted; Infiniti is still not sold officially in Japan, although some models distributed through Nissan dealers carry the Infiniti badge.
Lexus came to Europe in 1997 but was slow to gain traction: European sales in 2015 totalled 39,255. Infiniti arrived in 2008 – in the midst of the downturn caused by the financial crisis – and Europe accounted for fewer than 7,000 sales last year.
Establishing a new premium brand in today's global market, in the face of the German juggernaut, isn't easy. How do you convince buyers that you have a special proposition and can match the engineering excellence of the world's best? This is particularly difficult when most models in the range are also available, in Japan and elsewhere, from the parent brand.
Nissan has been struggling with these issues. Infiniti isn't just its up-market division – it is the premium brand for the Renault-Nissan Alliance. In a symbolic gesture of separation from its generalist cousins, in 2012 the commercial headquarters for Infiniti was moved to Hong Kong and Johan de Nysschen from Audi was hired to run it. Nysschen is now in charge of Cadillac (similarly relocated in Manhattan, away from the GM mainstream) and last year his place as president of the Infiniti Motor Company was taken by Roland Krueger from BMW.
Global sales were up 16% last year, to 215,250, mostly due to China, which accounted for 40,000. European volume increased by 45% but from a woefully low base.
Krueger accepts that Infiniti has had a rocky ride in Europe. Take the UK as an example. The original sales target was for 800 cars in 2012 (it did 530) but in Carlos Ghosn's 'Power 88' business plan, announced in 2011, Infiniti was to reach 20,000 UK sales in 2016. No-one seems to know how that was supposed to be achieved. The only thing that is clear is that it won't be: in 2015, Infiniti registered just 1,195 cars in the UK.
Aware that the brand has over-promised and under-delivered, Krueger said, in an interview at the Geneva Motor Show: "We need to correct a lot of previous announcements. Only now have we increased our portfolio so that we can expect significantly higher sales volumes. The Q30 takes Infiniti into the C-segment, the largest part of the European market, where we were not previously represented".
Intriguingly, Infiniti's smallest car has the clearest premium credentials: thanks to the tie-up between the Renault-Nissan Alliance and Daimler, it uses the MFA chassis architecture of the Mercedes A-class. But Krueger doesn't dwell on this when explaining what Infiniti stands for: "Infiniti has always had a good service proposition and we continue with that customer-centric approach. Plus we should be known for the very distinctive, even daring design of our products and for our advanced technology".
An example of both daring design and advanced technology is its door pressings, which are the deepest in the industry (and required expensive re-equipping of the bodyshop at Nissan's Sunderland plant where the Q30 is made). Krueger also reminds that the Q50 and Q60 were the first production cars with drive-by-wire steering, which can now be combined with 'dynamic digital (active) suspension': "This is not technology for its own sake but a real safety feature for customers and it enabled us to offer semi-autonomous driving – hands-free on the highway – before most others".
Although most of the technology comes from the Nissan Technical Centre at Atsugi in Japan, Infiniti is now decentralised with the Hong Kong headquarters acting as an 'enabler' for the regional commercial operations and it has its own design studios in the four areas where it manufactures cars – Japan, USA, China, and Europe. Its product range is essentially global but the design and engineering optimisation of each model is carried out in its biggest market area; so the Q30 was shaped at the European studio in Paddington, London, and engineers at Cranfield devised their own variations on the Mercedes suspension and steering systems.
In Europe, there is a lot riding on the Q30 hatchback and the 'country style' QX30, with greater ground clearance and four-wheel drive. As currently configured, with Q/QX30 sharing an extended production line with the Nissan Juke and Note, the Sunderland plant can make 64,000 Infinitis a year. That's for the whole world but the focus will be on Europe where it is expected to the marque's biggest seller, amounting to more than 20% of total sales. Just as important, is the effect it is expected to have on the brand as a whole by creating showroom traffic and increasing awareness of a range that extends through the bigger Q50 and Q70 saloons, including high performance hybrids, to the new 400 bhp Q60 coupe and the QX SUVs.
Understandably perhaps, in view of earlier pronouncements, Krueger will not innumerate their sales ambitions but he is driving forward with a dealer expansion programme for Europe. In early 2015, Infiniti had 70 dealers, now there are 90, and the mid-term plan is for 140. And to be sure not to miss the moment as the Q/QX30 raises the game, it has produced 12 temporary 'pop-up' showrooms to install at newly-signed dealers while their permanent facilities are being prepared. The first of these, which are transported on two load-loaders and can be put up in two days, is already in place in Bristol.
Infiniti's first five years in the UK have not been without problems. Unable to attract any of the major British dealer groups at the crisis-time launch, its first representatives were the Rymco group, from Lebanon, and Al Mana Premier, owned in Qatar. Their Infiniti Centres, with a hotel-style reception and luxurious furnishings, set a new standard but the business didn't grow at the anticipated speed and at the end of last year they pulled out, leaving Infiniti with little option but to acquire and run the five dealerships themselves.
Although the Infiniti Retail Group also operates the showrooms in two Westfield shopping centres, the company has no wish to set up or acquire more dealers. It should not need to as some well respected names have recently taken on the franchise. The UK network now consists of 10 dealers and the plan is to increase it to 25 within two years. They have the expectation of doubling sales each year, which suggests UK annual sales of about 10,000 by 2019.
Will Infiniti, equipped with a 'European' model at a realistic price, succeed this time? Q30 sales have only just started (UK prices from GBP20,550) but it has received good reviews from the motoring press on both sides of the Atlantic, and was rated best-in-class by EuroNCAP. And, with QX30 fitting the fashionable crossover market, the stylish new British-built model might just give the marque the premium recognition that has so far eluded it.