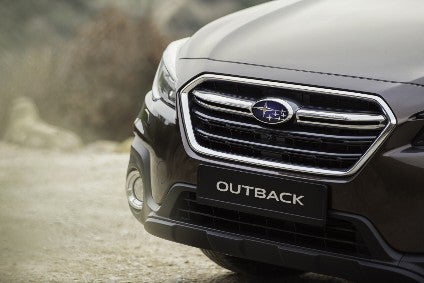 Subaru has been lovingly slaying giants in America for more than a decade. Hyundai is the latest to have been dispatched, the Korean brand finding itself pushed down to seventh place last year. The climb has seen Subaru muscling past Ram, Kia, GMC and Dodge too. Why then does it remain a small brand in the world's other major vehicle markets?
As is well known, the reasons for Subaru's near honourary national treasure status in the only three medium to large sized markets where it punches way, way beyond its weight is the appeal of the vehicles. Americans, Canadians and Australians adore the company's models. Why? It comes down to decades of 100 per cent dependable, appealingly quirky and often outside-the-segment cars and crossovers.
Tapping in to love for the great outdoors
First rate dealerships are another factor in the brand's mass-appeal, as is marketing which was inclusive decades before that became a mainstream idea. The idea of love – for pets, and for family, however that group of people is defined – plays well with a North American audience. Subaru's local agencies also innately seem to understand Australians, and in so doing, make them ever more fond of the brand. Sometimes tapping in to a fascination for road trips well outside the cities where most Aussies dwell. All of this added up to more than 50,000 Subies sold in 2018, which, in a market of 1.153m, is a first rate result for what is a minor brand globally. In Canada, it was 58,070 from 2.004m and in the US, out of 17.344m, the brand's total was a whopping 680,135 vehicles.
If only Subaru could find the magic formula for mainstream appeal in so many other countries. China has proved to be especially tricky. Having tried to commit to one potential state-run partner and then another, only to be rebuffed each time, Subaru decided that it would instead concentrate solely on imports. Here, it has had some luck, as the brand's reputation has helped matters greatly.
Even though Chinese market deliveries were down somewhat compared to the 30,489 total number from CY2017, 24,808 cars sold in 2018 is by no means a bad performance. Tesla, an extremely well known name the world over, is said by some to be a big success in China. However, it sold only 15,400 cars there last year, 10,204 of which were the Model X. Subaru, which has only a fraction of the American company's brand recognition, somehow delivered 15,353 Foresters to Chinese customers, with the XV (4,699) and Outback (4,195) the other two of its local top three.
Evolutionary change equals success
It's easy to understand why the Outback has both cult and mainstream followings. Even though the current generation will soon be five years old, there is hardly anything about it which feels outdated. The changes in appearance at the time of a facelift in 2017 (2018 in Europe) were mild, Subaru having long understood that drastic makeovers and strong resale values do not go hand in hand. Which is another reason why the brand has such loyal owners.
Even though you can make a case for this being an eccentric brand, that's becoming less so. The Outback has the traditional boxer engine and standard all-wheel drive but where once there would always be a low bonnet and frameless doors on most Subarus, these are absent. Other, lesser noticed things still mark out this make's models though. Unlike every other Japanese make, the one with the six-stars logo always places the petrol flap on the 'wrong' side for buyers in North America and Asia (yes, even on the new, NA region-only Ascent SUV). And to refuel the Outback, there is no new-fangled electric switch to unlock. Instead the driver tugs a piece of plastic beside their seat. This has a direct link to a cable which flips the fuel door open: satisfyingly old school.
Crossovers, not bulky-heavy SUVs
Where the company has hit the bullseye with this model is in knowing that not everyone thinks of SUVs as a great thing. Subaru took more than four years to bring out a replacement for the Tribeca, production of which ceased at the start of 2014. The company carefully undertook its research, learning that it should avoid creating a too-big, too-heavy gas guzzler. Such a vehicle could easily become a liability to the firm's image and financial wellbeing if the price of gasoline spikes in the US any time during the model's 5-7 year life cycle. New for the 2019 model year, availability of the Indiana-made, 5m long and up to eight-seats Ascent is restricted to North America. To the irritation of the importer for Australia, there is no right-hand drive build either.
The fact that the Ascent isn't coming to Europe means the Outback will remain the top model here. Prices in Britain start at GBP29,995 and it's a curious thing but the Forester and Levorg are oh so slightly more expensive even though they are smaller. They are priced from GBP30,000 and GBP30,010.
Atmo petrol power, no diesel
There is a 2.0-litre turbo in China and a 3.6-litre flat six in the US and Canada but here in the UK the Outback comes as standard with a 2,498cc non-turbo H4. Its outputs are 175PS and 235Nm. This sends drive to both axles via a CVT which is one of the most impressive things about this car: it behaves for all the world like the best seven-speed dual clutch automatic transmission on the market. The changes are velvety, the paddles make shifting fun, low-speed back and forth gearchanges when parking are immediate and free of mechanical bangs and unwanted surges. This engine is a gem. More power would be welcome and yet what's there is good enough. It emits a terrific and unique-to-Subaru (OK, we can include the Toyota 86/GT86) sound.
Looking around the interior and boot, it's easy to see why such a high percentage of owners come back to dealers when the lease is about to end. The inside of an Outback or any other Subaru for that matter looks nothing like other Japanese make cars. There is an understated style about everything with an emphasis on functionality. Every piece of safety tech that you would want is there, to be sure, plus there is brilliant logic in each of the touchscreen's controls. Moreover, there is a general indestructible feel to all the plastics, which isn't to say they have harsh surfaces, and the upholstery looks as though it could withstand the worst that any family could throw at it.
Sales growth across Europe
It might be big in some countries but in Europe, Subaru remains a small brand. Having said that, volumes have been rising in Britain, last year's total being 3,141 compared to 2,679 in CY2017. Remember too that diesel models have been withdrawn across the region. Even so, Subaru sales also rose in Italy, 3,387 deliveries being a gain of 10 per cent. Things were even better in Spain, where deliveries surged by 40 per cent to 3,108. In Germany, the total exceeded 7,000 units but in the other of the big five markets, the brand remains very small, its sales numbering just 720 cars in France.
When will we see the successor?
The VIZIV Tourer concept which was displayed at the 2018 Geneva motor show might have been a preview of the general outline of the next generation Outback, although it was a conventional estate. The length, quoted as being 4,775mm makes it too long to have been a concept version of the future Levorg, unless that model is to move up into the segment above where it currently sits.
The US and Canada will probably have a new Outback for their 2020 model year with we Europeans gaining the next generation model probably in about 12 months' time. It will change platforms, moving onto SGP, which the company continues to develop as the basis for the majority of its models. Subaru Global Platform was first seen with the HR3 series Impreza in 2016 and will be used for future generations of the Levorg and WRX too.