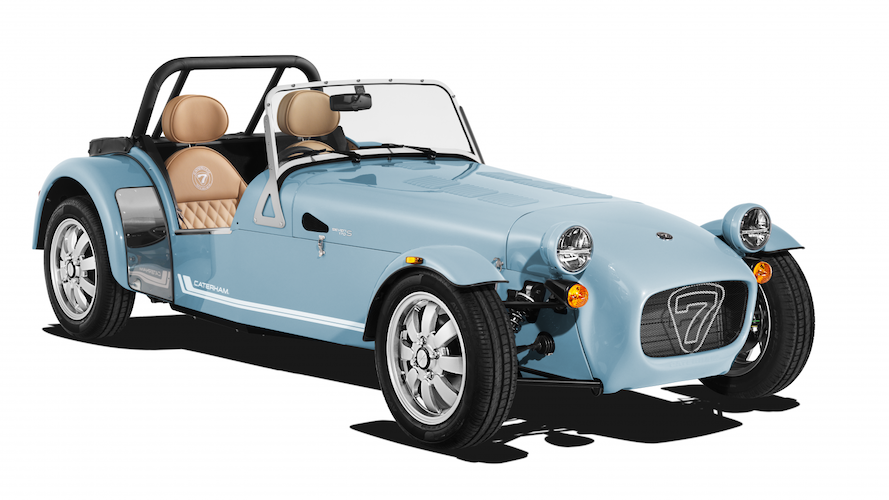 Nobody actually needs a highly impractical roadster with its origins in an era which was more than half a century ago. And yet Caterham continues to do great business with its Seven sports cars.
The obvious reason for the evergreen appeal is how much joy simply looking at a Seven brings. Not just for the driver either. People want to know "did you build it?", "how fast does it go?" and of course "what's under the bonnet?".
Suzuki power
Ah yes, the engine. Caterham lent me a base 170 S and there's an R (for racing) variant too. Both are powered by a 660 cc three-cylinder turbo taken from all manner of JDM Suzuki Kei models.
In the 170 S, power and torque are just 84 bhp and 119 Nm. But because the little car weighs only 440 kilos, performance is brisk. And even if it wasn't, the Seven is such a special experience that at standstill it's still exciting.
Analogue anti-theft system
So how do you get in and out? Well, the anti-theft system – in short, you can take the steering wheel off – is part of this. First, drop the tiny Momo wheel onto the passenger seat, then swing your backside in, fold your legs and slide those into an incredibly narrow foot well. If the doors are on (they come off very easily) then pull the driver's one down. Having remembered to manually adjust the exterior mirror first. For the passenger side mirror, have someone outside the car align it.
The wheel slots on easily and locks into place. Then it's insert the key up and under the dashboard, turn it and press a stop-start button. The little engine fires instantly and sounds busy at idle.
Body roll – what's that?
If you think an MX-5 is the gold standard in short-throw shift levers, the one in a Caterham makes the Mazda's seem vague. The gear knob is tiny and has a mere five ratios. That's fine as the 170 S isn't about top speed: it can get a tad blustery plus lower speeds are so much fun anyway. Especially in roundabouts when no other car is about.
Traction control? Err, no. Nor is there an airbag and just like Volkswagen's state of the art ID cars, the brakes at the back end are drums. But in the Caterham there's a manual parking brake acting upon them when stopped.
Steering is also manual and has only 1.93 turns in it. Also, as the wheelbase is so incredibly short you could almost call this the perfect city runabout. Perhaps not so great in winter though. You're also low to the ground (height is a mere 1,090 mm) and that can cause issues with seeing and being seen.
Tiny in every way
Width is a real boon, being just 1,470 mm and length is only 3,180. You can therefore park a Seven almost anywhere. It's also a joy to watch the tyres turning at low speeds. The same applies to the mud guards travelling up and down as you drive along. Also, the suspension is far from hard, and that was unexpected.
Getting off the mark is surprisingly easy, the hardest bit being getting used to almost no space either side of each pedal. I found bare feet to be the best default (another reason why winter isn't the ideal season for Sevens). And yes it wants to rev high but from idle you tend not to stall.
What gets addictive is the turbo whistle-whoosh and this also turns heads. Everybody smiles at this car. Oh, and I finally see why some people think many SUVs are big and intimidating: on one occasion there was a Touareg beside me at a set of traffic lights and really, it was above me. You are so low in the Seven.
Simple and light
Back to the practicalities. Indicators are a switch which doesn't self-cancel, the heater is one simple control, there's a quick-clear screen, no glovebox, no cupholders and not really anywhere to stash stuff other than behind the seats.
The roof, which clips on and off with press-studs, is simplicity itself to stow (also behind the seats). You could instead leave it at home if you dare. That applies equally to one or both doors. Just hope there won't be any rain if there's a traffic jam.
Caterham boasts that this is its lightest Seven which explains the 0-60 mph time of 6.9 seconds when there's such little power. Top speed is 105 mph and you'd be brave to see if that's accurate. The buffeting at 80 mph and some hints of axle lift made me decide I'd just believe the official number.
Pricing and Porsche paint
As for pricing, Caterham's entry level model starts at GBP24,990 (a bargain!) and even the options aren't too expensive. I'd definitely go for the armrests which the press tester was specified with. If you want animal skins adorning your car, it's GBP500 for leather on the dashboard and another 1500 for the seats. Want the same stuff wrapped around the roll bar? That will be GBP600.
The 'Porsche Frozen Blue' pictured above is GBP1,000 and should a buyer want the backs of the headlights in the same colour, it's a further GBP150.00. I begin to see how profitable this model series must be.
Summary
There is no other car like this. Yes, there are imitations yet none has the Caterham name and for goodness sake, you can even build a Seven yourself or have the Surrey-based company do it for you.
After several glorious days with the 170 S there's now another one on my list when people ask, as they sometimes do, "what's the best car you've driven?".