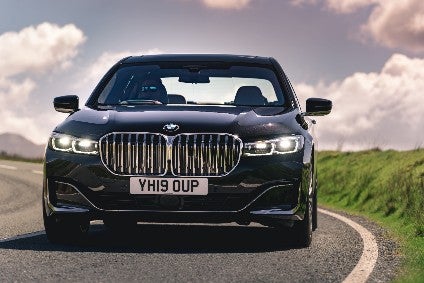 Has the decline in demand for large luxury saloons plateaued? If it's the USA we're talking about, then the answer is no, with the S-Class (6,155, -27%) and LS (2,697, -38%) still falling. Yet business is good in China, with retail sales of the Audi A8 numbering 6,288 in H1 (compared to just 1,330 in the US) and the BMW 7 Series seemingly holding up well on 9,653 units. The arrival of an updated '7 couldn't come at a better time.
China data: flattering to deceive
Those numbers for the Chinese market are not quite as good as they seem to be. Sales of imported vehicles shot up by 73 per cent in June but this was largely buyers rushing to take advantage of discounts on stocks of cars which are not compliant with new emissions regulations. Termed 'State 6', the new norms came into force across many regions on 1 July. The result was a record 143,114 sales of imported models in June, with Lexus taking its usual number one position (selling an astonishing 19,844 vehicles) ahead of BMW (16,504) in second place. A substantial drop is therefore expected from this month onwards.
Of those models not built locally, BMW's best sellers in H1 were the X5 (17,762), X2 (11,791), 3 Series GT (10,688) and 7 Series. Once the 3 GT disappears, the brand's largest sedan should soon be its third most popular imported model too.
The view from Britain
Here in the UK, the 7 Series is also holding up relatively well. Introduced in late 2015, the G11 (standard wheelbase) and G12 (LWB) sedans have found a good niche for themselves, being a favourite of chauffeur firms and high-end hotels alike, particularly in the south east of England.
At a recent event, Sukh Bhamra, who is BMW UK's product manager for large vehicles, told just-auto that while he doesn't necessarily expect too much of a rise in sales for G11 and G12, volume is still good. Deliveries this year of the standard wheelbase car will likely be in the range of 1,100 cars, with another 700-800 G12s. What's interesting is the powertrain mix, with the 730d still the most popular even with the ongoing decline in sales of diesel vehicles in general.
The 745e, which is a new variant for the restyled 7 Series line-up, should also soon start making an impact, BMW's man believes, as buyers in this class see the appeal of plug-in hybrids, particularly in London.
PHEV loses four-cylinder engine, gains a six
Globally, there are three PHEV variants: 745e, extended wheelbase 745Le and four-wheel drive 745Le xDrive. Each of these was new at the time of the range facelift announced in January, in as much as there was a fresh powertrain to go with the change of version names. Formerly, the plug-in hybrids had been called 740e, 740Le and 740Le xDrive. The only one of the three latest PHEVs which the UK doesn't get is the extended wheelbase rear-wheel drive 745Le.
The old four-cylinder turbo is gone and in its place comes a specially adapted six-cylinder in-line petrol engine as well as an upgraded high-voltage battery. Combined, these have a system output in Sport mode of up to 290kW (394hp); quite a gain on the former 240kW (326hp). The electric range increases only slightly though: from 50 to 58 kilometres (31 – 36 miles). Maximum torque is 450Nm. All three cars were world premieres at the Geneva motor show in March and production began a few days later.
There are quite a few other variants in the revised 7 Series range, with the worldwide choice now being as follows:
730i & 730Li (mainly for China due to tax thresholds there)
730d & 730Ld
730d xDrive & 730Ld xDrive
740i
740i xDrive
740d xDrive & 740Ld xDrive
750d xDrive & 750Ld xDrive
750i xDrive & 750Li xDrive
M760Li xDrive
I had the chance to try the AWD 750i and it's even better than I remember the original G12 version of this V8-engined car being. The 390kW (530hp) 4.4-litre biturbo V8 burbles quietly at idle and is more than happy to be revved. Windows down on a warm day, the noises coming from the tailpipes were beautiful. Yet I did wonder how many owners will ever drive the car in that style. Still, BMW must see quite a few enthusiasts buying the '7 as it offers a sports trim level, plus of course the range topping, 6.6-litre biturbo V12-engined version has an M in front of its name. Not too many examples of the M760Li xDrive are sold in Britain but there is enough demand here and in other relevant countries to justify RHD build.
You won't necessarily find such a thick-rimmed sports steering wheel in other F segment luxury sedans, yet the 750i in M Sport spec has one, and this goes well with the general look of the car. The press tester was loaded with options, its GBP85,810 list price soaring to GBP108,665 thanks to all manner of extra gear such as laser headlights, a five grand sound system, remote control parking and so on.
The oh-so controversial giant shiny silver grille can be blacked out if the buyer isn't too keen on that look but there will be many people who buy the car because they love the new look. And it's quite a big change for a facelift or LCI (Life Cycle Impulse) to use the official BMW Group term. Sukh Bhamra uses words such as 'bold', which is fair enough and accurate too, the car having a more imposing presence. When he pointed out to me that the front end has lost its lower foglights, I started to see the logic of claims that the styling is in some ways cleaner and more minimalist. Look closely and you also soon see links to the X7 all around both models.
The newly launched 7 Series has to not only last until its successor appears in (probably) 2022 but also keep the car contemporary once the next Mercedes S-Class arrives in 2020. For that reason alone, the dramatic changes to how G11 and G12 look make perfect sense. And if I had to sum up the 750i, I'd call it the segment's best muscle car masquerading as a luxury sedan.