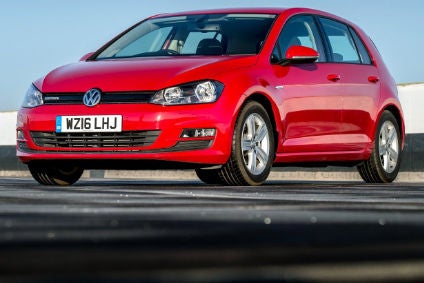 The new turbocharged 1.0-litre three-cylinder petrol engine which Volkswagen has quietly slipped into the Golf is one of the best kept secrets of 2016. Power, torque, CO2 and economy are all state of the art, but the best bit is how terrific it sounds – like an old school BMW six-cylinder.
Volkswagen's main focus at this year's Goodwood Festival of Speed is celebrating 40 years of the Golf GTI. In that time, the Gran Turismo (Fuel) Injection engine has grown from a naturally aspirated 1.6 to a 2.0-litre turbo and the GTI itself has become bigger and heavier. There will always be those who believe this to be the best Golf, no matter which generation we're discussing, though my own preference is the GTD for its mix of economy and torque.
I've been a touch sceptical in the past when it comes to 1.0-litre engines in mainstream European cars. Yet on most occasions – Insignia, Mondeo and Focus come to mind – the cubic capacity matters not when the torque output at low revs is spot on. The downside, and it's a big one, is having to get the engine to spin in the 4,000-6,000rpm band when the car is loaded up or facing an incline that wouldn't worry something like a 1.3-litre diesel or 1.6-litre petrol. Then you see the results of having to drive the car that way, which is a deep plunge in economy. It also gets tiresome having to push the vehicle harder than you'd like, and the engine noise can become wearing.
Volkswagen clearly looked long and hard at the competition; especially Ford's 1.0-litre EcoBoost, which is especially impressive when mated to the Focus, though like the Fiesta, the car itself is getting on a bit now. Not so the Golf, deliveries of which commenced in late 2012 and early 2013 in the UK. There will be a mid-life facelift later this year but don't expect the revised to look much different – radical change is not VW's usual formula.
The 1.0 TSI is the most recent addition to the range line-up, and this is the first Bluemotion model to have a turbocharged petrol engine: normally these are TDIs. VW's engineers have managed to give the Golf Match BlueMotion Edition an engine which equals the 99g/km CO2 average of the diesel powered BlueMotion, but power and torque of this 999cc three-cylinder unit have not suffered, with outputs of 155PS and 200Nm. Nor has top speed, which at 126mph is a touch above 200km/h. Zero to 62mph takes 9.7 seconds and the standard transmission is a beautifully slick six-speed manual gearbox.
The all important EC cycle fuel consumption figures are, for once, fairly accurate in the real world, being 53.3/76.3 and 65.7mpg. Pushing the car hard a worst of 39.7mpg was recorded but overall, I saw an average of just over 60mpg so not too far off the Combined number.
The BlueMotion, which has four badges declaring that, is also set apart from other Golfs via a blue stripe across its grille, plus two rear spoilers. The 'Dover' alloy rims aren't the sexiest but of course they are specially sized for the low rolling resistance 205/55 R16 tyres. These offer great levels of grip – more than I had expected in fact – and this is a really fun car to push around B roads, which was another major surprise.
The torque is what makes this such a flexible engine. I found I could pull up an incline at a steady 40mph in sixth with the TSI running at just 1,400rpm with no signs of strain. At the motorway legal limit the engine is running at just 2,400rpm and unusually, even though the redline is at 6,000rpm it will spin beyond that without any electronic interference or feeling of roughness.
The little engine is light and the Golf BlueMotion itself weighs in at just 1,211kg but sadly some of the loss is due to the lack of a spare wheel and tyre. Yes, it's the dreaded puncture repair kit instead. The problem with not having even a space saver spare is what happens if you suffer a blow out. This happened to me recently in another vehicle but happily it had a proper spare. Without that I would have been stranded.
Let's get back to the good things, and these include lots of nice interior touches such as the usual Volkswagen dark grey felt-lined door pockets, plastic trim across the dashboard which looks and feels like aluminium (I had to tap it to check), beautifully soft grey cloth covering for the seats and doors set off by a light grey headliner, and a couple of other delights. That includes one subtle beep when you select reverse (i.e. no loud continuous beeping), and an infotainment system which is free of fuss and complication – everything works logically.
Something else which is adds to the feeling of being in a well engineered car is a the gear shift which is as perfectly weighted as the steering. Allied to what is a superbly balanced suspension system and brakes which never grab, these are why the BlueMotion is such tremendous fun. If you want a Golf but have to keep your budget to around the £20,000 mark, then the Match BlueMotion Edition is the one to go for.
What's coming next?
The BlueMotion, like other Golfs, is due for some styling changes from the fourth quarter after a debut on 29 September at the first press preview day of the Paris motor show. A turbocharged 1.5-litre four-cylinder petrol unit will replace the existing 1.4 TSI in relevant Golf variants as part of the car's mid-life update.
The 1.5 TSI will feature cylinder deactivation, direct-injection and a new turbocharger: the unit is an evolution of the 1.4 TSI, not part of any new engine family. The Volkswagen Group's 1.6 TDI is also for the chop and will be replaced by a 1.5 TDI. After the new units appear in the biggest selling VW from early 2017, they will become available in the next Polo and other VW models, as well as in various Audi, SEAT and Skoda vehicles.