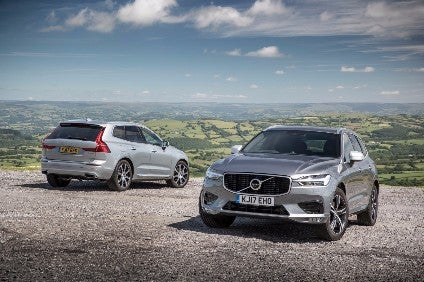 In many ways, the fully redesigned Volvo XC60 SUV/crossover is a bit like a little sister inheriting a hand-me-down dress from big sister – the older sibling gets all the praise at the time of the first-time reveal; but the younger, in the elder's shadow, still looks just as nice. In this case, big sister is the XC90, launched to considerable acclaim – was it really two and a half years ago already? And now comes little sis XC60 in much the same dress but cut to a smaller size with a few stylish tweaks just for the newer generation.
SPA redux
So, first 60 series Volvo to be built on the same SPA platform (or architecture, if you insist) as the XC90 with just one (firewall) fixed point and lots of scope to vary front and rear overhangs and wheelbase, a nice range of carry-over Drive-E petrol and diesel engines, accompanied by, in the UK market, automatic (only) transmissions and four-wheel drive.
Also hand-me-down but new-to-XC60 includes the clever cockpit tablet-style display (which, according to Volvo, dispenses with most of the "up to 70" buttons found in some rival premium automakers' models) for controlling connectivity, HVAC, seat heating, navigation and so on, the infotainment system itself (including the pricey but superb sounding option of Bowers and Wilkins premium sound) and top-notch materials and fit and finish.
There's also plenty to distinguish the new, five seat XC60 (GBP37,205 to GBP57,950 in the UK) both from its predecessor and the larger seven seat XC90. One of those is a similar-but-different dashboard reshaped to give, in Volvo Cars' market launch manager Kristoff Glogoza's words, a "styled for 3D impression". A full width chrome strip linking the air vents at each end includes small Swedish flags inset into the metal under each vane. Turns out, as Glogoza explained, they have a functional purpose – hiding an expansion area between sections of strip because the metal expands and contracts depending on cockpit temperature, desert to Arctic, and this eliminates the gap. It's a trick borrowed from the XC90 which has a spider and web moulded in to an opening panel in the boot in place of the ribbed strengthening normally used. Do the necessary but make the execution fun. Designers have also extended the XC60's Volvo-signature 'Thor's hammer' daylight running lamps (which change colour to become turn indicators) in the headlamp clusters right to the edge of the grille – on the XC90 they stop about 30mm short. Tail lights, too, form a distinct LED 'signature' at night; I reckon imaginative children might see a 'face' in the pattern.
Powertrains
Volvo Car UK has gone for an all-AWD (BorgWarner torque split components for all bar the T8 which powers the front wheels with the ICE engine and the rear with the electric motor), all-eight-speed Aisin Warner automatic (yay) model line with a choice of two I4 diesel engines (190hp D4; 235hp D5 Powerpulse with compressed air aided turbo spool up), the T5 254hp I4 petrol turbo introduced late in the predecessor model run and the I4 petrol-electric plug-in T8 Twin Engine hybrid introduced with the XC90 with a combined 407hp. Expected sales split is 53% D4, 25% D5, 10% T5 and 12% T8 though that could well rise as XC90 T8 uptake has nudged as high as 28%. As with the XC90, various drive modes can be selected according to need.
The XC60 uses a double wishbone front axle with coil springs with an integral link rear axle with composite transverse leaf spring at the rear. R-Design versions have 30% stiffer springs, 1mm thicker anti roll bars front and rear, and faster acting dampers. Electronically controlled air suspension is an option. This replaces the coil springs at the front and the transverse leaf spring at the rear with separate air chambers for each wheel. The dampers are also replaced with adaptive units and you'll find the air tanks for the system in the spare wheel stowage space which, in the car we drove, has an actual spare wheel.
The newcomer is also the first Volvo with Steer Assist which can automatically apply the steering or provide additional steering input in an emergency to help avoid a potential collision.
Forecasts
A UK sales volume around 12,000 units a year is expected with formidable opposition including the Land Rover Discovery Sport (23,796 sales in 2016), Audi Q5 (12,680), Mercedes-Benz GLC (11,175), BMW X3 (9,638), Jaguar F-Pace (8,182), Porsche Macan (4,544) and Lexus NX (4,118).
There are three trim levels – 'standard' Momentum, 'sporty' R-Design and 'luxury' Inscription. As with the XC90, Volvo's UK unit has spiffed up specifications a bit compared to some markets and Momentum (base) includes Europe wide navigation with traffic information and lifetime map updates, 9″ centre touch screen and voice activation, City Safety with Steer Assist, Oncoming Lane Mitigation, LED headlights with active high beam, two-zone climate control, power tailgate, leather upholstery, heated front seats, Drive Mode settings, 18″ alloy wheels and an 8″ TFT driver's information display. New with the redesign are models tailored to fleet 'user-choosers' allowed to select a model according to pricing parameters but not to go nuts with the options list. Hence a Momentum Pro adds active bending headlights, On Call assistance, power driver's seat with memory, and heated steering wheel and windscreen. R-Design has blacked out 'sports' trim inside and out, firmer suspension and various interior tweaks plus a few extras for its Pro derivative. Inscription has nappa leather, power front seats, larger driver digital display, larger wheels, more chrome and interior wood inserts and the Pro pack adds items such as seat massage.
Volvo UK buyers clearly like their SUVs sporty – R-Design trim is forecast to take 30% of sales, the Pro version 10%, Momentum 25%, MomentumPro 10%, Inscription 15% and Inscription Pro 10%.
We drove a loaded Inscription with the compressed air-boosted 235hp D5 turbodiesel engine in atrocious conditions (heavy rain, roadworks, traffic congestion) and found it handled and rode very well. The diesel pulls like a train and the eight speed autobox's shifts are all but imperceptible. I have finally found a car in which I can get Apple CarPlay to actually work and nearly blew the windows out with the powerful B&W sound system. At GBP2,500, it's pricey but you can hear the quality of what you're paying for. The old XC60 is still selling strongly in its run-out year and I think the new one will do very well – little sister is a handier size for narrow British roads and parking spaces and more manageable to drive and will clearly appeal to those that don't need the extra space and seating the XC90 offers.
Production, by the way, is in Gothenburg, Sweden, to start but output in China (now a source of Europe's S90 saloons) will begin soon.