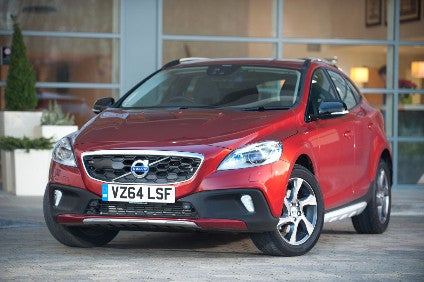 Engines are expensive items for an automaker to develop and, after sharing some powertrains with former owner Ford, Volvo, under new Chinese owner Geely, developed its own Drive-E engine range. The engines, which are all built with a maximum capacity of two litres and four cylinders, offer lower weight, size and complexity, all resulting in lower emissions, lower fuel consumption and greater driveability.
The first Drive-E engine was launched in 2014 and roll-out soon extended to all of its front wheel drive cars, marking the next step in Volvo technological independency. The Drive-E powertrain was in-house designed and built in Skövde, Sweden.
Here in the UK we saw them first in in both the S60 Cross Country and V60 Cross Country in the form of the diesel D3 and D4 FWD though the proven five-cylinder D4 powertrain continues to provide the power for the all-wheel drive variants.
The four-cylinder Drive-E engines were soon widely hailed for their unique ability to combine power and efficiency with a small footprint. This powertrain upgrade was part of a number of enhancements made to the V40 Cross Country. Other new additions were a 19″ Damara alloy wheel option with grey diamond-cut rims, new exterior colours as well as the updated on-board infotainment and navigation system, Sensus Connect, offering a fully connected car.
First seen in the S60, V60 and XC60, the cloud-based services allow the driver to find and pay for parking, discover new restaurants at the destination, stream favourite music seamlessly and more. The HERE location platform provides connected navigation with 3D maps. The new Connected Service Booking app tells the driver when it's time to have their car serviced – and suggests an appointment at the dealership.
The UK V40 range is vast with multiple D2, D3, D4 diesel 120, 150 and 190 horsepower steps, manual or automatic transmission and several trim levels. Then there's the Cross Country with "off-road inspired" features such as unique lower front nose, grille and rear diffuser, glossy black door mirrors, roof rails and availability of a 'Copper Dawn' interior trim. On top is a huge option list.
The one I tried recently had the 190-horse D4 engine and new eight-speed Geartronic (Aisin) automatic gearbox with CO2 emissions of just 112g/km and was dripping with extras from a vast option list. Build quality – both materials quality and what used to be called workmanship – workpersonship these days, maybe? – seemed very high and it didn't take very long to become familiar with the controls of a brand I drove last perhaps a decade and a half ago – a very different V40.
It proved surprisingly practical as a family car and the kids loved the little (teddy) storage trays beside each rear seat and the cup holders that pop out of the leading edge of the back seat for the Fruit Shoots. Rear door openings could be a little wider and the doors open wider when you are hoicking child seats in or, on occasion, the children themselves when the self-loading freight refuses to cooperate. Volvo scores brownie points for including a spare wheel and the boot was still large enough to take a full weekly shop.
At the dad toy level, I found the usual infotainment part-aversion to Android – most things work but I couldn't get a Samsung Galaxy recognised as a USB device whereas an iPhone was. Everything a non-owner could try on a press demo car worked pretty much as stated on the tin – I'll take Volvo's word on the service booking ability.
Though it is generally very smooth and quiet, the diesel D4 makes it clear it's an oil burner with slight noise and vibration at lower speeds but the eight-speed auto is a very smooth self-shifter. Bags of torque mean fast acceleration and confirm yet again that a decent diesel and automatic can be a very nice combination if you do enough annual miles to not give emission control equipment – currently very much in focus – indigestion. Ride is firm on 225/45R18 tyres and the handling is crisp with minimal body roll, this is a nice car to drive the daily routine. The radar cruise control works very well and its sensors also activate a dashtop strip of lights that warn of a pending collision – nanny will apply the brakes quite firmly if you don't. Keyless entry worked from all angles at all portals and Volvo, as most automakers now do, uses LED lights almost everywhere in the cabin apart from the vanity mirrors in the visors. Dials on the press car were fully digital.
The Drive-E engines have also found their way up-range to the larger V60 wagons where engine options are almost all diesel, including the plug-in hybrid version. This line is showing its age in the odd respect – when did you last see a conventional sunroof instead of the vast glass panels now commonplace? I tried a D3 auto, which means 150 horsepower instead of the V40's 190 but performance was still strong with a family aboard, the automatic just as smooth and responsive and the extra space was welcome, particularly in the back, though the boot is quite shallow with a temporary spare in place. Ride is firm and there's lots of road noise. Familiarity from the V40 CC made getting to know the larger car easy – most controls and equipment work much the same. And Volvos continue to have some of the best front seats in the business with electric adjustment and heating standard or optional, according to model.
In recent years, Volvo has announced a two-platform strategy in parallel with its simplified Drive-E engine line. According to just-auto's QUBE database, the next V40 line should be on a new CMA platform shared with Geely for smaller models, with a full redesign out as early as 2017, while the V60 should migrate to another new platform, the SPA (Scaleable Product Architecture) which underpins the recently launched, and much acclaimed XC90. Three cylinder petrol engines are also in the pipeline.
By then, most of the ties to former owner Ford should have been well and truly severed.