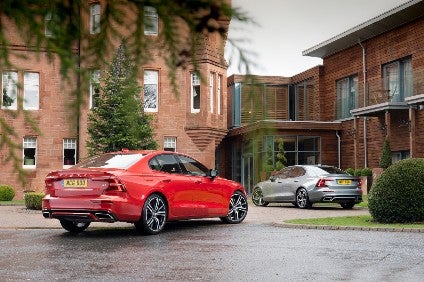 This new S60 may well be the first Volvo Car made in the United States (but not in North America as there once was a CKD kit assembly operation in Canada) but you'd be hard pushed to find any evidence anywhere an owner might look.
The few source labeled parts I could find in dark recesses under the hood, er bonnet, came from Bulgaria (radiator hose) and the Czech Republic (electronics) so we may have to describe the car as of mixed parentage. In a positive sign you can build anything anywhere if you design both the car and the factory properly, use proven suppliers and train the workforce well; the S60 is, by the usual panel fit, shut line, paint finish, interior finish measures, on par with anything I've seen out of a Swedish or Belgian Volvo factory. Excellent job, newly-hired 'mericans.
That first US manufacturing plant, in Charleston, South Carolina, was opened last June. Volvo said at the time this established the company as a "truly global car manufacturer with plants in all three major sales regions". The S60 is the first of two models to be built there within the first three years. The next generation XC90 will be added in 2021, taking the factory's annual combined capacity to 150,000 units.
Volvo told media touring the plant site in April 2017 it expected about 40% of parts will be sourced from within North America. Gestamp Automocion, the metal-stamping Tier 1 which supplies BMW's plant in nearby Spartanburg (another reason to build the Volvo plant in the state was well established local suppliers), provides body panels. The OEM also has contracts with Continental (tyres), Plastic Omnium (bumpers), Autoneum (carpet and insulation) and Lear (seating). The local content of vehicles coming out of Ridgeville will be 55% to 60%, mainly because engines are sourced from Sweden. The company has said it would have to be building 300,000 vehicles annually to justify adding engine production in North America.
I doubt anyone from Volvo would would confirm it but I recall in the '80s, when it first set up Camry making in Kentucky, reading somewhere that Toyota first sourced the easier-to-obtain parts in North America, supplemented by imports from its established overseas suppliers, and then gradually fed in NA-made replacements for the imported bits, as local suppliers' factories came on stream with sufficient quantity and quality. But a supply of critical foreign made parts was kept discreetly to hand, just in case. I suspect we'll see more obviously NAFTA-sourced components on the Charleston cars in due course.
With sedans being more popular in North America than the hatchbacks that dominate the up-C-segments here in UK and western Europe, US S60 assembly there fits nicely with a global manufacturing strategy of 'build where you sell' and provides a useful hedge against the current (or future) higher tariffs President Trump slapped on cars built in China (where Volvo builds its S90 and XC60 for local sale though some S90s – pre tariff war – have also gone to the US.) Hence a rejig of global sourcing in November – the more plants you have (in Volvo's case multiple plants building multiple models all on its standardised SPA 'large car' and CMA 'small and medium' platforms), the more flexibility you have to switch specific model build comparatively easily according to demand, specific market requirements and tariffs.
The global factory tally is now this first US facility complementing two manufacturing plants and an engine plant in Europe, three car factories and an engine plant in China, and KD kit assembly plants in India and Malaysia. A pretty reasonable global manufacturing footprint for what is still a relatively small premium brand, albeit one with big plans (especially including Polestar).
Cars are built in Charleston both for the domestic US market and international export.
"The plant establishes the US as our third home market," said Volvo Cars president and CEO Hakan Samuelsson at the opening ceremony. "The saloon segment and the SPA platform's proven ability to boost profitability offer significant growth opportunities in the US and globally." The factory has cost U$1.1bn and ultimately will have brought around 4,000 new jobs to Charleston once up to capacity. Around 1,500 staff will be employed by the end of this year and future model variants will include plug-in hybrids.
No diesels
This fully redesigned S60 is the first Volvo car to be sold without diesel engines, "signalling the company's industry leading commitment to electrification and a long term future beyond the traditional combustion engine", according to the automaker. That, politicians demonising the fuel Europe-wide, despite the current diesel crop being the cleanest ever thanks to technology like SCR, and the various emissions test-cheating scandals that have come to light over the last few years, have all contributed to reduce diesel's share.
Here in the UK, the fuel's passenger market share has been dropping steadily and the government has now axed the purchase subsidy for new PHEVs with the effect that April volume slumped 34.4% and 20.4% year-to-date – evidence, the SMMT said, of the 'consequences of prematurely removing upfront purchase incentives before the market is ready'. Just last week, the ACEA chimed in, noting that electrified vehicles only sell in any numbers in European countries with high GDP (= higher wages) and that only 2% of all new passenger cars registered last year throughout the EU were electrically-chargeable. Who'd be a product planner, eh?
Volvo's UK operation tends now to launch new models with a limited number, fully-loaded 'First Edition' (the XC40 sold out very quickly) and the S60 strategy is to start with just one top level R-Design petrol T5 FWD automatic costing GBP37,935 and build from there. It has a 250hp turbocharged and intercooled edition of the familiar 1,969cc I4 developing 350Nm of peak torque and comes only with the eight-speed automatic. It gets to 60mph in a swift 6.3 seconds and on to a top speed – in the rare few places you can do that legally these days – of 145mph. Real world WLTP fuel economy is 35.3 mpg (8l/100km) combined and CO2 emissions are 152g/km or 155 depending on buyer's choice of 18-, 19 or 20-inch wheels. Because it's such a top spec model the options list, unusually for Volvo, is short – a GBP400 convenience pack (power folding rear seat backs, 230v socket, front tunnel net pocket), metallic paint (why is this still being charged for?), alloy wheel upgrade (GBP850), temporary spare wheel with jack (yay!) GBP150, a GBP1,200 panoramic tilt/slide sunroof with sun curtain, a no cost swap of head-up display for a heated windscreen and a GBP1,675 audio pack that adds 14-speaker, 1,100-watt Bowers & Wilkinson sound and a subwoofer (always superb in every Volvo I've tried).
Most premium brands these days seem to follow what British magazine Autocar calls the 'Russian doll school of design', styling all models of all sizes to look very similar. I find XC60 and XC90 in particular hard to pick on the road but the smaller S60, though its tail is similar to the flagship S90 sedan, has a distinctive new waistline kink and C-pillar design which is easy to spot at a glance. Inside, you could level the 'Russian doll' claim but here, the familiar styling centred around the large tablet-like central display and other dials, switches and controls are more or less the same as all other new Volvos since the 2014 XC90 redesign and the familiarity of operation of things like the radar cruise control (which brought the car to a complete stop and restart in heavy motorway traffic) actually proved welcome rather than having to learn a whole of lot of new 'where is it?' for what is a complete redesign. And older S60/V70 owners should not take too long to get settled. Performance, handling and ride are to expectations honed by extensive experience of earlier Volvos launched on this SPA platform and it's hard to see potential buyers not giving this newcomer a look in an intensively-contested sector full of fine rival 'premiums' from the likes of Audi, BMW, Mercedes, Lexus and (sort of) Tesla.
Most of the equipment and safety kit is familiar from earlier SPA platform cars but City Safety with Autobrake technology has been updated for the S60. This assists the driver in avoiding potential collisions and, Volvo claims, is the only system to recognise pedestrians, cyclists and large animals. Now, in a claimed world first for this midsize saloon segment, City Safety now also engages auto braking to mitigate oncoming collisions. The optional Pilot Assist system – which provides steering, acceleration and braking on well marked roads up to 80mph (I love it but my two co-drivers on the launch both switched it off immediately) – has been upgraded with improved cornering performance. The new S60 also includes Runoff Road Mitigation, Oncoming Lane Mitigation and other steering assistance while Cross Traffic Alert with autobrake is standard with this top R-Design trim along with Apple CarPlay, Android Auto and 4G connectivity.
Of course, there are more trim levels to come and more engines – two turbocharged and supercharged plug in hybrid petrol engines will be available – Volvo's T6 Twin Engine AWD PHEV hybrid that generates a combined 340hp, and the award winning T8 Twin Engine AWD plugin hybrid that delivers 400hp (my personal favourite in the XC90).
As well as this T5 for England, the T6 petrol engine will also be available from launch in some other markets.
Electrified versions will also offer a performance handling upgrade called Polestar Engineered available with the T8 Twin Engine powertrain. This upgrades wheels, brakes, suspension and the engine control unit, boosting combined output from 400hp to 415hp. Control is via the centre tablet display.
S60 also marks a claimed segment first – customers can acquire it through Volvo Cars' new premium subscription service, Care by Volvo, with no down payment and a flat monthly fee subscription instead of ownership.
"Care by Volvo makes having a car as transparent, easy and hassle-free as having a phone," the automaker said.