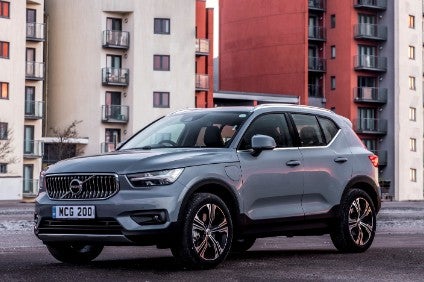 Volvo has been mucking about a bit with the naming of its plug in hybrids. First launched in the critically acclaimed XC90, the PHEV variant was dubbed 'Twin Engine'. Hence, when it got down to the XC40, the model was initially the T5 Twin Engine. Factually correct – one petrol engine, one electric motor – but it always reminded me of a Bmc cobble-up decades ago when engineers stuffed a second engine into a Mini (where the back seat went) creating an instant four wheel drive 'Twini'. The new name for Volvos with a cord – Recharge – makes a lot more sense as that's just what you can do with a PHEV and the change seems to have occurred earlier this year, around about the time promotion of the upcoming battery electric XC40 began – the Recharge Pure Electric P8 – and order books for that opened.
What was the T5 Twin Engine variant was first announced about 18 months ago now and was, only a few months ago, joined by a cheaper Recharge Plug-in Hybrid T4. The original T5 gave Volvo bragging rights as the claimed first car manufacturer to offer plug-in hybrid versions across its entire model range. This front drive only hybrid has a 180hp version of the new(ish) three cylinder, 1.5 litre petrol engine with an 82hp electric motor, CO2 emissions around 38g/km and combined fuel economy of up to 141.1mpg, yet 0-62mph acceleration in only 7.3 seconds. The lithium-ion battery with 10.7kWh capacity provides all electric driving range of up to 28.6 miles, a new seven-speed twin clutch automatic transmission is standard and, hurrah, you can option in a temporary spare wheel, jack and tools (for GBP150) if you so wish. I would.
This was the first time Volvo had stuck a hybrid powertrain into the CMA compact vehicle platform it shares with Chinese parent Geely and trim choices were pared a bit to the more premium R-Design (sporty) and Inscription (luxury) each with a Pro (extra kit, extra cost) option. Volvo also emphasised the UK-specific 16% benefit in kind company car tax band and vehicle excise duty exemption.
The Recharge Plug-in Hybrid T4 uses a 129hp (51 less than the T5) 1.5-litre three-cylinder petrol engine and the same 82hp electric motor with seven-speed DCT automatic transmission and front-wheel drive. It takes 8.5 seconds to 62mph. The sub-GBP40,000 start price avoids the UK GBP325 Vehicle Excise Duty surcharge payable in years two to six, is capable of up to 27 miles on all electric power, with CO2 emissions from 47g/km and fuel economy up to 134.5mpg (WLTP Combined). Business/company car drivers pay a lower 12% benefit in kind tax.
XC40 Recharge models come with a recharge plug on the nearside front wing and a 4.5m cable with three-pin domestic plug is standard while a type 2/mode 3 fast-charge cable is available as an optional extra for GBP50 – Volvo says it replaces the three-pin one but I'd demand both. Charging via the fast-charge cable will completely recharge the battery in 2.5 hours while fully charging via the three-pin plug cable takes between 3.5 and 6 hours. A previous Volvo PHEV had a variable rate control on the cable and 100% tripped the extra circuit breaker I use for 'outdoor' 'lecky activity; this cable charged the sample T5 from about a quarter in two or three hours and the current draw was notable on a smart meter – about halfway up the electronic equivalent of a dial. A day or two of local running dropped the battery pack to about half charge and it took about two hours to top up again. The flashing green light in the recharge port glows solid and two flashing blue lights on the charger cable tell you 'full'. There is also a dash display – 'fully charged at' and a graphic showing current flowing (or not) but they both had a mind of their own. As with most EVs, town is the best place – a just-before-the-repo-man came blast down my local bypass – all but a mile and a half – sent the gauge plunging. You can also set various modes but I just left the car in Hybrid and let it think for itself.
I only managed to get the petrol engine to fire a few seconds here and there, maybe three or four times. Under strict COVID-19 Tier 3 rules, the XC40 didn't leave city limits and I was impressed with how well suited it was to short-distance running, with zero emissions, but quick heat-up of the HVAC system. The seven-speed DCT is incredibly smooth and shifts were imperceptible. Ride is on the firm side on 20″ wheels and refinement is very good. The additional PHEV drivetrains add to a blend of mild hybrid petrols (diesels still offered too) with full electric available soon. The rest is ideally sized, familiar XC40 SUV with lots of family and luggage room, a still unbeaten swipe left, swipe right, swipe up centre screen and as many luxuries as your budget will permit.
Volvo Cars' UK configurator is plain frustrating, trying to steer you to the most expensive Recharge models and pretending a 'base' starter model doesn't exist till you burrow deep. I didn't get a spec sheet for the press car (the one I had was for a different car) so 'reverse engineering' suggests I had an R-Design from GBP39,130 with the more powerful T5 hybrid powertrain which costs GBP1,950 extra. Bursting blue premium metallic paint adds GBP850. 20″ wheels (19″ standard) cost GBP750 and, as noted, subtract from ride quality but they do look great. A GBP750 Versatility pack gives you electrically folded rear headrests and keyless entry/start, the Park Assist pack (included with the Lounge pack) is just that with a rear view camera. The press office pen did not hover long over the Power Seats pack (with one driver on our household that is just a bragging rights option) and moved on to GBP775 Climate to add heated front and rear seats and steering wheel (automatic driver bum and hand heat during cold weather can be programmed in via the climate settings), heated washer nozzles, headlamp clean and heated windscreen.
I'm not entirely sure if I had the full (GBP1,550 as a standalone option) Driver Assist pack (included with the Lounge pack) as, though there were rear cross-traffic alerts a few times, the car did not appear to have the full adaptive cruise control with pilot assist (lane keeping assist, etc) and I didn't notice if the exterior mirrors auto-dimmed or not. I certainly had the GBP3,800 Lounge pack with all the park and (most of) the driver assist toys plus automated perpendicular or parallel parking, full length sunroof with curtain (which will automatically engage when it's hot and the car is parked), Google Play and Android Auto, 360-degree parking camera and Harmon Kardon premium sound.
I was also pleased to see the GBP150 temporary spare wheel with jack and tools. Wireless phone charging is a single option for GBP200. Various child seats, towbar and storage options are available and you can bet dealers will dangle a vast array of accessories under your nose before you escape the showroom.
According to the online configurator, I would be looking down the barrel of GBP47,730, GBP8,600 up on 'standard' price.
But, as one of the consumer websites notes: "No-one buys a standard Volvo".