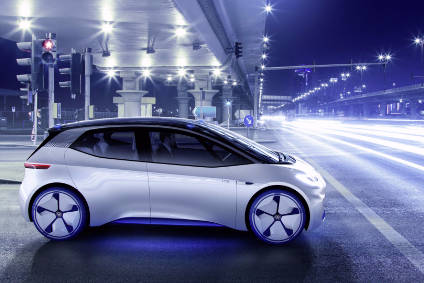 As it reels under the pressures that have followed 'dieselgate', Volkswagen is laying out a new strategy to meet the mobility and technology challenges ahead. There were more insights into its latest thinking on strategic implementation from its executives in Paris.
The Volkswagen Group says it is systematically moving forward with its transition to the mobility world of tomorrow initiated by the "TOGETHER – Strategy 2025" program for the future.
At the Paris Motor Show it presented its next steps. Matthias Müller, VW Group CEO, pitched the strategy as important enough to justify a new brand where new emerging advanced technologies, digital processes and mobility models will converge to transform the company in the long-term. At the show itself, VW presented the I.D. electric car which provides a glimpse of the coming drive to electrification.
"A great deal has changed at Volkswagen over the last 12 months," he acknowledged. "We want to harness this momentum. We are therefore making the new mobility services business field our 13th group brand. That underscores just how essential we believe this business is."
The Volkswagen Group will develop and build more than 30 new additional electric vehicles by 2025. The Volkswagen brand's I.D. concept car with a range of up to 600 kilometers provided a first glimpse at the Paris Motor Show. The I.D. is the first compact Volkswagen based on the Modular Electric Drive Kit (MEB) and Volkswagen has set itself the goal of selling a million electric cars a year by 2025. The concept also comes with a fully automated mode, 'for the year 2025' according to VW, illustrating the coming convergence of advanced technologies within emerging models of future mobility.
Porsche also showcased the Panamera E-Hybrid in Paris, the first of 17 new plug-in hybrids the Group will be introducing over the next two years. "The breakthrough for e-mobility cannot be achieved without substantial progress in batteries and infrastructure. So we are working hard on a rapid-charging project spearheaded by Porsche," Müller said.
The VW Group has also launched new initiatives in the field of mobility on demand. In addition to ride hailing services in collaboration with partner Gett, VW Group is working on shuttle service offerings and car-sharing concepts for urban mobility. There are distinct echoes of what we heard recently from Ford, in terms of OEMs getting control of the emerging space for autonomous and shared vehicles.
"Looking a little further ahead, we could also operate our own self-driving shuttle fleets once urban autonomous driving technology is ready," Müller said. He added: "In future, many people will no longer own a car. But they can all be a Volkswagen customer in one way or another – because we will serve a much broader concept of mobility than is the case today." There is considerable ambition. By 2025, VW wants its new brand to rank among the leading providers of urban mobility services and 'become the market leader in Europe'. What's it to be called? We do not know yet: The official launch and the announcement of the new brand name are scheduled for November.
The OEM as preferred ride hail equipment supplier
The mobility services partnership with ride hail firm Gett is also gathering momentum. In Moscow, where the market for ride hailing via app is booming, Volkswagen Group brands are now offering vehicle packages to Gett drivers. The OEM as preferred equipment supplier is one way in to the space (GM and Lyft, another example).
Furthermore, a strategic partnership with the city of Hamburg to develop and test new concepts for urban mobility was recently concluded. In addition, Audi's new partnerships with the Chinese internet providers Baidu, Alibaba and Tencent will drive advances in networking the brand's cars and in intelligent urban mobility solutions.
For the VW Group, the Gett partnership marks the first substantial step in the transition from car making to structuring and providing integrated, sustainable mobility. The group recently announced a US$300m investment in Gett, paving the way to new approaches to mobility. Müller, stressed the importance of the partnership, noting: "The ride hailing market doesn't just promise high growth rates for Volkswagen, it also has a big strategic relevance. Ride hailing will be at the centre of our new 'mobility on-demand' business, which we are building up as the second pillar alongside the classic automobile business.
"Our investment in Gett gives us instant access to a service which people all over the world can benefit from."
Müller added Gett technology already contains algorithms accurate in predicting consumers' need for on-demand transportation. Based on that technology, Gett and the VW Group will work closely together to gain better understanding of users' mobility needs in cities and to offer tailor-made solutions.
Mobility of the future: design opportunities
The area of vehicle design in the context of new mobility services was also addressed by VW in Paris. Michael Mauer, Head of Group Design, said: "I am convinced that design will be a key factor in deciding which car brands are to survive in the future." That's easy to say, but he also said a bit more about the creative opportunities for designers. "The mobility world of tomorrow gives us designers entirely new creative possibilities. Electric drives and autonomous driving remove many obstacles and change design more radically than has been the case in recent decades." He went on to say: "Moreover, key distinctive characteristics such as the sound of an engine are no longer relevant, so design becomes all the more important as a unique selling proposition."
Mauer appears to see design as a bold part of the transformation to VW's culture envisaged by Müller. "While the brands need to focus more strongly on their individual identities, the group can adopt the role of a bold pioneer going forward," Mauer said, adding: "In future, too, it is not fitness for purpose but beauty that decides whether a car commands a top price at auctions." Some 1,300 designers from 45 nations in the Volkswagen Group are working on the streetscape of the future.
"We are systematically focusing on our customers, their wishes and requirements for the mobility of the future. Designers, user experience experts and digitalisation specialists work hand-in-hand at the Volkswagen Group Future Centers to reinvent the car and develop new ideas for mobile life," Mauer said, adding that no one could say today how fast this transformation will actually be.
Mauer sees the Volkswagen Group's multi-brand strategy as an advantage for the future development of mobility: "Some brands will forge ahead with design and technology and others will benefit from that, so we can adapt flexibly to needs and developments. But that does not mean we will have uniform autonomous vehicles. The streetscape of the future will become even more varied, even more colorful, even more emotional."
Electric drives and classic powertrains will "coexist"
A wave of electrification faces the auto industry, but the question of the pace of change is key. A fragmented powertrain picture looks on the cards for a while yet. Müller made it clear that there are gasoline engines and diesel engines (yes, the D-word) still to consider, investments to be made.
"Regardless of all the new opportunities and possibilities the mobility world of tomorrow opens up for us, we must not neglect our existing technologies and core competences", he said. "The future is electric. Nevertheless, classic powertrains will continue to play a key role for the next two decades at least. We must and we will press ahead with the evolution of diesel and petrol engines. And at the same time, we will progress with alternative technologies."
Commenting on the diesel issue Müller said: "'Diesel' is and will remain an incisive turning point, a pivotal event in our history. We are working with all available resources to get to the roots of this crisis and work our way through all of the issues. And we have made substantial progress in this regard in recent months. However, shaping a sustainable future for Volkswagen is at least as important."
'Sustainability council' to be set up
Volkswagen Group says it is strengthening its sustainability management and setting up a 'Sustainability Council' with nine eminent international personalities from the sciences, politics and society. The Council will advise the Group Board of Management on matters relating to sustainable mobility, environmental protection, social responsibility and integrity. The constituent meeting will take place at the end of October and it will be very interesting to see who sits on it.
The Sustainability Council's external facing structure is perhaps another sign of the cultural transformation that Matthias Müller is directing. 'Dieselgate' has perhaps provided added impetus to something that VW would have had to address sooner or later. With the seismic changes ahead that will fundamentally impact and reshape the whole automotive industry, there can be no room for the sense of complacency and lack of critical oversight to company processes that created the conditions that bred dieselgate.