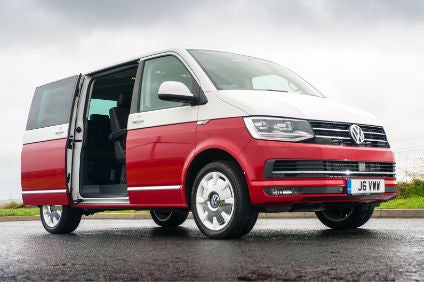 Volkswagen has dipped into its heritage with a new edition of the Caravelle. Two-tone paint and chrome-effect wheels are links to the split-screen Type 1 model of the 1960s. Yet at a recommended retail price of GBP53,610 (US$70,727), this is not quite the affordable converted van of yesteryear.
The latest generation Caravelle is based on the same architecture as the previous generation T5 series model. In fact, it looks like a major facelift of the T5, but Volkswagen calls it T6, which is short for Transporter, Sixth Generation.
The first versions of the current range were revealed to the media at an event in Amsterdam in April 2015, the Caravelle following just a few weeks later at the Istanbul motor show. Over the last year or so, Volkswagen has released three more versions, so that the line-up is now as follows:
Transporter (light commercial van)
Caravelle (aimed at businesses, families and outdoor sports enthusiasts)
Kombi and Shuttle (minibuses for commercial and private use)
California (camper)
Multivan PanAmericana (higher ride height)
All engines have four cylinders, are transversely mounted and angled forwards by eight degrees. The diesels have a cubic capacity of 1,968cc and deliver either 62kW (84PS), 75kW (102PS), 110kW (150PS) or 150kW (204PS). If you prefer petrol power, this also means a four-cylinder 2.0-litre with outputs of either 110kW (150PS) or 150kW (204PS).
The Caravelle supplied by Volkswagen UK came with the 204PS biturbo TDI and a seven-ratio DSG dual clutch transmission. Drive goes only to the front axle, which in certain conditions can mean a loss of traction. This happened on several occasions, with the common factors being sticking to a steady 20mph up a long, steep hill, and then accelerating as the allowable speed shifted to the national limit. The front tyres momentarily struggled to grip the road and this was in dry conditions. The torque output is 450Nm, which would be a major contributor.
It's a pity that 4MOTION all-wheel drive isn't available for the special edition Caravelle. That's probably to do with how heavy it would make the vehicle, as unladen weight on the press test vehicle was already 2,405kg. GVW is given as being 3,080kg so tyres are unlikely to be long lasting.
Aside from the traction issues, this big people carrier is hard not to fall for. It won't be to some people's taste but Volkswagen Commercial Vehicles' red and white special edition grabbed a fair bit of attention from other drivers. You start to notice just how many T5s are on our roads, and quite a few T6s now too. One VW Van Man in an immaculate and customised T5 I suspect encouraged me out of a junction so that he could have a proper look at what I was driving.
As for the interior, there's lots of glossy bright red plastic trim across the dashboard, Alcantara and leather trim for the seat facings, and a leather covered thick-rim steering wheel with switches for Adaptive Cruise Control (ACC). At night, climbing up and in you notice step illumination with 'Generation Six' lettering. There's also three-zone Climatronic air conditioning and heated front seats.
The Cherry Red and Candy White two-tone paint finish isn't the only distinguishing feature on the exterior. The special edition also comes with 18″ 'DISC' alloy wheels, LED headlights and tail lights, front fog lights with cornering function, chrome-effect details around the grille, privacy glass for all rear windows and 'Generation Six' badging on the B-pillar.
Volkswagen quotes the top speed as 126mph, a zero to 62mph time of 9.9 seconds and Combined consumption of 44.8mpg, but I didn't manage to get above 40, possibly due to mostly motorway miles – no drag figure is quoted in the media information but is not going to be most aerodynamic vehicle on the market is it? The CO2 average is 164g/km, the fuel tank capacity is 70 litres and the AdBlue reservoir is 13 litres.
You can configure the second and third row seats into different positions and there is a central floor rail along which slides a cubby box where you can store all sorts of odds and ends. Taking the seats out isn't an easy job for one person as they aren't exactly light. Still, it's good to know if you do need to turn your bus into an occasional van at least it's possible.
Remembering just how big the Caravelle is (4.9m long, 2.3m widen and 1.95m high) it shouldn't be a surprise that the tailgate is so large. Yet if you're not that strong, yanking it closed can be harder than you might imagine. Like the side doors, electric assistance is needed and should be standard on such an expensive vehicle. At least the sliders are automatically closed by electric motors but this is just for the final few centimetres of their travel.
One-up, this can be quite a fun car to drive. Perhaps it's the van-like driving position but with a small-diameter steering wheel which you drop your hands onto rather than extend them towards? There's an armrest for each elbow and this seems to encourage a relaxed pace, plus the views ahead, to your sides and rear, are panoramic thanks to all that glass.
Throw the Caravelle into a corner and you'll get a lot of bodyroll but take things like a limo driver and it's far more rewarding. The ride in the back is car like, I was told by passengers, and the sheer volume of room available impressed every one of the various friends who took a test-ride.
Aside from the Mercedes-Benz V-Class' Valente/Metris passenger vans, it's hard to think of a proper rival for the Caravelle special edition, and even then, the big Benz hasn't got the heritage and cult following of VW's T-series models. And there in a nutshell is this special edition's USP. Yes it's very expensive but I've a feeling that for those who have to have one, the premium pricing won't worry them too much. For the true VW van devotee, it might even add to the appeal.