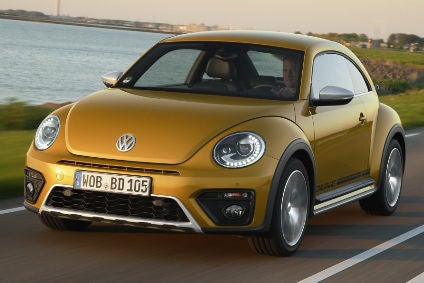 It might have raised suspension and wheelarches bedecked with chunks of grey plastic, but Volkswagen isn't calling its new Beetle Dune a crossover. Instead, it's meant to remind us of the 'Baja Bugs' associated with west coast America and off road racing. Can this new derivative give the now five year old third generation Beetle a sales boost?
Maybe it's because you don't see too many Beetles around that the Dune seemed to turn a lot of heads. The turmeric paintwork probably helped too, along with a 1970s Porsche 911-style rear wing in the same colour. Shame then that the 1.2-litre TSI (petrol turbo) engine produces just 105PS and 175Nm of torque.
You don't have to settle for the TSI, which, by the way, provides perfectly adequate performance for most people. Top speed is 110mph and zero to 62mph takes 10.9 seconds. The CO2 average is 126g/km and I saw overall consumption of 42mpg, compared to the official number of 51.4mpg (Combined).
The other engine for European markets is a 150PS 2.0 TDI. As with the TSI, it comes with a choice of six-speed manual or six-speed auto DSG gearboxes. It's not available in Britain but in North America there is a 1.8 turbo – I don't have to tell you why a diesel isn't offered there – which has the six-speed automatic as standard.
In the hatchback version, the TDI reaches 62 mph in 9.2 seconds, top speed is 124mph (manual) and CO2 is 117g/km with Combined consumption of 62.8mpg. Call it low to mid-fifties in everyday driving if you're light on the throttle pedal.
Cynics might call this car the creation of a marketing department with a tenuous grasp of VW's history but they're missing the point. The Dune looks and feels genuinely different to other Beetles even if there's not much of a link to the hotted-up specials based on the Type 1 Beetle from the 1970s.
The changes on the exterior start with a 10mm lift for the suspension but those silver skid plates at either end are plastic so off-roading isn't advised. Especially as there is no 4MOTION all-wheel drive system. Big grey plastic extensions surround the wheelarches and you can't miss the DUNE sticker and two long black stripes which link them atop what in days gone by would be called running boards. Wheels are special 8K x 18-inch 'Mythos' designs and despite 235/45 tyres, the ride somehow doesn't feel at all hard.
Standard equipment extends to what VW terms a 'Composition Media' system. This includes a 6.5-inch touch-screen with Bluetooth phone connection, DAB digital radio receiver, dash-mounted single CD player, MDI (Multi Device Interface) via USB connection, SMS messaging functionality and eight speakers. An auto dimming rear-view mirror, automatic headlights, rain sensing wipers plus ultrasonic parking sensors front and rear are also standard fit.
The Dune is strictly a four-seater, each place being trimmed in neoprene and grey vinyl with piping in a coppery colour to match the dashboard and exterior paintwork. The gear lever gaiter and steering wheel leather cover have stitching to match, while a similar shade encircles the three gauges of the instrumentation as well as three other dials. These, which consist of a clock, as well as readings for oil temperature and turbo boost pressure, sit atop the dashboard.
If you don't like being noticed, then the Dune isn't for you but that's not to say it's loud; more that it's….distinctive, especially if you go for the Sandstorm Yellow of the test car, which I would have no objection to. The TDI would be my preference and for that you must pay a fair bit extra. The 1.2 TSI costs from GBP21,300 (RRP OTR), while the diesel starts at GBP23,805 (RRP OTR) before options. Choose from Coupe (hatchback) or Cabriolet.
When will we see the next Beetle?
Volkswagen's Puebla plant in Mexico made just 63,000 Beetles in 2015, which reflects both the fact that the car was close to reaching the mid-point in its lifecycle, plus shifts in buyer preferences. In short, a lot vehicles which aren't crossovers or SUVs in the US market – it's where the Beetle has always been most popular – are either in decline, holding steady or showing only a small sales rise in 2016.
The current VW324 (hatchback) and VW325 (Convertible) aren't expected to be replaced until 2018, possibly later. Any successor series would swap today's PQ35 platform for the MQB toolkit, which would also mean the potential for a plug-in model – something which could well work to lift sales back towards the six figures annually which insiders say is needed to keep the business case viable.
Future product program intelligence
Get more data on vehicle lifetime and future product plans with PLDB from QUBE.