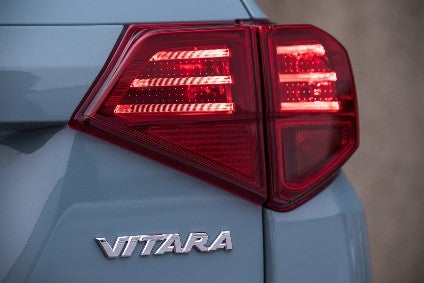 Europe's best selling Suzuki isn't a small car, it's an SUV. In 2018, the regional division delivered more than 70,000 units of the vehicle in question: not bad for a model which dates to 2015 and competes in a class where new rivals keep appearing. Now, fresh engines and a facelift should keep the Vitara popular throughout 2019.
Bigger than Mazda Europe
Last year's Vitara sales tally was 70,261 units and the newly updated edition of this B-SUV is already helping, with the brand's January deliveries numbering 21,812 vehicles. The one per cent dip is an especially good result in the context of the market being down by 4.6 per cent. ACEA and JATO data reveal the Japanese make to be the 19th strongest brand in EU and EFTA countries, ahead of Mazda (19,320: -5%) and behind a surging Volvo (27,361:+18%). What's more, not only is Suzuki selling more than twice as many vehicles in the region as Honda (10,150: -13.5%) and Mitsubishi (well almost, 11,275: +5%), it is well ahead of JLR (16,460 in January: -4.5%) too. Numbers for February are yet to be released.
2018: record UK market share
The UK is one of Suzuki's best markets in the European region, and February was a stellar month for the brand. Deliveries shot up by 77% to 2,750 vehicles, although bear in mind that the total for January was 3,006. There was equally good news for 2018, when Suzuki GB sold 38,519 cars, crossovers and SUVs. That was the second highest recorded annual volume. The Vitara remained the best-selling model (12,525), ahead of the Swift (10,583) and Ignis (6,065). Market share was 1.63 per cent, the highest yet in a calendar year.
Even though February was a good month overall, for obvious reasons, all bets are off for what may or may not happen in Britain this year. Still, as long as the parent company continues its long standing policy of short life cycles and ever-improving vehicles, Suzuki GB will likely keep doing well.
Vitara and Vitara Brezza – what's the difference?
Something you always notice in a Suzuki is how light it feels, and in a good way. The company pays much attention to keeping weight out of its vehicles. A lot of that is to do with making sure customers in its largest market stick with the brand and its reputation for fuel efficiency. Incidentally, the Vitara built and sold in India is different to the one we have here in Britain. Ours, which is 4,175mm long, has been around for a year longer than the Maruti-made Vitara Brezza too, and is manufactured at the Esztergom plant in Hungary. Although they are the same basic vehicle, tax regulations which penalise vehicles in excess of four metres mean the Brezza was modified so as to be 3,995mm long and there is a 1,248cc diesel engine too, which does not come to Europe.
A brief history
YAD, which was this generation Vitara's development code, became a series production model in January 2015, which is when Magyar Suzuki started production. The latest generation model had made a global debut at the Paris motor show as the Suzuki Vitara in October 2014. The platform is shared with the YAA S-Cross, that model dating to 2013.
The launch engines for Europe were Suzuki's M16 1.6-litre petrol unit or the D16AA 1.6-litre diesel, each of which was discontinued at the time of last year's facelift (from September). The 1.4 BoosterJet had been available before 2018 though, having been the standard engine for the Vitara S which was revealed at the 2015 Frankfurt motor show.
Petrol-only strategy
Suzuki pricing is usually keen and that's certainly the case for the updated Vitara. There are three model grades – SZ4, SZ-T and SZ5 – as well as two engines, each of which runs on petrol. The version I borrowed was in base spec and had outputs of 111PS and 170Nm. This three cylinder unit is called 1.0 BoosterJet, the alternative 1.4 BoosterJet having an additional cylinder and outputs of 140PS and 220Nm. Both are turbocharged. The 1.4 is only available for SZ-T and SZ5 model grades. You can have a six-speed automatic with either engine with the manual alternative being a five-speeder for the 1.0-litre but six ratios for the 1.4.
The SZ4 1.0-litre manual costs from GBP16,999 and while it doesn't offer an extravagant level of standard equipment, everything you want is there. The facelift brought with it some changes for the interior, including a new design for the seat fabric, which is suede-effect on SZ5 variants. In other news, the upper instrument panel has been upgraded to a soft touch material and the instrument cluster now features a central colour information display.
Even this base car has seven airbags, good looking alloy wheels, USB and Bluetooth connectivity, cruise control with speed limiter, automatic air conditioning and four electric windows.
As mentioned in the recent review of the Jeep Wrangler, the little Vitara was the vehicle I drove to that media launch in. Which meant – including rest stops – six hours each way, over two days, mostly on wet roads. Back pain? None. General tiredness and irritation? None. The Suzuki was a terrific companion. OK so the sound system isn't the last word in high fidelity. It's perfectly fine though.
On a long trip, wind noise, vague steering which needs constant corrections and poorly set up suspension are the deal breakers. The Vitara is great company at 60, 70 and more miles per hour. And not only on the M4, M5 and M6 either. Dark, wet and unfamiliar rural roads in the Lake District presented no issues.
Slender splendour
One of the things which makes this model and other Suzukis low-stress conveyances is the width, which is 1,775mm. That's not too narrow, it's just right. This I noticed in the Swift Sport which was also with me for a week. There is none of the "ugh…am I about to lose a mirror cover?" angst as a car approaches too fast and you quickly fold the driver's side one. That happens often on the one-track roads which are fairly prevalent in so many parts of Britain. Or even supposedly two-lane ones. Excessive girth really matters as it is the undoing of almost every supercar in countries with too-narrow roads, driveways and garages. The same applies to many of the SUVs sold in Britain.
Suzuki then has got the dimensions of this model right, economy is superb (I saw 42mpg and most of the driving was at high speeds), build quality faultless and even the materials are a step up over what went before in the pre-facelift Vitara.
We're so used to amazingly roomy boots that one which has a capacity of 375l seems mean. For a family holiday, the Vitara's might not have quite enough capacity then. And yet probably many owners will be more concerned with how high the sill is for their dog to jump over and how hard wearing the plastics and carpet/rubber cover are. For those people, lifting the hatchback and peering inside should see them giving this vehicle the thumbs up.
After many hundreds of miles driving this model – and remember it's in base spec with the least powerful engine and only five ratios for the manual gearbox – I became quite fond of it. It feels a lot like a Dacia in that whatever vehicle you next drive seems too heavy, too wide and full of gimmicks which aren't needed or wanted. Yet the Vitara lacks that slightly out-of-date feeling which can dog the Romanian make's models. Suzuki has got itself perfectly positioned as a maker of high quality, durable Japanese cars and SUVs. And would you believe it, the little Jimny is now so popular that the waiting list in the UK stretches into 2020?
What's next for YAD series Vitara?
The facelift and fresh powertrains won't be the only changes for this model during its life cycle. At the moment this is just a rumour but there have been suggestions that Suzuki is developing an extended version. Grand Vitara would be the obvious name. As the old ladder-frame model launched in 2005 is still available in some Pacific Rim countries, the GV might even make an appearance during 2019: the YT4 series model is soon to go out of production.
The Vitara itself is unlikely to have any more changes to its appearance, the next generation model being scheduled to be on sale during 2022.
The Suzuki Vitara range starts at GBP16,999 for the as-tested SZ4 1.0-litre BoosterJet. CO2 emissions with manual transmission are 121g/km (NEDC) or 129g/km with all-wheel drive, 0-62mph takes 11.5 seconds (2WD manual) and top speed is 111mph for both manual and automatic gearboxes.