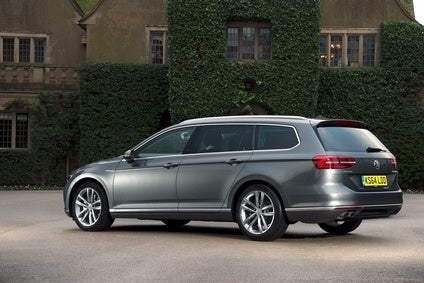 It might only be the third best seller in its UK market class, but the Passat is climbing quietly up the sales charts. Last month, it even outsold one of the big success stories of 2015, the Mercedes-Benz C-Class.
The numbers for August show a big comeback for the BMW 3 Series, which resumes its former place as segment leader with 1,337 registrations. That was enough to give it ninth place overall, which compares to only 16th position in July – buyers had clearly been holding off for the facelifted model. Next came the Vauxhall Insignia, holding steady in position 15, ahead of the Volkswagen, which shot up from 23rd place to 17th. Passat sales totalled 958, which was 14 more than that for the C-Class.
Of course, the Passat is a long way behind the UK's best selling Volkswagen, the Golf recording 2,456 sales in August, and making it the market's third best seller behind the Fiesta (4,753) and Focus (2,673). The Polo is another regular in the top ten, achieving fifth position last month with 1,911 registrations.
In Volkswagen's home market, it's a different story, with the Passat being the brand's second best performer. In August, 6,553 cars were sold, versus 17,638. The trend is with the Passat, though, its sales rising by 22%, while those for the Golf dropped by 10%. VW sells relatively few Passat saloons in Germany, the Variant as the estate is called here, accounting for as much as 90% of volume most months.
It isn't hard to see why this biggish wagon is so popular with German and British buyers alike. The car looks well proportioned, the CO2 and other numbers which business buyers need to take into account are close to being best in class, and it's just so good to drive. The doors shut with a thud, the steering wheel and gear lever look and feel nice, there's lots of room, lots of glass and everything is just so well styled and works with a no-nonsense approach.
The car supplied for testing had the Volkswagen Group's own DSG transmission and this worked very well. Clearly, the company is finally getting on top of the foibles that have defined DSG for some years. OK, you might still have a bit of an occasional heart stopping moment when shifting quickly out of reverse, through neutral and into drive: nothing happens for a second. Which makes you look down to check the lever when what you would rather be doing is moving forwards and not holding up traffic after a three-point turn. So it's almost there.
This was one of those cars I wasn't sure about when I first saw it. But, it's grown on me. Perhaps you have to absorb things such as the horizontal lines between the headlights being echoed in the air vents and false vents which run across the dashboard. I found myself starting to look at the car after refuelling it and admiring the shape. Certainly, there's much to like on the inside and I would be lying if I said there was room for any criticism about the controls, roominess or overall finish of the cabin.
The current Passat (B8) for mostly European markets was revealed to the media in July 2014, with its public debut taking place at the Paris Mondial de l'Automobile three months later. In May 2014, Volkswagen stated that its Zwickau plant (Mosel) would start building the new car in October 2014. The first LHD European market deliveries took place towards year-end, with cars for the UK following in early 2015. This model is also manufactured in China by FAW Volkswagen (Jilin), at the Group's Kaluga plant in Russia, and is assembled at Shendra in the Indian state of Maharashtra, and by Stallion Group's plant in Lagos, Nigeria's largest city.
Thanks to the use of high-strength, hot-formed steel and aluminium in certain areas, the Passat is up to 85 kg lighter than its predecessor, helping VW to claim fuel-efficiency improvements of up to 20%. Despite exterior dimensions that are marginally smaller than those of the previous model, interior space was improved over the B7, with more leg- and head-room, as well as increased luggage space. A note here – this isn't in fact the eighth generation model. Confusingly, Volkswagen decided that the facelifted Mark 6 would be called the Mark 7.
A highlight of the engine range is a high-performance, four-cylinder, 2.0-litre, BiTurbo diesel delivering 240PS and 500Nm from 1,750 rpm. This engine is available only with the seven-speed DSG gearbox and 4MOTION all-wheel drive.
The 240PS engine has both high-pressure and low-pressure turbochargers and these allow boost levels of up to 3.8 bar. The engineering team adapted the cylinder crankcase, crankshaft, connecting rods and pistons of what is now more or less a new engine to the high maximum combustion pressure of 200 bar. In addition a high-performance cylinder head features. Piezo injectors are another element and these enables pressure of up to 2,500 bar.
The most powerful diesel in a Passat give the car a top speed of 150mph or, due to slightly more drag, 148mph in estate form. Maximum torque is delivered at between 1,750 and 2,500rpm and this is the reason why the BiTurbo comes with standard all-wheel drive and the DSG: front-wheel drive and a manual gearbox would likely be overwhelmed by the 500Nm of twisting effort. Consumption figures are 53.2 mpg (saloon) and 52.3 (estate), with CO2 emissions of 139 and 140g/km.
Something that's starting to become more common is the second cap under many cars' fuel filler flaps. The 190PS and 240PS TDI Passats are examples of this. Cars with these engines have a Selective Catalytic Reduction (SCR) system. Volkswagen places the oxidation catalytic converter, diesel particulate filter and SCR system close to the engine, the idea being to make the emission control components react especially quickly. A specially coated diesel particulate filter (the actual SCR catalytic converter), converts the NOx in the exhaust gas to nitrogen (N2) and water (H2O). For the conversion to take place, synthetically produced AdBlue is needed. This liquid dwells in a 13-litre tank which can be topped up but that only needs to happen every 9,000km (roughly 5,600 miles).
The importer launched the car in Britain with a diesel-only range but that position has since changed. The TDIs range in power from a 120PS 1.6, with 150PS and 190PS versions of a 2.0-litre TDI next up the price ladder, and then the 240PS BiTurbo. A plug-in hybrid GTE version with a 1.4-litre TSI petrol engine and electric motor is about to go on sale here, while a BlueMotion with a 1.6-litre diesel engine returning 78 mpg and 95g/km of CO2 joined the range in June, and will soon be followed by the Alltrack version of the estate.
There are five trim levels in Britain: S, SE, SE Business, GT and R-Line. All offer Post-Collision Braking System, mis-fuelling prevention, Front Assist, Adaptive Cruise Control, a Pre-Crash system, Driver Profile Selection, Ergo Comfort seats and front and rear parking sensors on SE and above; and Discover Navigation on the SE Business which is aimed at fleet drivers. Heated Alcantara seats, three-zone climate control and 18-inch wheels are standard on the GT, while the range-topping R-Line adds a fair few other features.
All Passats feature LED tail lights, while headlights are halogen or LED. In conjunction with Dynamic Light Assist, one of the two LED headlight options automatically adjusts the beam for maximum illumination of the road without dazzling other traffic.
A recently added option is Active Info Display. This replaces the traditional instrument cluster with a fully configurable interactive 12.3-inch TFT display, and a head-up display is also now available. The system has been seen before in a Volkswagen Group vehicle but never at this price point. The Audi TT was the first to feature it and it's also available in the second generation Q7.
The majority of Passats sold in the UK go to fleets and with the business car market being especially strong at the moment, VW is doing especially well. In August, overall passenger vehicle registrations were up by 10% compared to the same month in 2014 but Volkswagen numbers shot up by 24%. That means the brand's year-to-date sales now stand at 143,178. There's still a big gap to second placed Vauxhall (25,074) but in August, GM's brand saw its sales rise by just 1.%, while market leader Ford's gain was an equally weak 7%. The new ASTRA will give the Griffin brand a major boost from the fourth quarter but as the Insignia is now getting to the end of its life, expect the Passat to start closing in on it.