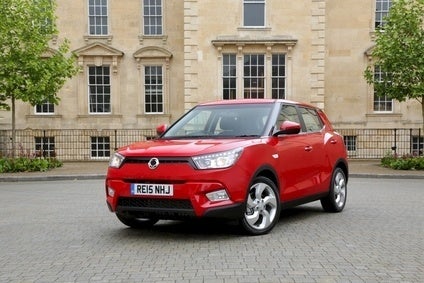 Impressed by Jaguar's 203% year on year sales rise in August? That's of course down to the addition of the XE, but the leaping cat brand wasn't the British market's fastest riser last month: that award goes to SsangYong, its registrations rocketing by 262%. The new Tivoli has clearly hit the market at exactly the right time.
SsangYong has been something of a long, slow burn with British buyers. The importer spent a lot of last year putting additional dealerships in place. These outlets tend to be favoured by those seeking a new 4×4 with which to tow a caravan with, price being the main attraction.
The trouble with pushing value over all else as so many brands have found in the past – Kia, Citroen, Mazda and more recently Dacia – is that you tend to sell to a customer just once. To keep them coming back, you need something else.
Product is of course key to just about everything in this business and the Mahindra-controlled Korean SUV specialist clearly knows that. The new Tivoli has distinctive styling but it's not as eccentric as that of older SsangYongs. The larger Korando led the way but its smaller brother now moves things on. Yet it isn't just good looks and a non-bonkers model name that's been a novelty on the last two SUVs launched by SsangYong; quality is now spot on.
Admittedly, in a Tivoli there are things that you wouldn't see in a Toyota – sound deadening foam visible in the wings when you open the front doors, and anchoring bolts for the seats that could do with a plastic cover or two – but nothing is flimsy, and unlike the SsangYongs of old there are no nasty-strange petrochemical smells oozing out of the dashboard. In the test car, the interior finish was better than that in most Suzukis, Mitsubishis and the Nissan Micra. It was also superior to that of the Ford EcoSport.
As we know, the Vauxhall Mokka reigns in this class, and its Opel counterpart does pretty well across Europe, as does the Juke. The littlest SsangYong isn't quite at their level but GM, Nissan, Renault, PSA and FCA, the big players in this European market segment, shouldn't dismiss the Tivoli as just another oddball SsangYong.
Now that the dealer network offers a good spread throughout the British isles, expect to see SsangYong going from strength to strength. ACEA doesn't issue numbers for the brand across the European region, but I've had a look at the big five markets and can report some noteworthy findings. Would you believe that in August, the brand outsold Alfa Romeo in Germany? And, it was also more popular than Lexus and Infiniti. Sales for last month totalled 218 cars, and for the year to date, it's 1,644, a gain of 150%. PSA sold only 286 DS vehicles in August so don't be surprised to see the Korean brand pushing past it into 30th position some time soon.
In the UK, sales in the first eight months have reached 1,875 units, a YoY gain of 120%. France is a different story, with just 44 registrations in August, but that's a YoY surge of 144% and the brand was last month more successful than Lancia, equal to Subaru and only 34 cars behind Jaguar.
Italy has for some time been a far stronger market for SsangYong than France. There, the importer sold 900 vehicles during the first nine months and 72 in August, which was a better performance than Jaguar (63) and Lexus (43). Ouch. Don't you love the oddities of European markets? Here's another great stat: Maserati outperformed a Korean maker of inexpensive SUVs by selling 962 cars year to date. But then in August, just 26 Maseratis were sold at home, a YoY drop of 40%. Ouch again.
Not that long ago I was one of the people saying that there was no European Big Five any more but national government incentives have brought the Spanish market back to life, with month-on-month expansion now having taken place for two solid years. SsangYong used to do well there in the time before the collapse and it's performing well again now. The YoY rise is 'only' 30% and in August sales actually fell (by 5%) while the market improved by 24%. Registrations last month totalled 191 cars (more than Alfa, Lancia, Jaguar, Subaru and Porsche) and 2,149 over the first eight months.
Back in Britain, the company's CEO Paul Williams says he wants to sell 3,500 units of the Tivoli in 2016, and a further 3,000 units of other models. Williams also reckons that by the end of September, the UK will have pulled ahead of Spain as the brand's number one European market. A reminder that the gap at the moment is 274 cars and we all know what happens in the British market every 1st September so he's probably correct.
Tivolis sold in continental European markets are offered only in higher-spec model grades due to the won having weakened against the euro. Against sterling, the situation is presently more favourable so here, there is a low starting price (GBP12,950). That also explains a lot of Paul Williams' excitement about the car's chances of success right out of the starting blocks. Petrol variants have been available since June, the diesels are now going on sale and diesel-4×4 variants will be added in November.
This little SUV is a surprising amount of fun to drive. No, really. The steering is so far ahead of the body-on-frame models that the company sells that if the unibody Korando did not exist I wouldn't believe that the Tivoli was made by SsangYong. The ladder frame vehicles such as the Rexton and Korando Sports have their places but you would hesitate to hustle one too hard. And the older Korando is competitive against something like a similarly sized Jeep Compass but show it a mountain road and something like a Ford Kuga would leave it in its dust. Which just goes to show how rapidly SsangYong and Mahindra are catching up when it comes to evolving an existing architecture for a new model (the Tivoli is based upon the same basic platform that was introduced by the Korando in 2010).
For all the effort which has clearly gone into tuning the ride and handling, there is a terrible bit of cost saving in the Tivoli and for sure it will mean lost sales: why on earth would any OEM believe in the false economy of omitting telescopic adjustment for the steering wheel? Luckily, I was able to find a good driving position but lots of people won't be – urgent engineering modification needed please.
Anyway, let's get back to the positives. The looks are one of the biggies in this department and photos don't do the car justice, even if you do find it attractive when looking at the company's website. There is also a load of space for legs and heads in the rear compartment, EX and ELX trim levels include leather-covered seats, and even the base SE has rear electric windows and cruise control as well as audio controls on the steering wheel.
I mentioned the engine choices. The 1.6-litre petrol has 128PS and 160Nm and CO2 averages of 149g/km for the six-speed manual and 167g/km for the Aisin automatic gearbox which has an equal number of ratios. The diesel has the same 1,597cc capacity as the petrol, while its power and torque outputs are 115PS and 300Nm. CO2 is either 113 or 146g/km and that's for front-wheel drive variants. The 4×4 diesels' numbers are 123g/km and 156g/km though these last two figures are provisional.
The four-by-four system, which is available only with the diesel engine, is automatically engaged and there are two modes. In AUTO, drive is sent to the front axle only but torque will be directed to the back wheels if excessive slip is detected. Should things get a bit sticky, you can switch to LOCK which enforces a 50-50 split but this is mostly for low speed driving.
To sum up the Tivoli I was going to say 'for the money…..' but there is no need. This isn't a car you buy because it's cheap; that's the icing on the cake.
Future Ssangyongs: what's coming when
As well as lowering the vehicle size and price entry point for the brand and hopefully greatly expanding sales worldwide, the Tivoli's other task is to help its maker become properly profitable. Let's not forget how much spare capacity SsangYong has in its only production plant. Tivoli production is now starting to help Pyongtaek have greatly improved efficiencies and a long wheelbase model will be added on the same line in a few months' time. There is another SUV coming in 2016 based on the same architecture and of course parent company Mahindra & Mahindra will also have its own related models from 2016.
After the LWB model appears, a vehicle said to be called 'Luvu' is set to appear but there are precious few other details about this SUV. Some sources believe it will be a model designed to attack the Jeep Renegade and this would tie in nicely with SsangYong's intentions to launch itself in the USA. Similarly sized to the Tivoli but more rugged, it is probably what the XAV concept has been hinting at.
Replacements for the body-on-frame models will also be rolled out later this decade, with the Rexton expected to be one of the first of these. The Actyon/Nomad and Korando Sports/Actyon Sports pick-up are also set to be replaced, and that's likely to be in 2017. Word is, the giant Turismo/Rodius/Stavic passenger van might also have a follow-up but that wouldn't be until 2019. Expect it to evolve into a big crossover and like the other models just mentioned, it should be based upon a Mahindra-SsangYong RWD/4WD ladder frame architecture. Meanwhile, models sized in the C segment and below will use further evolutions of the Korando/Tivoli platform.
So, by as soon as 2017 or 2018, all going well, SsangYong might need to do the unthinkable: expand Pyongtaek, a plant which thanks to the addition of the new B-SUV earlier this year is approaching 50% utilisation of its present capacity of 220,000 units per annum. After that? The firm's goals must surely be pointing it towards an eventual half million vehicles to be built and sold annually, but that will take some time. Just don't doubt the ambitions of the Mahindra people, allied with SsangYong's own new focus on becoming an eventual Korean alternative to Great Wall's Haval brand, or even one day, a confident challenger to Jeep and Land Rover. The latter might seem far-fetched but if Kia Motors can move from bankruptcy to become a maker of GBP40,000+ SUVs, then what's to say SsangYong won't ever be capable of doing the same thing?