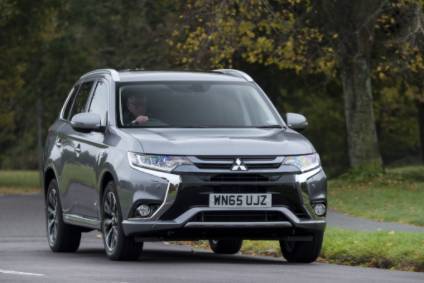 The plug-in hybrid version of the Outlander has been a strong seller for Mitsubishi Motors in the UK and many other European markets. Now comes a dramatic mid-life facelift plus a raft of refinements and even better taxation numbers.
Let's be honest, as good as it was, the pre-facelift Outlander was a pretty bland thing. To its credit, Mitsubishi Motors recognised this, coming up with what it terms 'dynamic shield' front-end styling changes. Whatever you think of the result, this is now a car which has highly distinctive looks. The rear has been altered too, but not to the same standard. The car's interior also gains some changes, in the form of better looking and feeling seats and steering wheel, padded door panels and a new centre console.
By MMC standards, the Outlander has had something of an early update. Normally, Mitsubishis have long lifecycles with the first of several facelifts taking place around the three and a half year mark. Not this time. The PHEV version was launched at the Paris show in September 2012, with cars going on sale from 2013 in Japan and from April 2014 in the UK. At the time, its maker claimed the Outlander PHEV was the world's first production car with permanent four-wheel drive and electric drive. The vehicle's powertrain can run in full EV mode, series hybrid mode or parallel hybrid mode.
Technically speaking, this is a high range series parallel hybrid. Which means it can be thought of as sharing much with the Audi A3 e-tron, Volkswagen Golf GTE and Volvo V60 Twin Engine. These three, which also have a combustion engine and an electric motor, can run for 31 miles on the energy stored in their batteries, while the Outlander officially beats that by one mile.
As well as a petrol engine, the Outlander has electric motors at the front and rear. These are what power the all-wheel drive system. The 2.0-litre engine has a claimed output of 87kW with each electric motor having a stated output of 60kW. The CO2 average is still super-low but it's been improved further. Whereas it had been 44g/km, it's now just 42, and the official fuel consumption average, which had been 148mpg, is now 157mpg. If you're wondering how the Outlander compares to the Golf and A3, they have a CO2 average of 39g/km and 37g/km but neither has all-wheel drive. The Volvo, by contrast, does have AWD and its CO2 number is 48g/km.
Another advantage that this car has is its ability to take a CHAdeMo rapid-charger plug. That means a recharge to 80% of capacity can take just half an hour at most motorway services in Britain.
In fiscal 2013, just 988 plug-in hybrid vehicles were sold in Britain but in the 2014 financial year, that shot up to 12,111 units. Of that total, fully 83% or 10,037 were the Outlander. This is now the UK's best selling plug-in model and Britain is the model's number one market. If you're wondering, the other most successful countries (in order of sales) are Japan, Netherlands, Sweden, Germany and Norway.
Mitsubishi has listened to owners and fixed quite a few things compared to the pre-facelift model. Gone is the constant beeping as the electric tailgate rises or descends, the infotainment system fires up in 15 seconds instead of 30, and NVH levels have fallen.
Sound deadening materials have been added in key places such as the door mirror partitions and front wings, and there is thicker glass. One of the downsides of driving an EV is that you tend to notice sounds which would otherwise be drowned out by a diesel or petrol engine, so Mitsubishi has wisely addressed this so as to make sure the Outlander PHEV can no longer seem relatively noisy on a test drive.
The company's dealer network is now well versed in selling this model, and the pricing strategy remains: it's identical, version for version, to the diesel Outlander. So if you do a lot of motorway miles, then the PHEV probably won't be right for you. If, by contrast, your daily commute is the same or less than the UK average of 32mpg, the salesperson will advise you to go for the petrol-plug-in. So in theory, anyone driving around 30 miles a day need never hear their car's petrol engine fire itself up.
It's quite a piece of engineering, the Outlander PHEV, and Mitsubishi has done well to change the things which needed adjusting, and leave the good stuff alone. It certainly feels better to drive than the original, as the handling has definitely been improved and the ride is better too. Given all of that, I suspect this is going to be one of those rare vehicles which sells much better in the second half of its lifecycle than it did when it was new.
Future SUVs
Having had so much success with SUVs for most of this decade, you can see why Mitsubishi is investing heavily in these vehicles. The Outlander won't have much in the way of changes now, its replacement being about four years away. That model will be slightly larger so as to fill in the size gap between the current vehicle and the next Shogun/Pajero/Montero. The successor to the big ladder frame chassis 4×4 keeps on being delayed but it should appear some time between 2016 and 2018.
The big news with future MMC 4x4s is the fact that the ASX/RVR/Outlander Sport will be replaced by something smaller. The reason is simple: Mitsubishi is planning to slot an additional SUV in between this model and the Outlander. The styling is likely to have been previewed by the eX, a plug-in crossover concept which has just had its world premiere at the Tokyo motor show. The Outlander Sport+ (speculative model name) should be available with petrol, diesel, EV and PHEV powertrains at or just after launch in 2018/2019.