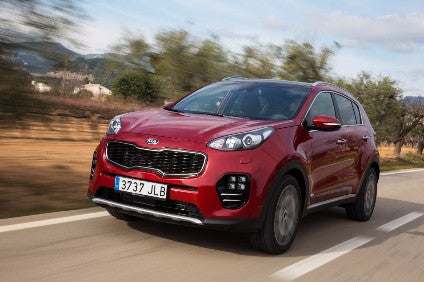 Kia is set to launch its fourth generation Sportage, which made its global debut at the 2015 Frankfurt show, across European markets in this first quarter of 2016.
It has sold 3.5m worldwide since generation one appeared in 1993. G2, out in 2004, was the first one built in Europe and the current one, still fresh enough after a 2014 facelift, appeared in 2010. Over 450,000 have been sold in Europe alone and the 105,000 sales in 2015 accounted for 27% of Kia's volume in the region. The C-SUV segment is the third biggest in Europe and Kia expects it will account for 1.8m units by 2018.
Here in the UK, Sportage took 28% of the brand's 78,536 sales, up 1.5% year on year. The Sportage's 23,000-odd was up 5%. With the new one, they're aiming for 25,000 in the first full year with a 60% fleet/40% retail split. The segment is heavily diesel-centric in the UK but the addition of a 1.6 turbo petrol engine with seven-speed DCT automatic transmission to the carried-over base 1.6 is likely to skew the diesel /petrol ratio from 80/20 today to 70/30 once the 2016 range kicks in fully.
Kia (UK) is targeting 84,000 sales in 2016 and chief Paul Philpott remains confident of achieving his goal of 100,000 a year by the end of the decade. He noted there were 90,000 generation three Sportages on UK roads so the new one has some reasonably sized shoes to fill.
2016 redesign
The crossover is fully restyled with a redesigned interior which features high quality materials and design, as well as greater practicality and a range of technologies to improve comfort, convenience, connectivity and safety. Wireless phone charging, connected services, autonomous emergency braking and a 'smart' power tailgate are now available.
The gate works by sensing the presence of someone carrying the smart key and opens automatically after due warning – no foot waving under rear bumper required.
A range of new and updated engines and transmissions bring enhanced efficiency and performance, while ride, handling and refinement are all improved.
For the first time, a new, pan-Europe, 'GT Line' specification is available, allowing additional specific market tweaks.
The UK will carry over the current cherry-picked four grades and offer the GT only with four wheel drive, and launch the entire range with a fully equipped special edition model.
Designed and engineered to appeal to those looking for a sportier driving experience, the GT Line specification delivers all the versatility of the standard Sportage while adding greater visual and dynamic appeal – brightwork, wheels and twin exhaust pipes are among the distinguishing features.
Michael Cole, chief operating officer, Kia Motors Europe (and a former head of Kia UK), said: "The Sportage has been a major contributor to Kia's sustained growth and success across Europe in recent years. Made here in Europe, it's an incredibly important car for us. More customers than ever are turning to SUVs, and there is now greater competition in the compact segment than ever before.
"In Europe, the Sportage is Kia's flagship car, clearly demonstrating our brand values best and consistently accounting for more than a quarter of our European sales. As this hotly-contested segment continues to expand, the new Sportage will reinforce our position among the market leaders, leading the way in terms of its refined innovation, distinctive design and high material quality."
The Sportage is manufactured in Žilina, Slovakia, and is also the brand's best selling model in Europe.
New design
Design was led by Kia's European design studio in Frankfurt, Germany, with input from the brand's Namyang, Korea and Irvine, California centres. European engineering was handled at the brand's R&D base in Germany.
The 'face' features the biggest change to the car's design over the outgoing model, with the brand's hallmark 'tiger-nose' grille and the car's headlamps separated for the new model. The crossover is the same 1,855 mm width as its predecessor. GT Line versions have new 'ice-cube' LED fog lamps (all models have similar day runners), inspired by those on the cee'd GT, and aluminium-effect skid plates.
The latest Sportage sits on a 30mm longer wheelbase (now 2,670mm), and is 40mm longer (4,480 mm) but its 1,635 mm height is unchanged.
As before, tail and brake lamps are LED and high on the tailgate; turn signals and reversing/fog lights are separate, located lower down to add more visual weight to the lower half. The Sportage GT Line has dual exhaust mufflers and metal-effect rear underbody diffuser for a sportier appearance.
The 4G model is also the most aerodynamic Sportage to date, with drag reduced from 0.35 to 0.33 Cd – a result of the re-profiled undercover and newly-designed bumper. Wheels are 16-, 17- or 19-inch aluminium alloy while the GT Line comes with a unique 19-inch wheel option as standard.
New cabin
The new cabin has a high standard of material quality, with a far greater proportion of soft-touch materials and the use of cloth, leather and stitching creating a more upscale ambience. An annoying windscreen reflection caused by a plastic moulding in the old model has gone.
The cabin of the outgoing Sportage is focused around a clearly-defined central console, with a vertical design, the new model features horizontal lines to emphasise the width of the interior more effectively and generate a greater impression of space and sportiness.
The lateral design divides the dashboard into two clear zones – 'display' and 'control'. The 'display' zone is focused purely on delivering information to occupants in the clearest way possible via the driver's instrument binnacle and optional new 7.0- or 8.0-inch touchscreens in the centre of the dashboard.
Below a clear line running the length of the dashboard is the 'control' zone, with the central console cascading downwards and tilted 7.2 degrees towards the driver. With many functions now found on the optional touchscreen infotainment and navigation system, the new, uncluttered dashboard offers drivers a highly ergonomic layout with the 'control' zone's functions designed to be clearly visible when on the move.
The division between the interior's two zones also lends itself to single or two-tone colour schemes, with customers, according to market, able to choose from either a single-tone (black) or two-tone (dark and light grey or, not coming to the UK, black and beige) cabin. The console is finished in black, for a classy, stylish appearance, regardless of the interior colours chosen. GT Line models get a D-shaped leather steering wheel, high quality piano black fascia and aluminium alloy pedals.
Passenger space is increased, with headroom rising to 997mm (+5mm) and 993mm (+16mm) for front and rear passengers respectively while maximum legroom has expanded to 1,129mm (+19mm) and 970mm (+7mm). Three-way (previously two-way) front heat seating, seat cooling, 10-way power control with lumbar support for the driver's seat and eight-way power control for the passenger seat (not offered before) are now available. Stiffer seat frames, with greater use of high tensile steel, and redesigned springs and pads – for front and rear – cut the level of vibration in the seats, while reducing seat weight by 2.5kg and improving durability.
In the rear, a 40mm lower interior floor – without sacrificing exterior ground clearance – and 30mm higher rear bench hip point mean second-row passengers benefit from a more natural and comfortable seating posture and improved under-thigh support.
The reclining rear seats now offer seven steps – from 23 to 37 degrees, with the reclining lever relocated from the upper seat-back to the lower side of the seat to make it easier for rear passengers to get comfortable. Rear passengers can, again, also choose from dual-strength seat heating for cushion and back rest.
Cargo
Cargo space has expanded from 465 litres to 503 litres (VDA), made more practical by a dual-height luggage floor, allowing taller items to fit into the boot and still remain hidden by the tonneau cover. There is also a new under-floor tonneau cover storage area – claimed unique in the class. Re-engineering the rear section of the body means the luggage area is 35mm wider while the upper edge of the boot lip is lowered so the lift-over height for heavy items is now 732mm (down 47mm).
Fuel tank size is up from 58 litres to 62.
Available safety systems will include:
Autonomous Emergency Braking (AEB)*, which employs a camera and a radar detection system to detect a potential collision with another vehicle or pedestrian and help avoid or mitigate an accident
Lane Departure Warning System (LDWS), which emits an audible alert when the driver strays from the current lane without indicating
Lane Keeping Assist System (LKAS), which detects the position of the Sportage in relation to lane markings and takes automatic corrective action if it senses the car starting to draft without the use of indicators
High Beam Assist (HBA), which automatically adjusts headlamp range according to other vehicles and road conditions
Speed Limit Information Function (SLIF), displaying the speed limit and overtaking restrictions in the driver's instrument cluster based on cameras detecting roadside signs
Blind Spot Detection (BSD) with Lane Change Assist (LCA), which monitors cars up to 70 metres behind the Sportage and provides the driver with a visual warning in the door mirror when another car enters the blind spot
Rear Cross Traffic Alert (RCTA), which warns against other cars driving behind the Sportage in car parks while reversing.
A new rack-mounted electric motor-driven power steering system (R-MDPS) is standard on all Sportage models across Europe, except for one LHD petrol variant. Mounted directly on the steering rack, rather than on the column, the new R-MDPS provides greater steering feel and quicker, more linear responses to driver inputs – particularly around the centre.
Connected Sportage
The navigation system is now available with Kia's Connected Services, offering a wide range of up-to-date driving-oriented information. Powered by TomTom, the new connectivity features include live traffic updates, speed camera locations and alerts, local search and weather forecasts. In Europe, the system will be available free of charge for seven years after the car's purchase.
A Kia insider let slip that Android Auto should appear – along with a navigation system redesign – in about a year with Apple CarPlay "maybe a bit later".
The seven-inch touchscreen infotainment system is paired with a 160 watt six-speaker audio system, while a 320 watt JBL sound system can be ordered with the eight-inch touchscreen, featuring eight speakers, an external amplifier and Clari-Fi music restoration technology.
Kia is claiming a C-SUV segment first with a new wireless charger for mobile devices. Located at the base of the central instrument stack, the wireless charger enables users to charge their phone without a wire connection, for a cleaner appearance. With 'foreign object detection', the 5W charging system activates when a compatible device is placed on the pad, and warns owners when they've left a phone on the charger when they leave the vehicle. The system displays the phone's charging condition on the instrument cluster, and features a safety system to prevent overheating. There are up to two USB charging points, one in the front and an optional one in the rear.
Depending on market, other new optional features will include: a rear-view parking camera with dynamic parking lines, the smart power tailgate; dynamic bending headlamps, which sweep the road ahead in line with the steering wheel for greater visibility and improved safety at night; and a new smart welcome function, which turns on interior and door handle lamps and unfolds the door mirrors once the smart key fob is located within 1.3-1.7m of the door handle.
New 1.6-litre T-GDI petrol and upgraded two-litre turbodiesel
The fourth-generation Sportage carries over many of the engines found in the current vehicle, and most benefit from a broad range of modifications to improve fuel efficiency, NVH and power delivery. A new 1.6-litre T-GDI (turbo gasoline direct injection) is also available for the first time on the Sportage, exclusively for GT Line buyers.
The range of gasoline engines is made up of a 1.6-litre GDI (gasoline direct injection) engine and the brand's latest 1.6-litre T-GDI power unit. The GDI engine, producing 132ps and 160.8Nm torque, is carried over directly from the third-generation range. With the adoption of Kia's ISG system, this engine promises lower emissions and fuel consumption.
The 'Gamma' 1.6-litre T-GDI engine is based on the same unit powering the Kia cee'd GT and pro_cee'd GT. Producing 177ps – and peak 265Nm torque from 1,500-4,500 rpm – the T-GDI engine features a new single-scroll turbocharger with electronic wastegate actuator for quicker engine response and better economy under acceleration.
It also has a new high-energy ignition coil, higher-tumble intake ports, a low-friction timing chain and marginally higher compression ratio.
Diesel engines account for the lion's share of Sportage models sold in Europe, and the new model will continue to offer the 115ps 1.7-litre CRDi engine – carried over – and a significantly-upgraded 2.0-litre 'R' power unit, available with two power outputs – 136ps with 373Nm torque, and 185ps with 400 Nm – with both benefiting from a 5 kg lighter engine block, up-to-date battery management system, continuously variable displacement oil pump – which senses and modifies oil pressure in real-time – and a new oil filter module.
Lower combustion temperatures in the 2.0-litre 'R' engine have reduced NOx emissions to meet strict new emissions standards, aided by a relatively low compression ratio, a new exhaust gas recirculation cooler system, and a new lean NOx trap. A lower-inertia turbine wheel in the turbocharger and electronically-controlled wastegate actuator result in more efficient turbocharging than the 'R' engine in the outgoing Sportage while stiffer valve springs and high-pressure 2000 bar fuel pump injection allow closer control of combustion within the engine cylinders.
NVH is also dramatically improved for the 2.0-litre diesel, featuring a new heat-resistant engine block cover, a new timing chain cover with integrated acoustic shield, a sound-absorbent cover for the diesel particulate filter, and new intercooler pipe acoustic shield. Mechanical friction is also reduced, further cutting engine noise and improving efficiency, with a new nano-diamond piston coating.
New seven-speed DCT
The latest Sportage has the brand's new seven-speed double-clutch transmission (DCT), recently launched in the enhanced cee'd and available only on models with the new 177ps 1.6-litre T-GDI engine. The DCT is capable of handling the higher torque outputs of the turbocharged engine and offers a sportier driving experience. It was developed in-house and engineered with low fuel consumption and a sporty driving feel.
DCT models with the 1.6-litre T-GDI engine are expected to return similar carbon dioxide emissions to the manual transmission also available with this engine, pending homologation.
The wider Sportage range continues to be offered with a choice of six-speed manual and automatic transmissions.
7-year warranty
The latest Sportage will offer the company's unique seven-year, 150,000km/100,000 mile warranty as standard. This also includes seven years of navigation system map updates.